Private Chefs Prepare World Class Cuisine on Your Luxury Yacht Charter
Tasty Delights Prepared Daily For You By 7 World Class Chefs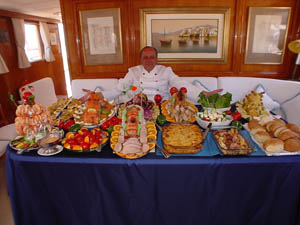 Over 1,000 different crewed charter yachts worldwide with every kind of international cuisine you can imagine.

Not all yacht charter chefs are equally talented. As such it is our recommendation to talk with your yacht charter broker about the chef on board the yacht you are considering to charter.

It is the well informed yacht charter broker who is in the best position to provide you with correct answers.

What makes dining on board a yacht so irresistible?


Take a little high-end luxury, white-gloved professional service, a good helping of sun, gin clear water, with white tropical beach encrusted with coconut palms.

Mix these in equal parts of international ingredients along with keen creative cooking styles from world class chefs, and what you get is cuisine heaven.
All of this is served with the incredible background and ambiance of glossy calm anchorage and a cool mountain view. Even the wine on board your charter yacht tastes far better than anywhere else.

When selecting a yacht with a world class chef on board, discuss your options with your yacht charter broker; he or she will know exactly where to steer you. Many chefs are professionally trained as Sommeliers (wine steward) and some others are not as knowledgeable. If this is important, then ask your yacht charter broker to make sure that there is a certified Sommelier on board.
Click

to watch video and get an insiders view of what it is like to spend a week or more on a private catamaran vacation.

Following is a delightful array of dining selections from several of our favorite private yachts, and all are exotically designed to tempt each guest's taste buds.


Barrington-Hall Yacht Charters is invited to various yacht charter broker boat shows around the world each year.

Different countries are competing for your business for yachts charters each year and so many different countries invite the world's top charter yacht brokers to be in their country inspecting the yachts that are available for the upcoming season.

As a company, we need to decide which countries to visit each year, as there are so many locations worldwide where yacht chartering takes place. Barrington-Hall concentrates on the four major locations worldwide, so we are not stretched too thin, and every vessel we work with is a fully crewed charter yacht. We have quite the handle on the yachts and crews in the Caribbean, Bahamas, Mediterranean and Greece.


Charter yacht brokers are often invited to enjoy lunch time meals or breakfasts on board different vessels.

These breakfasts on the world's largest high-end luxury power yachts mean we get to experience the foods and service our guests can expect.

We are able to taste the same high-end luxury cuisine the guests will be served on an everyday basis while on the private yacht charter vacation; these include wines as well as caviar.

At the Tortola Yacht Show in November 2013 there were four show days and on these days the representatives of Barrington-Hall enjoyed four scrumptious meals - 2 lunches and 2 breakfasts. To the captains and crew it means that their cuisine, service and yacht is properly embedded in our minds and we can share our personal experience of the yacht with you.

These first hand experiences are what we can write and discuss about each yacht so when guests want to know the particulars of any specific motor yacht charter, or any other type of crewed charter yacht worldwide we will have fresh and up to date information.

What is the Ultimate Experience on a Power Yacht?

Click

to watch video and get an insiders view of what it is like to spend a week or more on a private power yacht vacation.

Dining every night on board your yacht is one of the everyday highlights of your charter vacation, as is sipping your favorite drink at sundown, which is why every evening comes with happy hour and treats. Knowing the talent of your chef is why we visit annual boat shows around the world each year.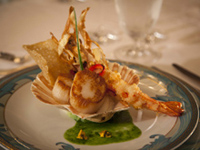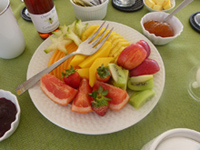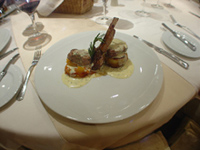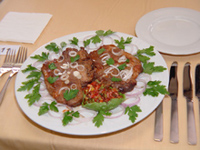 Food & Bar Preferences

When selecting a crewed charter yacht, guests always look to see what their cuisine on board is going to be. The various menus we see on these charter yachts are examples of what the chef on board can prepare for you and the meals each day are custom prepared just for you.


Your charter yacht broker should send all guests a food and bar preference sheet where you easily check off what you like to eat and drink when on charter. All of us want you to have whatever you desire during this happy period of your life, so ask for everything you want to enjoy on your vacation.

This 5-page food and bar sheet is sent back to your personal yacht charter broker, and will send it on to the chef on board. Well before the chef purchases any food, he/she calls you personally and discusses with you your likes and dislikes. They work with every dietary need and any other special requests guests ask for, so make sure you complete this in fine detail.

Once the chef has discussed your preferences with you, they will go ahead and purchase all the food and drink needed for your charter.


This means each meal is custom prepared for you. The chefs on board these private yachts are world-class, and many come from the world's top restaurants, and every chef is exceptionally well groomed for his or her craft.

I have enjoyed a wonderful dinner on board a yacht, where the chef was Jack Nicholson's personal chef, and I believe the chef remains his personal chef to this day. The chef loves working on luxury power yachts and insists on taking 2 months each year to be on board yachts.

At various annual yacht charter broker shows around the world, Barrington-Hall is invited to enjoy lunch on board the world's top charter yachts, as well as many of the smaller vessels, so we get a good feel of what each chef can do for their clients.

Chef Competitions at Annual Yacht Shows


Each major charter destination around the world has annual yacht charter boat shows where only yacht charter brokers are invited.

This is so that we can inspect each vessel, meet its captain and crew teams and enjoy a luncheon or dinner on board.

During each annual boat show, there are various food competitions, to find out who the best chef is at the show.

The organizers break down the chef competitions into different categories such as: Appetizer/Salad, Entrée, Dessert, Mount Gay Rum Use (optional), Presentation of any of the above categories

Normally there is a first, second and third position finishers with prizes for each competitor in each section. Let's take a look at a few individual chefs on board crewed charter yachts and their various awards.

Ye Olde Cuisine Perfectionist


A long, long time ago King Arthur wanted to increase his guests delight while enjoying his famously delicious cuisine during his Saturday night parties.
He sent those Knights of the Round Table into the world to look for Barrington-Hall, knowing they have access to the world's top chefs.
They found Barrington-Hall Yacht Charters and we simply sent King Arthur the list the kings and queens of cuisine that you will see below. And, he lived happily ever after.


Your private yacht charter success is paramount to our company, so we have drawn up a list of award-winning professional chefs to select from whether the craft is big or small, a motor yacht or a catamaran sailboat. Click on the yachts below for more information


Imagine, imagine, imagine...
Imagine a magical candlelit dinner on the fly bridge of your luxury motor yacht rental, or brand new modern fly-bridge Caribbean catamaran.
The evening is calm, the stars bright, and the air still. The full moon splashes silver across your calm and glass smooth lagoon, lighting up the islands close to you; you can see each pebble on the seabed 15 feet below.
Professionals in their evening uniforms serve the correct wine to match your meal, and then the first course gently settles in front of you.
The rest can simply be imagined, but this scene is now set for you. Planning by your experienced yacht broker will get this done correctly for you.
Watch this video to find out What is the Ultimate Experience on a Power Yacht?
Then there is Greece and the way they do their lovely
yacht chef competitions
, also showing their cuisine.