SUMMARY OF CATAMARAN CHARTERING Yacht charters and all about your yacht vacations.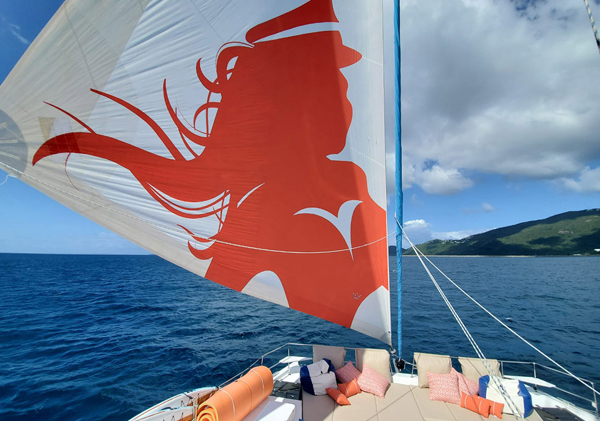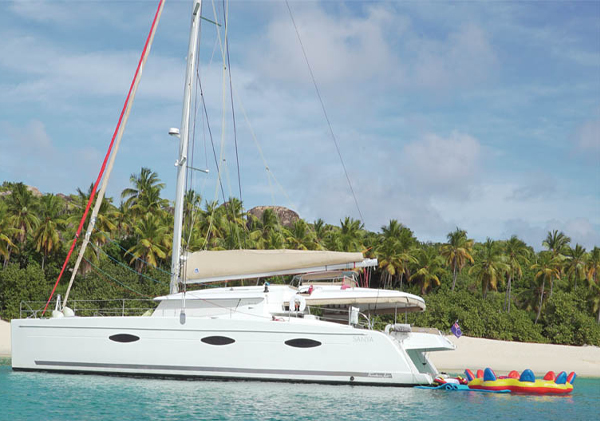 After being a yacht charter captain with my wife as a top chef chartering for five years, I gravitated into being a yacht charter broker. This background of knowing the Caribbean catamaran vacations grounds and all the yacht charter islands has always been a huge plus for becoming a leader the top yacht charter broker field. This at the time, was not realized how import, because 95% of all other yacht charter brokers have only done one day trips here and there, so by me knowing the islands intimately, meant I had a huge advantage over all other yacht brokers.
Click here to see a Video of where you will be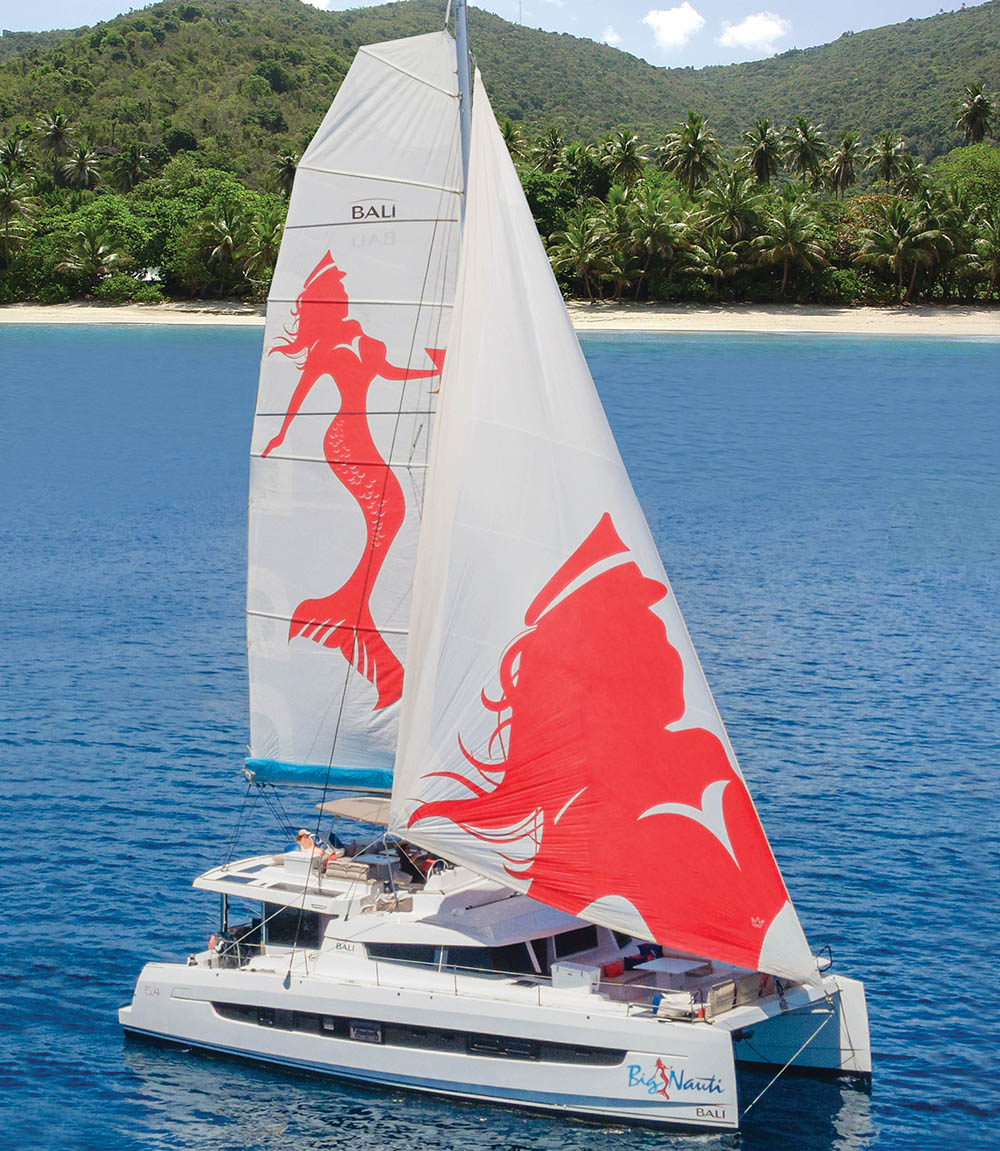 What is a brokers major job?
To keep all guests sailing vacation in flat water where there is NO, to very little swell, this means protected islands. Subjecting our guests to open water passages is never done, that is where guests would find large swells with nowhere to find protection. This means No Caribbean catamaran charter islands to anchor behind, to find flat water. Protecting our guests is paramount to making your yacht vacation the ultimate Caribbean catamaran vacation. Your perfect catamaran vacation is sailing or cruising from one small island to the next, is the very best way to ensure that YOU have a very happy fun yacht charter vacation. Our guests will have a far better sailing vacation if they select a fully crewed catamaran to enjoy.
The captain and chef team are hand selected to do their job of showing you where to go, and what to do. This can consist of snorkeling in water that is crystal clear and the same temperature as your body. When getting into the water, there is no silver shock to adjust to the cold. This is instant gratification and you are in paradise, where even your beer tastes far better. Your chef on board gives your wife a true vacation, where she can relax, no preparation of any meals, no putting away dishes 3 times a day, just to relax, and enjoy meals prepared by a world-class cuisine queen. Makes sure you demand a crewed Caribbean catamaran sailing vacation in the sun. Just ask for a crewed catamaran yacht charter, then you will have the best family yacht charter money can buy. Family catamaran yacht charters is where Dad can spend more time with his family than ever before, so family bonding is concentrated, when everyone in your family is together on board. Snorkeling together, inspecting uninhabited islands together is fun. This is what we call a family private catamaran charter.
Why has the crewed catamaran sailing vacation become so popular over the past 20 years? The new modern luxury catamaran yacht charter has turned the vacation industry upside down, because these catamarans are super stable, spacious and comfortable. Here is the worlds most stable craft. If cruise ships could become catamarans, then every Cruise ship would be a catamaran. The only reason why cruise ships are not catamarans, is because they cannot fit between the Suez and Panama canals. Cruise ships have to go up, they cannot go wide… The two hulls to a catamaran makes a catamaran is very stable, comfortable, she is spacious inside, and on deck. Today catamaran sailing vacations rule the world.
The crewed family catamaran is in such demand, business boomed during covid. It also boomed because the crew and your family are in a protected bubble. Your best family catamaran charter is right here to see,
call Andrew at Barrington-hall yachting Professionals
for your catamaran family charter. Our industries top catamaran family sailing vacation yacht by far is Zingara. Zingara started a new twist to our industry when she appeared in 2006 and 5 years later the next catamaran charter yachts, with these features started o arrive. Those new features which Zingara already had are the magnificent sky lounge. A sky lounge is a third floor set on the roof of the salon, high in the air. A sky lounge is where you watch sunsets, with happy hour treats in one hand, and your favorite drink in the other. Now you can expect the worlds best catamaran family charter rental to beat all others. On her sky lounge Zingara has a Jacuzzi on that high deck, very original, for a catamaran charter sailing vacation.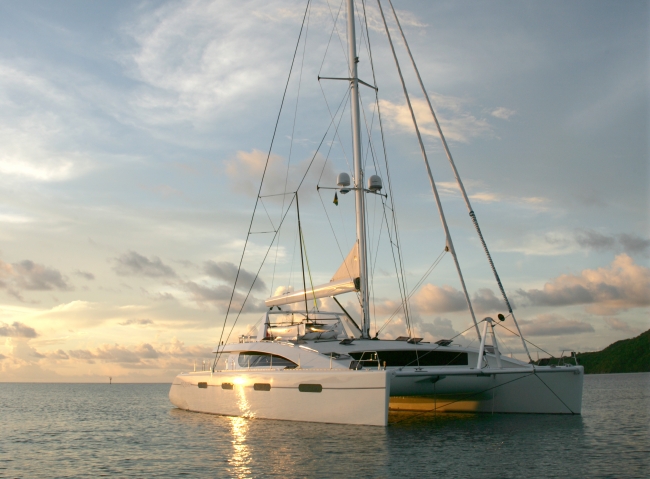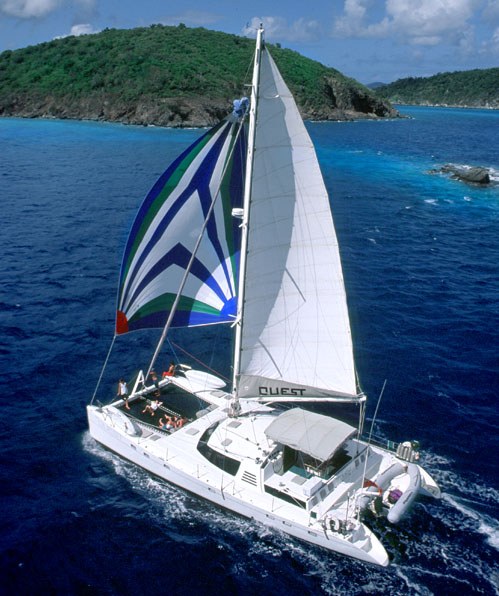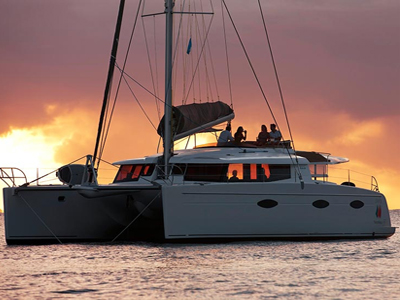 Zingara is also the very first luxury catamaran yacht charter vessel to have all guests beds designed as, walk around for your comfort. Here is a catamaran yacht charter rental with a very big difference. I have only seen the next Zingara feature once and that is her raised dining room floor. The floor is raised above the surrounding salon area by one foot and looks elegant there. Zingara's biggest catamaran yacht charter vacation feature is her master guest cabin. This master cabin is set on her main deck, and all other catamarans have their guests cabins below the main deck. This master cabin has a California queen sized bed, which is also a walk around bed, in the largest catamaran cabin I have seen in 32 years. Here master cabin has a bath tub, separate shower and separate toilet and wash basin. It is no wonder that Zingara is our industries top catamaran family sailing vacation vessel. If you are after the best catamaran charter vacation than Zingara is you high-end pick.
Water toys on board: Stand up paddle boards, snorkeling gear, scuba gear, light fishing gear, noodles, wake boards, floaters, windsurfing, and water skiing. Different owners pay for different water toys to be on board, so check your vessel to see what water toys are on board. If there is some water toy you wish to enjoy when on board, and your charter yacht does not have it on board, we can get it for you. It is clear when looking for a catamaran crewed vacation, or a catamaran yacht rental, then there is only one thing to do, call Andrew the leader in top catamaran charter rentals.
View video here of Aletheia Catamaran
Where can great yacht charter vacations be enjoyed in the world? There are 4 major locations to do a yacht charter Greece. Yacht charter Mediterranean, French Rivera. Yacht charter Caribbean and yacht charter Bahamas. These four major all-inclusive yacht charter destinations have unique cruising grounds. Generally the islands are close together making a one week yacht charter a perfect all-inclusive family yacht vacation. Most owners of charter yachts, like to charter, so they base their charter yachts in locations where most charters are done, this also means the yacht charter broker has more yachts to select from to offer our guests. This fact also means the yacht charter rental is competitive, so rates are keen. Barrington-Hall yachting professionals love to give our guests a yacht charter all-inclusive rate, so there are no surprises for our clients. We enjoy presenting guests with the all-inclusive yacht charter cost, so there are no surprises. We find that 70% of all our yacht charters are done in the Caribbean. Caribbean catamaran yacht charters are done through our company, so are Caribbean catamaran rentals.
View Video of Alegria Catamaran
---
What is the Ultimate Experience on a Power Yacht?
Click here for video of the ultimate mega yacht vacation: 3m video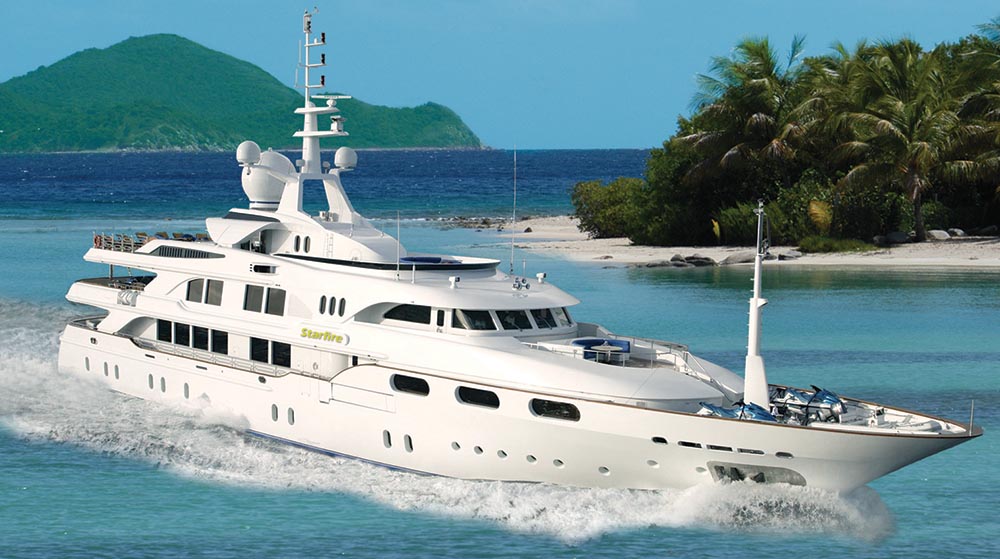 MEGA YACHT CHARTER:
A luxury crewed mega yacht is the highest end of all hospitality in the world. The mega luxury power yacht provides the most exquisite and fulfilling vacation on the face of the earth today. Luxury power yachts are modern marvels designed with every amenity in the world, to pamper royalty, celebrity, and our guests. Here is the absolute perfect way to reconnect with family and friends, away from all distractions. The pinnacle of family bonding.
AWAY FROM ALL OTHERS
your mega yacht gives you your mansion of seclusion. You have the ability to go where no other is, at anytime, and at your discretion. Your top luxury power yacht charter in the Mediterranean can be done at the summer time, May to September. Caribbean yacht charters are done November to July. Let us know when you want a Caribbean yacht charter. Many of the worlds top mega yachts tend to cruise around so call us for most destinations, that are off the beaten track. Your request needs to be for fully crewed mega yachts sourced by Barrington-Hall yachting professionals.
Watershed 2- 84 ft luxury power yacht Video 3 minute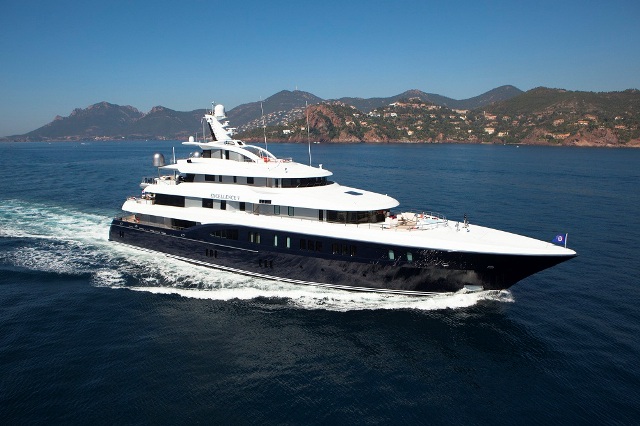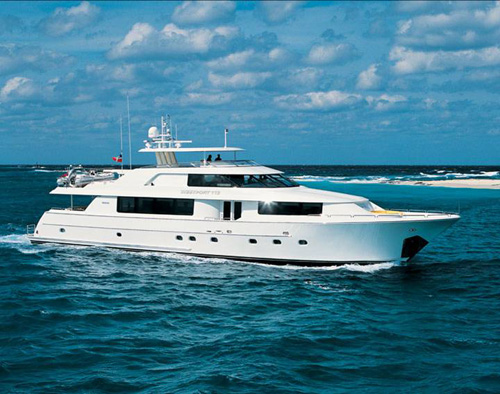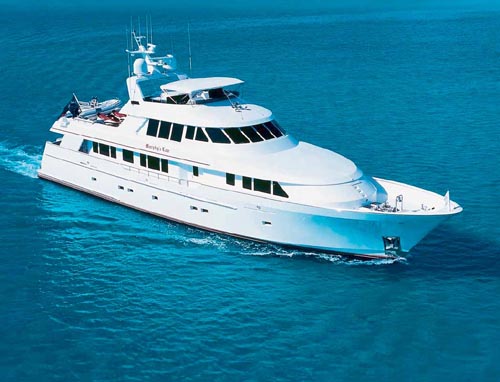 Here is a typical e-mail to guests by their crew just before their mega yacht charter.
ON ARRIVAL on board your super motor yacht
Captain Hector on board ROYAL BLUE will meet you at Crown Bay Marina on St. Thomas. This is only a short 5-10 minute taxi ride from the airport. There are always several taxis just outside baggage claim at the airport. You can also ask the taxi dispatcher for a private ride, however it will cost a bit more. Keep in mind your luxury motor boat is waiting for you.
I will personally meet you at the airport when you arrive and escort everyone to ROYAL BLUE your selected super yacht.
Boarding time is noon on the day your power boat charter starts. Quite often the luxury charter yacht has guests on board until noon the previous day and needs every moment to have everything "ship-shape" for your family motor yacht charter.
Departure ("Check-Out Time") is also noon on the last day of your motor yacht rental. You should plan on having lunch ashore and the marina, or restaurant, they can always find a safe spot for your luggage.
COVID-19 PROTOCOL Everyone traveling to the US Virgin Islands must visit and complete the USVI Travel Portal at https://usvitravelscreening.com/ .Your crew will assist where possible. As of March 7, 2022 US citizens with vaccines do not have to have a covid test when arriving in the USVI. Check with Andrew at Barrington-Hall 954-720-0475 for all luxury yacht charter questions.
PAYMENTS AND PROOFS Don't depend on ATM's in the Islands during your trip. There are very few, and there aren't any in most of the smaller secluded bays you'll want to spend your time at.
LUGGAGE & WHAT TO PACK Bring soft-sided luggage or duffel bags. You only need t-shirts, shorts, swimwear and a cover up as dress is casual in the Islands. Shoes are not worn on board. Sandals or flip flops are perfect for shore or appropriate shoes if you like to hike, walk, or run. No need to pack bath or beach towels, we have them on board, as well as a hair dryer, soap, shampoo, and conditioner in each bathroom. Bring your iPod. We have Bluetooth stereos on board.
SUNTAN LOTION on board family luxury motor yachts. We recommend Coppertone Sport Lotion, in the blue bottle. Kindly NO Spray Sun Block, Suntan Oil, or Bronzers. They damage the luxury motor yacht finishes, and not requested on board.
KEEPING IN TOUCH Your home phones and devices work in the U.S. Virgin Islands, although you may want to check with your service provider to be sure. Barrington-Hall phone number is 954-720-0475 for emergencies
PROVISIONING a luxury motor yacht. Make sure you have filled out our Charter Information & Preferences sheets completely and returned them to us. Chef Carol plans meals based on the information you provide. Please note everyone eats the same entree when possible. The Yacht stocks a selection of House International Wines, your APA will take care of wines etc. Stocking your Bahamas mega yacht charter is easy, with many suppliers ready to serve all of us.

SCUBA DIVING For Certified Divers, don't forget to bring your "C Card". The Dive Shop or Boat will require it.
GRATUITY Your crew, Captain Hector & Carol and team, work hard to please you and show you the vacation of a lifetime. You'll savor your own quiet time when needed, so have fun with us. Gratuities are appreciated.
GOING ASHORE AND OTHER EXCURSIONS Although not included, your crew will be happy to arrange excursions for you including Rendezvous Scuba Diving and dining out. We can show you the great out-of-the-way places to enjoy.
DON'T FORGET… Food preference sheet, soft luggage, Coppertone Sport, and medications. Your ultimate vacation is just around the corner on your luxury family motor yacht.