What an excellent yacht broker does to enhance your luxury yacht vacation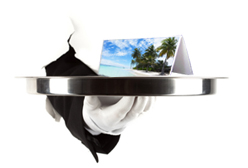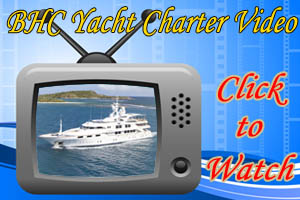 A yacht charter vacation comprises many variables that will ensure your vacation is a adventure to remember. What is the weather like? The best catamarans sailboats and power yachts? The best anchorages and the best time of year for yacht chartering? Most of this information will only be available from an experienced yacht broker who the knowledge about the charter yachts and charter destinations.
There are thousands of charter yachts available in many different locations including the
Mediterranean
,
Bahamas
, French Riviera, British Virgin Islands,
Caribbean
,
Greek Islands
and the
South Pacific
. A charter yacht broker is the link between you and your ideal charter yacht. After all choosing the right location, coupled with the perfect yacht and crew are the best ingredients of a recipe to create excellent yacht charter vacation memories.
How important is choosing the right yacht charter company for your luxury yacht vacation?
It is vital to select the right
yacht company
when planning your charter vacation. Yacht charter brokers represent you at no cost to you; it is the owner of the yacht you select who pays their commissions.
A good broker is unbiased, even when owners offer them higher commission.
An excellent yacht charter broker and company will never compromise your yacht vacation by recommending a yacht that is not of the highest standard. Make sure that your broker has years of experience in the charter industry, normally 10-15 years and above. These are the agents who offers private yachts as their sole business focus. Ask the yacht broker you are considering "Is this your main source of business income?" Brokers who work on a part-time basis or have very few years of experience usually do not possess the knowledge to make sure that you get the best possible adventure that your money will buy.
A charter company and its brokers can point out the best week of the month and year to schedule your charter and be able to explain the reasons why they are making the recommendation.
While you may not be able to go on a vacation on the recommended dates due to scheduling conflicts such as the children's school or your other obligations, the ideas and the wisdom are shared with you for planning future vacations.
Choosing the Best Yacht Charter Company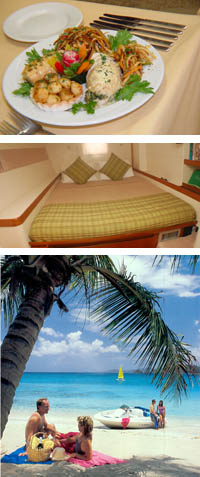 My suggestion to clients looking to charter a private yacht for vacation or corporate event is first to select their broker to represent them. The best yacht brokers work are those that are actively working with all the yachts in our industry on a daily basis as many of the 'yacht brokers' book yachts as a part time business. Working with a company whose full time business is chartering yachts gives you tremendous advantages including having the experience of someone who have arranged thousands of successful yacht charters.
Additionally, having built up trust and relationships with the yacht owners, captains and crews you can rest assured that if by chance there are any problems, you, our guest has a team dedicated to solving them immediately. Rarely does 'something' serious happens, but when it does you want to know that with just a single phone call that it will be resolved fast and efficiently. You're on vacation and do not want hassles or aggravations to interfere with having a fun and relaxing time.
Here is an example of a situation that has rarely come up and how it was resolved. The owner of a luxury power boat called me 2 days before the charter for was to begin for my guests to tell me that he has bad news "my engine is down and as such it will not be possible to take the guests on their scheduled charter vacation". This yacht was a 100 foot motor yacht chartered for 6 guests. You can imagine how disappointed the clients would have been had we had to cancel their trip, especially on such short notice.
Even though the clients had purchased trip insurance and would have been reimbursed for the cost of their trip we immediately began the search for another yacht in the same region to take over the charter. The search started by us looking for a power boat that was the same size or larger as the original 100 footer. Fortunately, we found one that was even larger and just 62 miles away which was sufficient enough time for the new yacht to cruise to pick up the clients at their at the original location. As well we were able to arrange to have the boat provisioned with all the guests preferred foods and drinks prior to their boarding!
Having contacted the owner of this yacht, he told us that he could have his captain do the charter, but their rate turned out to be $6,300 more expensive that the first boat. Because we had a long standing relationship with this owner we were able to negotiate a price that matched the other yacht - a bigger, better yacht for the same amount of money! Needless to say that the guests were delighted that they were still going on their much anticipated vacation with the added bonus of having a 108 footer with more cabin space for guests at the same price. This is where the best yacht charter company can save the day and your charter moves forward without a hitch.
Knowledge of Yachts and Crews
Professional yacht brokers have been on board most of the charter yachts worldwide in the four major yacht destinations: the Bahamas, the Caribbean, the French Riviera and Greece. These are the brokers who are acquainted with the crews and all the different qualities of each yacht. While a broker may not be able to visit every single yacht, all charter companies will have equal access to all the yachts worldwide.
Making Informed Choices
It is the broker's responsibility to present their clients with as much useful information regarding the yachts and crew, as well as the destinations to enable the guests to make the best decisions to ensure their yacht charter experience is joy-filled and memorable.
There are 3 different types of charter yachts available for your vacation:
Sailing Yachts (mono-hulls)
,
Catamaran Sailboats
and
Power Yachts
. All are fully crewed.
Make sure you have the most qualified yacht charter company to ensure that you have the right team looking out for your best interests as not all brokers are the same.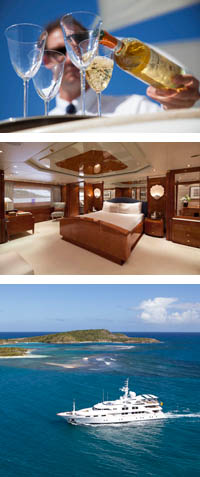 The Yacht
Generally, all private yachts are manufactured for independent owners. They were not designed for the charter industry, yet many do fit different niches. Unless you are looking at a luxury catamaran charter, it would be rare to find a power yacht with equal queen sized cabins.
Power Yachts
All power yachts, no matter what size, are manufactured for its future owners who gave their requests to the yacht builder. Generally, the instructions are as follows. "
I want a king-sized full-width master cabin for my me and my wife. The VIP cabin and the guest cabins need to have 2 queen-sized beds, all with their own facilities. Then give me one cabin which has 2 single beds either for the children or for bodyguards.
"
Sailing Yachts
Sailing yachts have the usual design limits controlling their manufacture but unlike power yachts, there are exceptions.
Catamaran Sailboats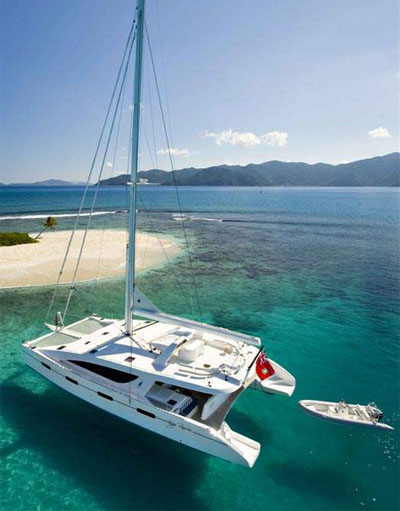 The catamaran sailing yacht era has been born, and its acceleration through the sailing world is far more electric than anyone could have imagined. Today, catamaran sailing yachts have opened our small 7% industry in North America to a larger 70% industry, which is blossoming before all of us. The reason is 3 fold: catamaran sailboats do not tip over when sailing; these are the world's most stable crafts at anchor and under sail. And finally the space inside is three times that of any vessel with the same length and this applies to the deck area as well. This enormous space now allows for total comfort, and allows for those large queen-sized cabins for all guests.
Some catamaran sailing yachts have 4 equal king-sized cabins; others have 1 king and 4 queens, and 2 of those queens can usually convert to single cabins as needed.
Catamaran sailboats
now provide the best of all worlds. Smart design has made all this possible. An example of a luxury Caribbean catamaran we feel is the world's most luxurious catamaran is not a leather interior, but rather ostrich skin with soft cream furniture and everything related to luxury:
Catamaran Kings Ransom
. Catamaran King's Ransom is designed for 10 guests in 5 cabins and is the only catamaran sailboat currently available with walk-around beds. Walk-around beds are exactly what we get when we are in hotels; you can walk around your bed, except for the headboard side. This is rare in our industry unless you are looking at a 120-foot or larger mega yacht charter.
Age of a Charter Yacht
The age of a good charter yacht normally does not matter, whether it is brand new or about 10 years old. Your yacht charter owner knows that he has to keep his yacht in tip top condition, or he may lose a potential charter. Therefore linens, carpets, upholstery and general maintenance are vital for these owners. The best yacht charter brokers inspect these yachts on an annual basis and will not place their guests on a yacht that are not up to standard.
Catamaran sailboat cabins, with some exceptions, would generally be 3 or 4 equal queen- sized cabins; very few catamarans have cabins with single beds.
Charter Locations
Charter yachts are located in many destinations around the world. Some are ideal for chartering all year and others for just a few months. Talk to your knowledgeable yacht charter broker; he or she would have vital knowledge of the location you desire.