True Yacht Charter Stories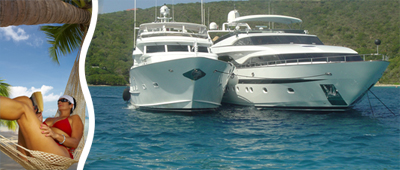 True Yacht Charter Stories
Yacht chartering in the Caribbean is a beautiful adventure and during my time as Captain on my own catamaran i have experienced a lot. Below is a list of "true stories" that I was involved in while chartering in the Caribbean.
From Adolescence to Adulthood.
This is the story of a young boy who chartered with us at age 14 then returned with his wife to relive the magical adventure.
Click here for full story.
Sixteenth Century Cannons.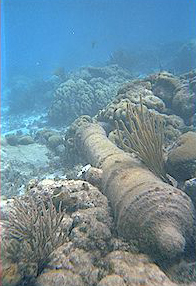 In the late 1980's Burt Kilbride a self proclaimed treasure hunter who lived in Virgin Gorda, British Virgin Islands, for many years, told me he met Jacques Cousteau many times and he went scuba diving with the gentleman. Anyway Burt picked up the cannons from the guard ship SAN IGNATIUS and placed 4 cannons in 10 feet of water on the inside of Coulequan Barrier Reef which is 200 yards east of the Bitter End Yacht Club. I first saw these 4 cannons in 1991 and again in 2007 they are marked with a red buoy, so that the Bitter End Yacht Club guests can snorkel on them daily. The picture you see was taken by me personally in 1993 or 4 as I took many of these pictures. All my guests enjoyed snorkeling on these cannons, many captains of charter yachts have no idea they exist.
Tripple Tail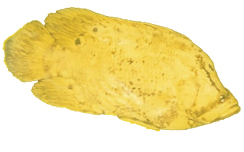 Here is a very unusual fish that I have only seen 3 times in 50 years. This fish is found sparsely around most continents where mangroves and trees grow near the waters edge also in tropical waters. By sheer accident I stumbled upon this beauty, I noticed a large barracuda with it's nose near the surface of the water, the rest of it's body at a 45 degree angle with the seabed some 6 feet below and the Barracuda nose was pointing at a yellow leaf floating on the surface all by itself. I happened to look at the leaf a little closer because of the Barracuda concentration and realized the leaf was a fish which looked like a leaf. I could see the Barracuda saying to itself can I eat this or is it merely a leaf, this stance went on for roughly 45 seconds and I did not move, nor did the yellow leaf fish. The young Barracuda decided it was a leaf and disappeared, and then the eye of the leaf fish moved around in its socket. I had no idea that these yellow leaf fish got as large as they do, the one's I saw were 2 inches long, same size as yellow mangrove leaves.
Red Sea Horse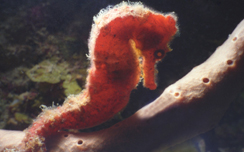 In late 1990 we were snorkeling on the outside of Horseshoe Reef which is a barrier reef in the Grenadines, when we came across a small shoal of red seahorses. I have seen sea horses in the wild a few times they were browns and yellows but none were red. So keep those eyes open for small movements when snorkeling and you may also find those most unusual little creatures.
Saving the lives of two men lost at sea.
My wife Gaile and I (married for 40 years) were sailing in our catamaran around Anguilla in 1990 when I first saw a racing can 2 or 3 miles out to sea, and then I dismissed it. A Racing Can is a large red buoy that yachts race around, these can be found marking the sailing race track. Gaile said to me, "what is that red thing over there pointing at that red buoy?" I said it is a race buoy and she said it can not be because there are no yachts. DUH of course, so she said let's go and look at it. So we turned our catamaran and headed for the red buoy, it took a few minutes to reach it and as we got closer it was clear that 2 men with red life jackets were waving at us very desperately...
Click Here Read More
Two hundred (200) year old Ship wreck discovered.
Finding a sunken ship with cannons for the first time in 200 years. In late 1990 my wife had left our catamaran to go to hospital to undergo a back surgery, so that left me and Ryan Donnelly on board our catamaran. Both lonely souls. Anyway we decided to explore the eastern side of Martinique which has a big "do not go here" cross marked all over this uncharted area. Now I know why, there are some very aggressive cracks which go down 300 feet and back up to 5 feet within 50 feet and there are many like this with coral growing on the surface just below the water line. It is very dangerous to cruise in especially for sailing yachts and power boats so few people go there if any. Ryan and I slowly crept into a good anchorage for the evening and went to bed. The next morning we awoke to go snorkeling, I was snorkeling on a ledge 12 feet below the surface when I realized I was looking at a war cannon, these war cannons are far larger than normal (roughly 12 feet long).
Click Here to read More...
Make a Wish Foundation Yacht Charter
The wish foundation wanted to grant a six year old boy, SAM, his one wish and he wished to be like Johnny Depp, a Pirate of the Caribbean who found treasure. So Karen McKenna of the Children's Wish Foundation in Canada contacted Barrington-Hall yachts to ask what we could do to meet the little boy's desire. Our plan was to set up a pirate's map so the Dad could put that map into Sam's Christmas stocking for Christmas day. This we did, plus instead of burying the treasure, we knew of a small out of the way cave, that very few charter captains know exist, and the map ended at the mouth of this cave on an uninhabited island in the British Virgin Islands.
Click Here to read More...