The Pelican Brief - Luxury Yacht Charters
A true story of explosive laughter when on charter.



While Gaile and I were chartering in the Caribbean learning all the anchorages for our guests, we used to take these free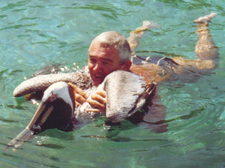 week-ends with friends and get lost in paradise just chilling out. Gaile (my wife of 39 years) is one of those wonderful gentle folk who people, dogs, cats and birds, are attracted to. When we were in the Virgin Islands those single girls would gravitate to "mother" Gaile, so there was forever a bunch of single girls hanging around our catamaran and the safety of "Mother" Gaile.
One July week-end in 1993 the girls decided to rent 8 movies and then we would find a quiet anchorage where we would hang out for the week-end. We found our anchorage off Peter Island called little harbor. After snorkeling most of the morning the 6 girls and myself were sitting on the trampoline when I realized that water is heavy....There were many
pelicans
diving for minnows around our catamaran and it struck me that for 2-3 seconds pelicans are unable to fly when their pouches are full of water. Their pouch holds about 3 pints of heavy seawater and small minnows, they purge the water out of their beaks tilt their heads and swallow their catch.m.m.m.m. This meant they were vulnerable to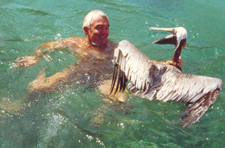 being caught by hand, provided one dived near our catamaran and I could time it exactly correctly. If I ran off the side of our catamaran and dived in the air just after the pelican, I would then flare open my arms and catch the pelican with a beak full of water and fish..mm..mm..m..
"Girls what would you bet me if I say that I can catch a pelican with my bare hands in the next few minutes and you can touch the feathers then I would let it go?" Eeeeeugh what are you talking about, they all said in total disbelief, impossible. "OK we have one slab of chocolate for the whole week-end we would bet you the slab of chocolate". I do not remember what I promised them if this did not work, I did not tell them how this was going to go down anyway. I sat and waited for the right pelican to fly just too close to our catamaran, while I was waiting they were teasing me "so where is the pelican Mr Hot Shot?" Wait I said and they teased me even more. I waited, all the time watching, 10 minutes went by with constant heckling by those female non-believers, then the right Pelican was aimed in flight (a dive) at the distance I felt would work.
I was running along the side of the catamaran and just behind the Pelican then in the air, (I was diving) the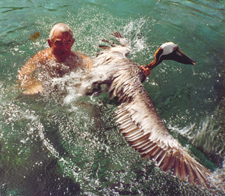 pelican hit the water a second before I did. I hit the water far enough away from him as not to hurt him but to come up after the initial underwater dive right where our Mr Pelican was. It was too late for Mr. Pelican as he emerged with water and fish in his beak I surfaced right next to him with open arms. His wing span was far to big to get him moving in time to escape my closing arms his beak remained full of water and little fish, this pelican was surprised but no where near as surprised as 6 women sitting on deck in total disbelief.
Then there erupted the loudest laughter ever emitted by any female and there were 6 of them, they were cracking up on deck, tears running down their faces, I had to stop them and say go and get a camera ladies I cannot stay here all day waiting for you to take these pictures. So these pictures you see were taken by those non believing lady's on deck.
<< Back to Charter Information