Featured Yachts
Big Nauti
55 FEET Luxury crewed catamaran charter yacht.
View your ultimate Family yacht charter here:
https://www.youtube.com/watch?v=CCylD7G8mcw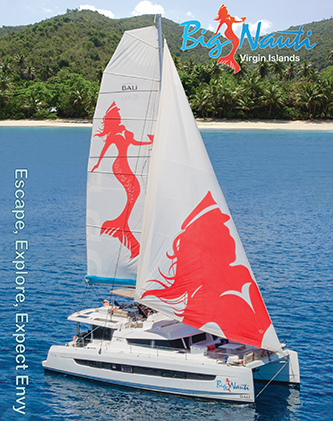 May I share with you exactly why Big Nauti is the faster booked Luxury family catamaran sailing vacations vessel in our industry today, May 2, 2022. In the past 32 years I have never been so impressed with any Crewed Caribbean catamaran sailing vacation vessel than BIG NAUTI. The captain said Andrew look at this and pressed one button and the wall between the salon inside and the rear cockpit folded-away, into the ceiling. What just happened? View the fold-away-wall here:
https://youtu.be/kaxJbFIbLWE
This is only 30 seconds and it brings the white beach and green palm trees into your charter yacht. Big Nauti has a large sky lounge where you watch sunsets with happy hour treats in one hand and your favorite drink in the other. What more can a top luxury family catamaran yacht charter vessel offer you, well she does more. There is NO more trampoline, that entire area is a solid padded area for relaxing and sun tanning, while cruising between the islands on board your family crewed catamaran charter vessel, totally enjoying real paradise. When considering yacht charters, the new Caribbean catamaran vacation vessel blows away all her size and many 6 feet larger, because of these new features you can enjoy. Big Nauti is truly perfect for Caribbean family catamaran vacations.
Captain Dillon and chef Amanda love having children on board, that tells me adults are easy to please, this indicates why they are so popular with guests. Doing yacht charters with this crew is a plus all around, chef Amanda is a Wizkid in the galley, so expect world-class cuisine at each meal. How can you get a better Caribbean catamaran vacation rental better than Big Nauti with all her water toys?
Having inspected almost every Caribbean luxury catamaran yacht charter vessel at all the annual boat shows, it will take a serious new catamaran to beat BIG NAUTI manufactured in 2020.
---
Zingara
75 FEET
Luxury crewed catamaran charter yacht.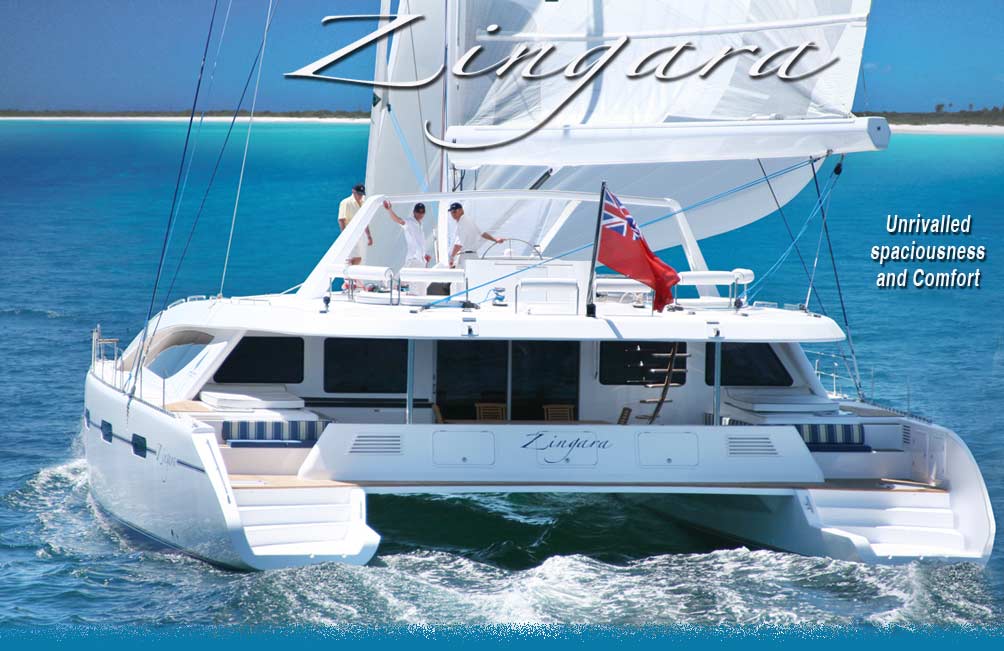 Your captain and crew welcome you aboard the fabulous
,
luxury family catamaran charter yacht, Zingara where the enchanting spirit of the lovely Contessa Zingara lives on, through the decadent delights that await you and the passion that is woven through every hidden corner. You are invited to leave your cares ashore and be seduced by the legacy of our industries top Caribbean catamaran crewed charter yacht.
There are wonderful reasons why Zingara is our industries top family catamaran yacht charter vessel today. The reasons are easy to see why, they are the world's largest master guests cabin with a California kings sized bed, a private bathtub, separate shower wash basin and separate toilet, with this huge master guest cabin facing forward. This entire master guest cabin and facilities are set on the main deck and this is the only guest cabin set on the main deck, all other cabins are below deck. That is totally unique to Zingara. The internal dining room is set on a raised platform one foot higher then the large salon. Zingara has a large sky lounge with an open jacuzzi set high in the air for those romantic evenings. Happy hours on her sky lounge are magnificent, you know you are in paradise. Zingara was manufactured way in front of all other catamarans, it took all the other manufactures 5 years to wake up to the sky lounge and how to design a family catamaran rental yacht where all guests cabins have beds that were walk around. Zingara is the sleekest luxury yacht rental vessel around, so you can expect a Caribbean catamaran vacation rental to top all other.
Captain Camille: Over the past four years on Zingara doing the perfect Caribbean catamaran vacations, Camille has learned a great deal about boat handling, sailing, the good running of a family crewed yacht charter, and the industry as a whole. Her background as a lodge manager and horseback safari guide in Kenya, as well as a dive instructor in Costa Rica, forms a solid foundation for the high-level service she provides today. Camille knows the BVIs and the Southern Caribbean inside out, which allows her to choose the best possible itinerary and easily adapt to your preferences. You can go where you wish to go. It is you who sets your own private family sailing vacation when on board. The captain will guide you with where you wish to go. Captain Camille is a very energetic Captain and is always exited to share her love for the ocean with guests. She'll happily take them on adventures – whether it be underwater, above water or on land. She always looks forward to giving the guests the best possible experience. You certainly can say that the Zingara charter is a family mega yacht.
View your ultimate Family yacht charter here:
---
What is a Caribbean catamaran vacation
?
View
it here:
http://www.yachtsbhc.com/charter-information/ultimate-yacht-charters.html
When people ask me, what is a
catamaran yacht charter
, I say, "
It is your ultimate experience."
The catamaran today is the world's most
stable
,
spacious
and
comfortable
craft on water, because they have two hulls, they are manufactured far wider than any mono-hull. Now it is the quality of your yacht charter broker, not to subject you to any open ocean crossings, because an open ocean crossing is where there are sea swells, and when the wind blows, there is nowhere to find shelter in a glassy calm water cove. It is the brokers job to make sure that all his/her clients enjoy many islands in close proximity so sailing is short and sweet, with the firm knowledge that protection is just around the corner, when needed. Now we have a firm idea of your
catamaran sailing vacation
location, from your top professional broker. All our guests can expect a top Catamaran family yacht charter. Your new modern,
luxury crewed catamaran
is true ULTIMATE Exclusivity, ultimate privacy, ultimate intimacy, ultimate hospitality, as well as ultimate
expression of freedom
, all of us demand on a top vacation. Families bonding with children cannot be better, everyone is together 24/7, mon and dad both snorkel with all the children, with your captain showing you shy sea horses or coral shrimps in pastel colored soft corals. Water toys on board keep mom and dad playing in the water with their children. This
Caribbean catamaran rental is
just what families have in mind when considering a awesome vacation. Always ask for a fully
crewed catamaran vacation
, you a
family catamaran charters.
View your ultimate
Caribbean catamaran vacations
here:
http://www.yachtsbhc.com/charter-information/ultimate-yacht-charters.html
---
STARFIRE 185 Feet
Bennetti: luxury family yacht charter
Captain Carl runs Starfire 185 feet Benetti, which has 6 guests cabins that sleep 12 guests when on their luxury family mega yacht.
It is Captain Carl who personally meets you at the airport when you arrive for your Caribbean family vacation. His words to you are "you are with me, from the airport forward." It is our job to be well ahead of you when you are on board, so you do not need to think of anything during your Caribbean family yacht charter. Our top professional crew are paid to be attentive at all times on your Caribbean luxury yacht. What makes us special is our huge sky lounge, that has a sauna, a bar, a massage table and a jacuzzi one deck, which are magnificent for your family vacation rental. You can watch tv under the stars on our giant TV SCREEN, again just perfect for your family luxury yacht charter. We have so many water toys, water skiing and a total beach set up, so we can have lunch under to coconut palms, on a footprint free white beach. Breakfast is served on our rear aft deck. We have 4 separate dining areas, but our major dining is done in our elegant dining room, where you wish to dress up elegantly and our chef serves a 4 course meal, with your favorite wines. Our master guests cabin is gorgeous with a California Kings sized bed. Our VIP guest cabin has a lovely view and just as elegant. Starfire is a world cruising vessel, so we can go anywhere in the entire world. Generally we cruise the Caribbean in winter and the French Rivera, or Greece, or the Baltic sea, in summer. You tell us where, and we can do the location for you. Your yacht charter request is our demand, and we can get that done. Our entire aim is to give you the ULTIMATE yacht charter Mediterranean experience possible.
Starfire
- 178 feet Luxury family crewed yacht charter
video
3 minute
http://www.yachtsbhc.com/luxury-yacht-charters/motor-yacht-starfire.html
---
Watershed 11
is a Caribbean favorite Family yacht charter vessel.
Captain Chris and first class professional chef Maggie, lead the way with your family crewed yacht charter in the Virgin islands, St Barts, Anguilla, or St Martin and surrounding island. If it is something different for your vacation then a crewed yacht rental just cannot be beaten.
Watershed 11 offers a comfortable, home-like, environment, that is significantly more spacious than other vessels her same size. Your luxury yacht charter is designed to make you feel as comfortable from the moment Captain Chris meets you at the airport, until you get home. Maggie and I are here to make sure your experience with us on board is the best luxury family mega yacht experience you can possible enjoy. There are various locations on board for different times of the day for you to enjoy, this can all be done when anchoring at islands in paradise. Watershed 11 is the mega yacht experience without the mega yacht charter price tag. You can expect to do water skiing rendezvous scuba diving, snorkeling and fishing, plus many other water toys you expect a family luxury yacht to have on board. This Caribbean crewed yacht charter is designed to be your ultimate vacation.
View
Watershed 2
- 87 ft luxury family vacation rental
Video
3 minute
http://www.yachtsbhc.com/luxury-yacht-charters/motor-yacht-watershed2.html
---
Viaggio 74
feet luxury family motor yacht;
The Power yacht VIAGGIO is a 74' super posh luxury motor yacht available for luxury family yacht charters, in the British Virgin Islands and other tropical destinations throughout the Caribbean Basin. This luxury family vacation rental yacht has the same high-end finishes inside as found in the world's top 200-foot luxury power boats, so look closely at the video and photos below to see her high-end dazzling interior.
You will be very pleased with the rich timber throughout, this is complemented by the soft creams of the furniture and accents. The same sharp designs are continued into each guest cabin. Viaggio has 1 King, 1 queen cabin and one twin. The master is magnificent King sized bed, with her full width of the entire yacht, making her super spacious and perfect for the luxury family mega yacht adventure. The master walk-in wardrobe has a small safe, bathroom with double vanity, desk (TV and i-pod docking station and controlled a/c make for a luscious cabin). The V.I.P. cabin queen-sized bed also looks as if it is inviting you to climb on board, and put your head down. She has a TV and i-pod docking station and the entire yacht is air conditioned, this completes your mega yacht charter inside. Winning back to back "Best motor yacht at the annual BVI boat show:, is an award well worth boasting about.
Your chef is one of the world's top chef's in Lisa Mead, who also has her own culinary TV show. To Lisa, she is like an artist and your meals all have to look like an art form, so expect to see world class presentations, on each meal when on board Viaggio. Lisa Mead will make your family crewed yacht charter dazzle you from start to finish. From the moment you walk into her large salon, you are impressed by her size and the big flat screen TV completes the feel of home, you have just stepped into your Caribbean motor yacht charter dream, we do guarantee your ultimate vacation.
View Viaggio here:
http://www.yachtsbhc.com/luxury-yacht-charters/motor-yacht-viaggio.html
4 minute video:
---
Breanker
55
feet family luxury catamaran charter yacht---The very
BEST VALUE FOR YOUR $
To all families who are looking for the very best value for your dollar? Breanker is a luxury Caribbean catamaran vacation vessel with a weekly rate, that cannot be beaten at all. Breanker is a large crewed charter catamaran, she is spacious and comfortable and targeted for 8 guests with separate facilities for all guests in 4 equal guest cabins. It will be tough to beat captain Kristian and chef Marianne for your catamaran sailing vacation. Captain Kristian and chef Marianne have their own cabin, also with their own facilities. Chef Marianne is an international cuisine queen, she can prepare any international meal you really would like to enjoy, when on board Breanker for your family catamaran yacht charter. Captain Kristian loves to show you his favorite out-of-the-way anchorages, plus fishing is his fun. The children and adults, when on board have a he selection of water toys to entertain everyone. Marianne and Kristian love having children on board, so plan well when selecting your Caribbean family sailing vacation. Today is May 2022 and Breanker is one of few luxury Caribbean catamaran vacations charter yacht, that can cross the BVI border at anytime and were one of the very first catamarans to get this honor. Today there is no more covid testing if you are vaccinated and an American citizen, flying directly from Miami to St Thomas United States Virgin Islands. This a two hour flight non-stop, to board your crewed catamaran yacht charter, will be the ultimate yacht charter experience of your life.
You can
view
luxury catamaran
BREANKER
right here
3 minute video
by Andrew Buys:
Breanker
:
http://www.yachtsbhc.com/luxury-yacht-charters/catamaran-breanker.html
---
Alegria 58 feet
luxury family crewed catamaran
View Alegria here:
http://www.yachtsbhc.com/luxury-yacht-charters/catamaran-alegria-yacht-charters-video.html
Captain Nathan and wonderful Penny have the pleasure of giving you a truly extra ordinary luxury catamaran vacation experience on board their Caribbean catamaran yacht charter, vessel Alegria. This gorgeous catamaran sleeps 10 guests in equal queen guests cabins. She boasts the new modern sky lounge where you enjoy watching sunsets, with happy hour treats in one hand, and your favorite drink in the other. Captain Nathan and chef Penny will make sure you have everything you need during your stay with them. Nathan says that with them, you have your own private luxury hotel on water, with everything you expect from a fine resort, plus you get to go everywhere. Chef Penny is a wiz-kid in the galley so expect world-class cuisine plus she can even do shrimps on the barbie. It is seldom we find this high-end type of captain and chef team in our industry, when we do, they make a huge difference for all of us. Here is a fantastic luxury Caribbean catamaran vacation waiting for you to enjoy. During the Summer months they also do a Bahamas crewed yacht charter.
Alegria video here:
http://www.yachtsbhc.com/luxury-yacht-charters/catamaran-alegria-yacht-charters-video.html
---
A typical
top luxury Caribbean catamaran vacation Chef for you, when on board.
Once your agreement is signed you can expect a 5 page food and bar preference sheet so you can tick-off whatever you wish to eat and drink. Ships bar is included in your Caribbean luxury catamaran yacht charter. This 5 page food and bar detail is sent back to your broker, and I send it to your chef and captain. Once they have scoured everything you have requested, they call you roughly 10-12 days before your charter to discuss what you wish to eat and drink. This is when they know what they can purchase on the island for your Caribbean catamaran vacation. It is normally everything. With this program we have asked a chef to serve us her favorite healthy lunch dish, so here it is. The ingredients are: Freshly caught yellow fin tuna diced into small squares, Avocado pear, Jalapeno, cilantro, mango, scallion, Tomato all diced, black sesame seeds, a dash of olive oil, plus lime squeezed over everything some seasoning, salt and pepper, combine everything mix well and Served with plantain chips. This sounds wonderful when enjoying your Caribbean crewed sailing vacations.
Now you have a fresh healthy, Caribbean style Tuna Tartare. How can you beat this for a tasty lunch on board your catamaran crewed yacht charter?
View this video here: Your custom prepared meals on board your catamaran yacht rental.
http://www.yachtsbhc.com/chef-catamaran-slivochka.html
3 minute video preparation for you..
---
Sea of Love a
catamaran yacht charter
. Kindly view this gorgeous well priced comfortable luxury catamaran rental here:
http://www.yachtsbhc.com/luxury-yacht-charters/catamaran-sea-of-love.html
Captain Joe and lovely chef Carol are a delight to show you a magnificent
Catamaran sailing vacation
. This is centered around Carol serving you her meals fit for kings and royalty. Carols specialty is Caribbean fusion topped off with her famous key lime pie. Chef Carol is determined to have you enjoy every meal when on your
crewed catamaran vacation
. The Sea of Love also have their favorite tropical drinks as served by Captain Joe. Most meals and activity is enjoyed in their large rear cockpit, this shows guests a 360 degree view of the coconut palms, white beach and calm lagoon. Sunsets are a delight with happy hour served in the cockpit. The impact of a good
crewed family vacation
pivots around service happy crew and water toys. Their wide range of water toys keeps guests active everyday should they want this, or relaxing under a palm tree with a book, is also something guests can do. Captain Joe and Carol are keen to set up a barbeque on the beach for one lunch time and a change on a foot print free beach. Your ultimate
Caribbean catamaran vacation
is just around the corner.
SEA OF LOVE video:
http://www.yachtsbhc.com/luxury-yacht-charters/catamaran-sea-of-love.html
---