Luxury Yacht Charters
True Yacht Charter Stories
Saving the lives of two men lost at sea
My wife Gaile and I (married for 43 years) were sailing in our catamaran sailboat around Anguilla in 1990 when I saw a racing can 2 or 3 miles out to sea, and immediately dismissed it. A 'racing can' is a large red buoy that motor yachts race around and these can be found marking the sailing race track. Gaile said to me, "what is that red thing over there?" pointing at that red buoy. I said it is a race buoy and she said it cannot be because there are no yachts racing. DUH of course, so she said let's go and look at it.

So we turned our catamaran sailing yacht and headed for the red buoy, it took a few minutes to reach it and as we got closer it was clear that 2 men with red life jackets were waving at us very desperately as we got 10 yards from them the one gentleman jumped into the water and swam to our swim platform, he was shaking and as I pulled him onto the platform his rings fell off and went down into 2 miles of ocean, he did not care. He huddled on our boat and could not stop saying thank you.

The other gentleman was calm and explained that they had taken this 25 foot sailing yacht from the water toys of their battle ship which was anchored in Phillips harbor, but it started to take on water and capsized a mile or so from shore. The wind was also blowing them off shore as well so they were getting further and further away from shore. Could I tie a rope to the capsized yacht and drag it back to their battle ship, I said YES. The sail and mast pointed to the seabed and we were able to do 1 mile per hour so it took us a good few hours to get back to the battle ship.

On the way back the gentleman who had kept his wits about him explained (lets call him David and the other John), David explained that John wanted to swim ashore but John was so erratic and scared that David knew he would never make it, so David kept telling John just to remain on the hull of the up-turned yacht. David also said that a family of 6 had come to within 20 yards of them in a week-end power boat and turned around and left them where they were.

They were extremely grateful when we dropped them on board their battle ship and were very pleased we dragged their yacht all the way back. They were adrift for 3.5 hours.

4 or 5 months later we got a letter from the captain of that battle ship's thanking Gaile and me for rescuing his 2 able sea men. See copy of letter below.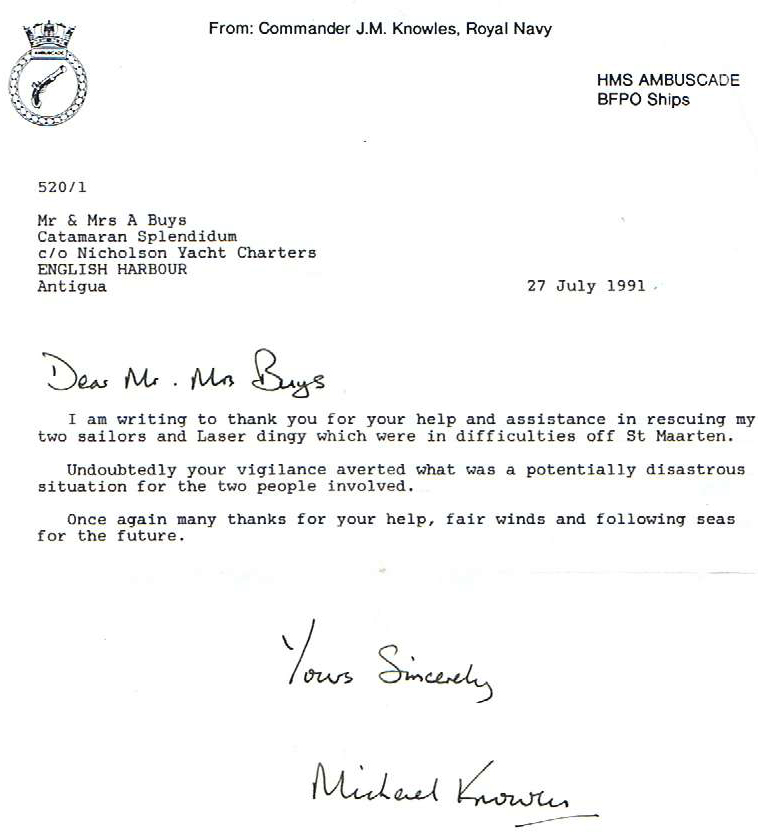 The moral of this story is if you have any type of sailing yacht, no matter how big or small, always paint the hull bright red, the hull of this sailing yacht was white, had these 2 men not had their bright orange life jackets on we would not have gone to look at that red racing Buoy.