Part 1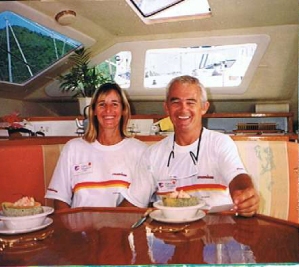 Walking into the safe unknown: A true story of the Andrew Buys Family Crossing the Atlantic Ocean on a Luxury Catamaran Sailboat
Living in La Lucia, Durban, South Africa from birth to the age of 45, the rise of social instability and reckless disregard for other people convinced me that I had to move my family out of harms way. Too many businessmen, friends and children were being raped, murdered, robbed of their possessions and precious lives were ended in senseless violence. It would only be a matter of time before my family was hurt somehow, so I made the decision to leave my family and friendsto relocate my wife and two daughters to a safer and more stable country in which to live.
The USA was our ultimate destination.
I had been running a successful architectural office for 20 years and had been considering retirement, but more pressing were the dangerous political situation arising in South Africa. So in early 1990, I purchased the first St Francis 43 foot sailing catamaran manufactured in Cape St. Francis, South Africa (and a little help from my friends). Gaile, my wife and I flew to St Francis Bay where I had been surfing in 1964, to view the underside and deck as the catamaran was under construction. We liked what we saw and we bought our first catamaran yacht, which was to be christened Splendidum. Soon afterwards, we sold our home in Durban and moved the family 600 miles south to St Francis Bay to live until our catamaran sailboat was finished being built, which was to become our new home.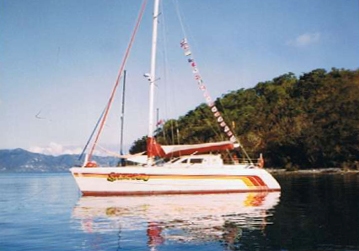 On completion we were to set sail to Cape Town, a short catamaran cruise and where we were anticipating five catamaran owners to meet Gaile and I. Sadly, only one catamaran other was ready to set sail. This boat was called Tamarin which was owned by our friends, John Donnelley and his charming wife Mel. We learned that four of the other sailboats - Shellette, Jingle Bells, Breanker, and Quest were 6 months behind in production. One other catamaran, to be named Bruce's was almost 1 year behind and though we were planning to have an armada out of South African, only two sailboat catamarans and crew teams on board Tamarin and my boat the 'Splendidum' set out to cross the Atlantic with our initial destination being the Caribbean Islands a mere 6,000 miles of open sea.
As anxious as we were to begin, it was necessary to set sail without them. That two Caribbean catamarans leaving Cape Town that day was good. We had initially aimed for 6 or 7 catamarans to leave on with us on our journey to safer lands, as many immigrants had done before us but it was not to be.
At that time, I knew we did not have enough ocean-going experience to attempt crossing the Atlantic by ourselves and therefore we wisely hired our professional instructor as our captain and his girlfriend to be the first mate. We had begun our training at his sailing school to take us across the Atlantic into the Caribbean, so we knew we were in good hands. The day started off excellently with us throwing eggs and tomatoes at Tamarin and their crew when they got close to us, so a lot of fun was had. We were off to cross the ocean and out first day had been great. That great only lasted until midnight on day two when we were entangled in our first storm at sea. It was about midnight we received a distress call from Tamarin who was lagging behind by almost two miles and we could barely see their lights on the horizon.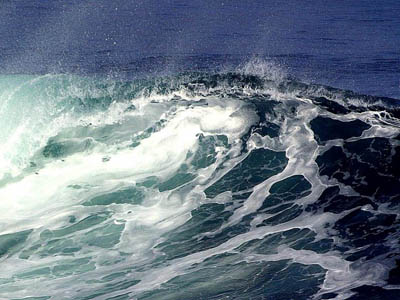 The seas were running in 40 foot swells and the winds were howling at 35 mph, both catamarans were running with the wind so it was not as bad as this sounds – we thought. The call from Tamarin was they wanted to abandon ship because their 82 hp Penta inboard motor had broken the beams it was resting on. Quickly, and before it could fall the 3 miles to the ocean floor they bolted a chain to the motor then dragged the chain around the boom to secure it and fortunately saving their motor. Our captain said we couldn't risk turning around in this weather so he suggested they turn at right angle to the weather and aim at the shore to ride out the storm. We were going to head towards Luderitz, which is a small town in the desert on the coast of Africa.
Now that both of the boats were safely running across the weather, we could all relax a bit. The captain said for me to go below and get some sleep and that he would call me later. Having fallen into a semi sleep, at three am I was abruptly awaken as I felt our catamarans' port bow dig deep into the water dislodging pans, refrigerator and the washing machine causing them all to fall noisily onto the floor of our sailboat. Luckily it came out of the dig and righted itself.
I had been knocked out of bed and had to get up and step over the all fallen items to get to the deck. The captain had gotten too tired and almost made a fatal mistake – being deprived of sleep will do that to you. Too nervous to go back to sleep and the captain being too tired to stay awake we decided that it would be best if I took over for the rest of the night. Although I was never scared (I was too green to know) not even for one moment, but I had a blind trust in both my boat and my captain and was confident that we could take care of any situation.
To ease our sailing, our captain had put out two drag lines - one from each hull to slow the boat so we did not go faster than necessary. This was a great help and the rest of that night was fine but those huge waves did not let up until we got into the calm harbor at about 9 am in the morning. The spring tide varies by as much as 15 feet around Luderitz, meaning that at high tide both of our catamarans were able to get onto the beach. To secure us, we threw our anchor into the sand and as the tide receded our catamarans were high and dry and settled on top the hard sea sand.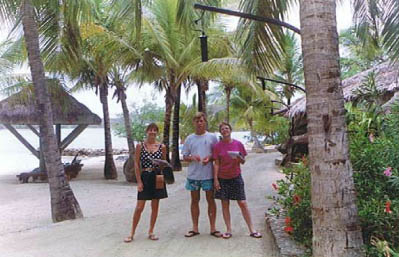 Once secure on dry land we were able to inspect both of our boats for damage and assess our chances of continuing on our way to the Caribbean Islands. Unfortunately, after looking at our catamarans it was obvious to both John Donnelley and I that he and the Tamarin was unable to go any further. That left us and our sailboat Splendidum on our own as we ventured into the wild and woolly Caribbean Sea. If we were going to continue on the BVIs on our cruising catamaran, we were going alone and to get there we had to do it ourselves. John's son, Ryan decided to continue on with us to the next phase of our adventures. He was a delightful young man and was a joy to be around. So began one of our many catamaran sailing vacations on a well provisioned crewed yacht. This one was big as we would be sailing across 6,000 miles over the Atlantic Ocean.
Looking back on all 5 years of living on board our trusty catamaran yacht, and since having taken many more sailing vacations,that one night was by far the worst experience we ever encountered, so now the event was behind us and all that happened in our first 3 days. A few months later, John Donnelley told me his definition of sailing and it goes like this: 95% of absolute pure pleasure, relaxation, fun and adventure. But that other 5% is utter terror!
So off we go headed directly for St Helena, South Africa which is a small pin prick in the middle of the gaping Atlantic Ocean. Thank goodness for the modern GPS and radar instruments and how accurate they are. It took 8 days and 8 nights of traveling without stopping and everyday was absolutely magnificent. We caught fish, laughed and played on deck. When the radar picked up land and headed towards the islands we got to experience our first whale sighting. Then the land came into view and it was where we were supposed to be -St Helena. This is where Napoleon Bonaparte was last banished and where he died a broken man. Napoleon was buried on that little island.
To celebrate our arrival, I took everyone to a local restaurant for a bang up supper after haven eaten only canned food for the last several days, so a fine meal was it was indeed. Our catamaran was anchored in a bay so we all took our tender to the dock and enjoyed the evening. Later that evening at around 11 pm, we took our dinghy and got back to Splendidum our banged-about luxury catamaran and we all fell into a restful sleep. Surprisingly, we woke the next morning only to find that our dinghy was gone. The captain suggested that perhaps someone had stolen it, but after much consideration, we came to the conclusion that it may have been the captain who did not properly tie the tender to our catamaran correctly.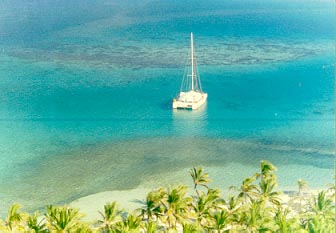 Anyway, we had to find a way to and from our catamaran to go ashore and get fresh produce for the balance of our trip so we hitched a ride to the dock. After all of us set up our catamaran for the trip to our next stop, South America, Gaile and I decided to stay on board while the others went ashore to enjoy a few beers, this group included our two daughters, the captain and his wife along Ryan Donnelley.
At roughly 11 pm, we heard these uproarious squeals from several woman as well as laughter coming from the dock some 100 years away. I had guessed that it was our bunch, but could not be sure in the dark. I could partially see and hear people laughing as a small boat, that was scarcely 3 inches out of the water with 2 people inside heading in our direction. Much to our surprise it was our daughters on the inside with the captain in the water swimming and kicking to push this little boat back to the catamaran.
Somehow, someway the boat got capsized (better the little one than the big one). As the 2 girls stepped onto our catamaran we saw that they were as wet drowned rats all the while giggling and laughing as they tried to explain what had happened. Looking a little sheepish and dripping wet, the captain turned the little tender around and went back to the dock to get the rest of the crew.
Once settled down, our girls proceeded to tell us the tale of what happened. As the story goes this is what happened: Andrew, they said you know there is a big surge at the dock, so when you get on and off the dinghy you have to time it exactly right to get off or onto your tender – without falling in or tipping the boat! Since there was no one around to bring us back to our boat, we decided to borrow one of the fisherman's little boats that were tied to the dock. As soon as all of us were settled into the little tender, a larger than usual swell came up and we found ourselves suddenly tossed into the water and then tender sank to the bottom in 11 feet of water.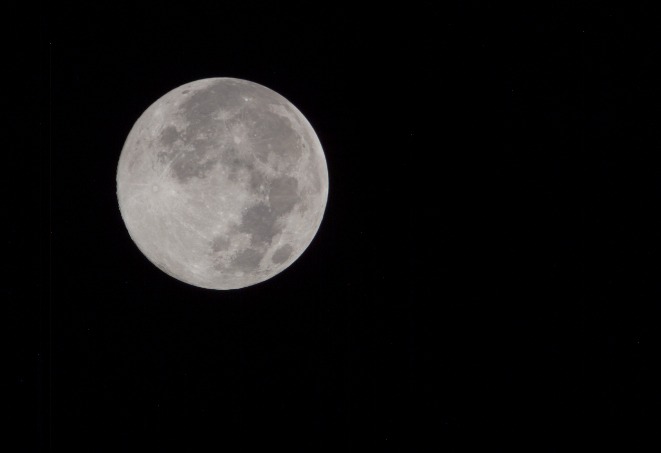 There happened to be a full moon that night and the water was so clear that we could see the tender far below along with all our books, the captains log and other belongings including the captains' wife's newly acquired supply of feminine napkins, were totally soaked. In good spirits, aided by a few beers I suspected, these drowned rats were laughing their heads off. The captain decided to try to raise the little tender by himself, he got it up and afloat only to find that the only way to move the tender was for him to swim and push the two girls all the way back to our catamaran yacht. What a hilarious night of fun and it was enjoyed by all. By the way, while they were away I managed to catch 3 slipper lobsters for Gaile and me to enjoy for supper.
The next day we set out again on our catamaran trip to take all seven of us to the next destination – the Accession Islands. These islands have both American and British satellite bases there and are usually well provisioned.
This leg of the trip took 6 days and 6 nights and were throughly enjoyed and fortunately uneventful. When we arrived at the islands, we found that it was another difficult location to go ashore because of the big difference in tide swings. As the water recedes you have to jump ashore at exactly right moment or you'd end up in the water. With all the practice we got at St. Helena's, everything went like clockwork.
We were eagerly greeted by a wonderful group of American people. They are totally starved of seeing new faces so that when we arrived they showered us with friendship and helped us with anything we needed. We were short a sea bucket, so they gave us two. We needed some medical items for Gaile who had slipped a disc, so tons of pills were supplied to us. We were so pleased to have made so many new friends that we gladly took to the Volcano Club on the island. This was their only night club and it's where the 'natives' could boogie, and just let loose. That night we all had a lot of fun doing just that.
After leaving Ascension Island we headed for Recife in northeast Brazil; here came the longest leg of our adventure that lasted 8 days and 8 nights.
To be continued…
P.S. Want to charter a catamaran vacation?. Catamaran sailing motor yacht charter vacation is one of the most adventure filled, yet relaxing vacation you will have in your lifetime. We are ready to guide you in undertaking this wonderful and exciting endeavor. We have luxury yachts available in the Caribbean, Bahamas, Mediterranean, Greece and other charter destinations. Call us for additional information, toll-free on 800-478-2029