Part 2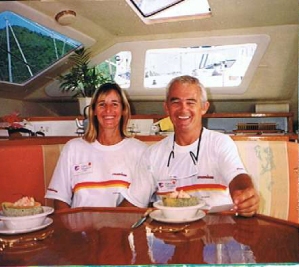 We had just left Ascension Island and were headed for Recife in Brazil. This leg of the journey took 8 days and 8 nights on our catamaran sailboat over open ocean water. We experienced a lot of boredom as it was endless water in all directions and no land to break up the scenery. As we were on sail 24 hours a day we were all taking turns at watches throughout the night. Canned food was also the normal for meals although we would catch a variety of fish just to mix it up a bit.
Six days into the trip, I remember climbing to the top of the spreaders on our mast and I was excited to see sky scrapers on the horizon. Distances can be deceiving while on the high seas. When I got back to the deck of the boat the horizon was bare of the buildings and all I could see was seemingly endless blue water ahead of us.
Recife, Brazil.
We had done it and had arrived safely in Brazil. After coming into the harbor and docking, I had made a big mistake by not knowing that there is a 16 foot difference between spring high and low tides. I had docked our catamaran yacht nose first into the cement dock and all was well when everyone gotten off the vessel, all dressed up for a good night on dry land.
While walking along a narrow concrete dock wall, where rats were running ahead of us to scurry out of our path. The in our group woman screamed all the way to the shore. In some places the water was over the cement walk and even more rats ran ahead of us, half swimming to the next dry area, just to get out of the way. Demands to turn back came from each of the ladies in our party and we assured them to walking with us and we'd get past them all. It was single file the rest of the way with scattering rats leading the way. Uggg.
In spite of the start of the evening we all ended up having a wonderful meal and evening and managed to waddle back through the rat trap on the way back to Splendidum.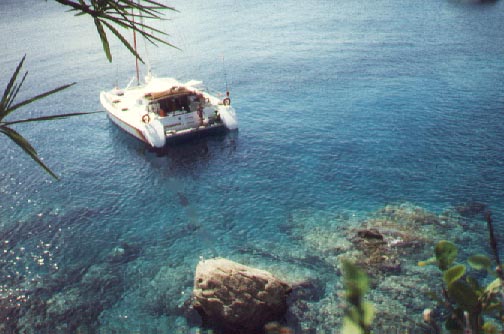 We noticed that the tide was out and the concrete wall we were walking on was about 3 feet wide and still those darned rats were scattering. Something had changed as the water in the harbor was 15 feet lower than when we left the catamaran hours before and as there were no lights we could not see the catamaran until we were on top of it.
You can imagine our surprise as we discovered that the catamaran was still tied by both front hulls to the dock but the back of our catamaran had come to rest at a 30 degree angle on the sand 15 feet below. Thank goodness there was a sandy bottom there because the weight of the catamaran would have broken free and would have smashed both noses of our yacht.
Fortunately, there was no damage but now we all had to climb down and sleep perpendicularly. The next day we were back to the normal position of floating on top of the sea surface. We spent 3-4 days enjoying the town of Recife in Brazil. Traveling sailors can stay free at the best marinas in the world and Brazil has some of the most magnificent marina I have ever visited.
Only the wealthy can afford the marinas, so there are armed guards and heavy duty fences surrounding the private yachts that are moored there. We slept very well knowing that all of us were very safe.
Natal, Brazil
Next we set off for the Brazilian city of Natal. This is a lovely city where again we enjoyed wonderful hospitality from the locals. No beers taste better than the Brazilian Beers because it is exceptionally hot and the beers and the glass come frozen on the outside. All of us drank 4-5 beers everyday, even me which was surprising since I rarely drink at all. We had sailed up a river estuary to the marina where again we stayed for 3-4 days just enjoying life in Brazil. Taking a taxi into town to see and experience the local culture and foods.
Forteleza, Brazil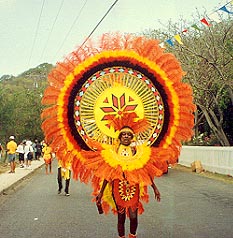 By far my favorite Brazilian city is Fortaleza. Here again we were within the protection of the marina walls, but here we could explore outside easier and as we had arrived during their carnival everyone was in a festive mood. As you walk along the beach there are a variety of vendors offering to sell you every kind of fish, sea scallops, lobsters and crabs that you can imagine. My favorite purchase was their live giant crabs, yes alive. I would take these to the catamaran, prepare them as the locals told us to and each time we would enjoy the best tasting and freshest crab feast. The numerous fisherman, crabbers and shrimpers go out 1-2-3 miles off shore in tiny boats, without lights to set their nets. While traveling up the coast of Brazil our 25 mile radar would pick up hundreds of tiny boats dotted across the water and we had to travel very slowly to make sure not to ride over them. As we got close the fisherman would shout and shine a small light to show us how close we were to them. The nights were moonless and were pitch black during this section of our trip, so seeing ahead was nearly impossible.
In Fortaleza there is an amazing market where every item in the world seemed to be available for purchase. Animals of all types including, owls, hawks, pumas, snakes, dogs and cats of all colors and sizes. We ended up buying 100 handmade hammocks to give our Caribbean charter guests hammocks as end-of-the-chater presents.
After such a wonderful time, we reluctantly left Fortaleza and sailed 400 miles off from the mouth of the famed Amazon River and headed towards Grenada. When you are far from land you do not see the usual flocks of sea birds rather its more likely you'll encounter the odd albatross or two. We were over 300 miles off shore when we saw our first bird in days, so I whistled and called to it she circled us and eventually landed on our trampoline.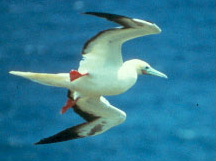 We have made a new buddy and enticed him to stay by throwing her pieces of fish which she ignored on the first day with us. During the night the bird, a big Boobie Bird, somehow managed to walk into the cockpit while we were on watch looking for handouts. By the end of that night bird was happily eating anything we'd send her way. The girls loved having her on board, until she returned the food in a reconditioned form of white liquidy pooh that she spewed 2 feet behind her.
Well she was certainly happy with her nice new home and being well fed, but the girls, who were responsible for the cleanup increasing wanted to toss her over board.
Fearing a mutiny, I promised to leave the bird in Grenada after our arrival if they would tolerate her until then. She was left behind when we left port, but we knew that she did not want us to go without her.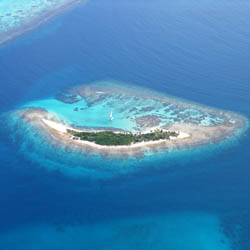 We arrived for the first time in the beautiful Islands of Grenada, we were not acquainted with the normal Caribbean customs. As we slowly cruised into the large harbor a man in a tender motored behind us asking to allow him to take our 4 garbage bags that we stacked on the rear. Thanking him while politely declining his offer because I was sure he expected some money for his kindness and as we did not have anything other than South African currency and not being able to pay him in the local money, I feared I would offend him. He got really angry and said if he could not take the garbage bags then he guaranteed me that I would have problems. I might add that his language including cursing at us in a variety of dialects as well.
Having successfully ignored him and made our way to the customs agent where, rather brusquely"The Main Dude" said to me to give me all our passports. After turning over them to him he asked if we were the people who refused to give our garbage to 'my friend'. Yes, that was me and I even explained why I did it. But he said back was to tell us to sit down and wait and that he'd get back to us 'later'.
The customs official who had told us to sit down and wait, made sure that we waited and waited and waited till he had time for us. Of course it was his way of telling us just how important he was and that he refused to let us ashore, but international law allows water to be taken by anyone no matter what, so we said we would take his water and happily leave Grenada. We did just that although we were looking forward to going ashore and having some fun, food and drink.
Between Grenada and Tyrrell Bay off the Island of Carriacou, I was fishing and hooked a 132 pound Marlin and it took me 2 hours to reel it in. We were just not prepared for the catching of this gigantic fish as we were not strapped into a fighting chair, the fishing pole was not strapped to us and we actually had to hold the pole and grapple with this monster as it thrashed and fought to get free. I'd always dreamed about catching a big Marlin and was determined not to give up. With sweat dripping into our eyes, my captain and I took turns at the fishing pole fighting this fish will everything we had. Finally, now this is how you land a large marlin, it got to the side of our catamaran and I gaffed the fish, put a rope around his tail and pulled him on board with the winch. The marlin was so big it stretched across the entire back of our sailboat where it was proudly displayed.

As we cruised back into Tyrrell Bay one of the locals asked me if we wanted to sell the marlin, yes was the answer, so long as we got to keep a few pounds for ourselves. That night, one of the hotels got a large fish to serve its lucky guests. Tyrrell Bay became one of my favorite anchorages in all of the Caribbean basin so ending our Atlantic crossing here and on such a high note instead of Granada was a memory I will cherish forever.
Having safely completed our 6,000 mile journey and gained a tremendous amount of hands on, real life training, our captain and his wife left for England as planned. All the while my wife, two daughters and I were left to play in the Caribbean with the hope that all our friends were just behind us on their catamaran sailboats to join us in our newly found paradise.
We soon discovered that Shellette was six months behind and later hooked back up with us in Antigua. Soon afterwards both catamaran sailboats left Antigua together and headed for the Virgin Islands. Shellette went to St Thomas USVI where they soon started a yacht charter business. We decided not go any further north than the British Virgin Islands and started our own luxury catamaran charter operation. We were the only catamaran sailboat charter available in the BVIs for two years and continued to provide for over 5 years.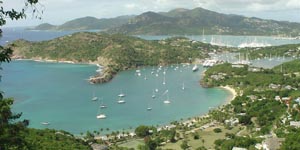 Today are over 100 BVI catamarans that offer charters. I am proud to say that we were the first modern day term catamaran to provide luxury yacht charters in the British Virgin Islands, where the catamaran revolution was ignited. It was the beginning of a great family adventure and successfully created a fine business while doing so.
In the beginning, we had no idea of what to expect and that was a big part of the adventure! Being the first catamaran yacht charter vessel can be lonely in the beginning, but it was loads of fun discovering the many islands, cays and sandy beaches that are hidden to most travelers.
After five years in the catamaran yacht charter business, our daughters were ready to settle on firm ground and in late 1995 we sailed into Fort Lauderdale, Florida USA and opened Barrington-Hall Yacht Brokers. For the last 18 years, we have had almost as fun providing luxury yachts charters to our clients and guiding them onto the best vacation experiences they've ever had. Almost.
A private motor yacht charter vacation is one of the most adventure filled, yet relaxing vacation you will have in your lifetime. We are ready to guide you in undertaking this wonderful vacation. Not sure where you want to go or you are not familiar with the best charter locations, then call Andrew at 800-478-2029, outside the US on (954) 720-0475 or do This email address is being protected from spambots. You need JavaScript enabled to view it. us with all your questions.