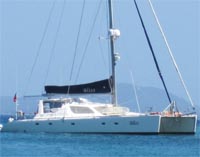 VOYAGE yachts are the manufactures of the Voyage award winning sailing catamarans - a list of luxurious, stylish, elegant and very comfortable cruising vessels. Voyage Catamarans are built with meticulous attention to detail and of the highest international standards.
Many
catamaran charter
guests and sailors in general tend to gravitate to one type of sailing vessel. A Voyage catamaran is always among the first choice for these individuals.
With their inner innovative design, fine clean lines, the VOYAGE fleet of catamarans has set themselves up as world class blue water sailing catamarans.
What is a Catamaran? A catamaran is a multi-hull sailing vessel consisting of two parallel hulls of equal size. A catamaran, as opposed to a mono-hull vessel (traditional sail boat), is very stable due to its wide beam. Being much lighter than a traditional sailing yacht, a mono-hull, a catamaran can have a very shallow draught (shallow draft). A sailing catamaran (multihull) will heel over much less or not at all rather than a sailing monohull, so its sails spill less wind and are more efficient. The limited heeling or lack thereof means a catamaran is much more comfortable for our guests.
Interested in a Voyage Catamaran? See a list of voyage catamarans available for charter.
Some content courtesy of Wikipedia