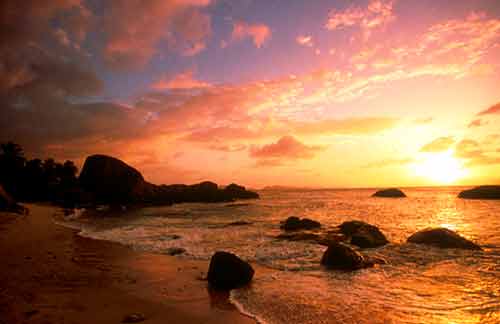 It dawned with every promise of another day in a
Caribbean paradise
. As we suited up, it had become bright sunny day on this particularly memorable
Caribbean catamaran charter
, four of our guests snorkeling would be coming with me on a dive in 40 feet of water. I lead the small group to area that I knew would give my guests underwater opportunities to take pictures. I swam ahead and down to the seabed below and looked into a large cave to see a nurse shark lazily relaxing for the afternoon. Coming back up to the surface to tell my guests that there was a nurse shark directly below us and would they like to see it? Everyone immediately said yes.
Nurse sharks are harmless as they don't have any teeth. I asked them if they'd like me to have it swim out of the cave it is relaxing in so everyone could see it?
I took a deep breath and went down to look for a small stick to prod the shark out of the cave only to discover that there were no sticks on the sea floor. With my guests watching from above, I instead of using a stick I reached in with my arm to touch nurse sharks tail and before I got within 3 inches to touch the shark, it spat out of that cave at 100 miles per hour, way into the distance. Clapping and splashing in appreciation from above, my fellow snorkelers approved of my wrangling with a toothless shark!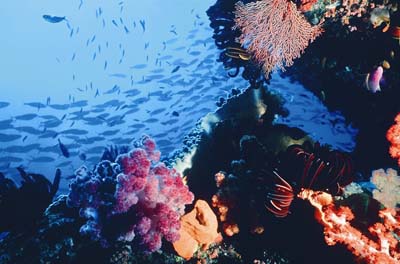 One of the best reasons to book a BVI crewed yacht charter is that you will invariably get a seasoned captain with the local knowledge and experience to know where to find both the dead and live coral. There are various locations where only dead coral can be found and knowing where it is and the other locations where you can see a variety of different types of coral. Did you know that the British Virgin Islands are home to the world's third largest
barrier reef
? Cannons from shipwrecks can be seen in laying in crystal clear water, if you know how to find them in two different places.
Scuba divers know that the color red disappears after 15 feet underwater and the rest of the colors follow suit soon afterwards. Means that snorkeling is a great way for everyone to get a grasp of how beautiful a live coral reef can be. Snorkeling also means not having to carry all that heavy bulky gear needed to scuba dive. There is only an 18 inch difference in spring high and spring low tides which means there is almost zero undertow and or currents anywhere.
Guests can snorkel with their captains in 50 feet of water where visibility will be 75-90 feet in every directions so you can see everything. You can clearly see there is no danger around you as far as your eye can see. I'd suggest having your captain take you snorkeling on the outside of this barrier reef that is just 200 yards past the Bitter End Yacht Club. It is named the Coulequan Barrier Reef you will quickly understand why it is called a barrier reef.
The live coral polyps face outward to the deep water so they can catch the nutrients in the water that are moving in from the open waters. This is where you will find a plethora of different species of rainbow fish and colored soft corals and fans wave in the bright sunlight. This one of the other reasons for vacationing on crewed catamaran charters, the experience of the captains who are all very familiar with where the hidden treasures of the BVIs can only be found on a private yacht charters.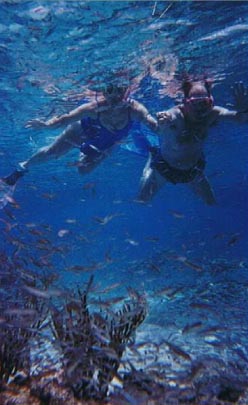 In five years of catamaran chartering I never saw a dangerous shark in the Virgin Islands. And, as there are no serious undertows I can easily rate the Virgin Islands as a very safe place to swim and play without having any concerns about danger. In all of modern history, there has never been a reported shark attack in the Virgin Islands. Otherwise there is almost zero problems to face when you are in the British Virgin Islands catamaran charter. Once a year a few small jelly fish come would come swimming past me but even with my bare skin their sting did not worry me in anyway.
Not to boast, but on separate occasions I saved the lives of two elderly ladies. Both were snorkeling with a group of 20-30 other people that were from a cruise ship and had heart attacks while snorkeling. I heard someone screaming and quickly jumped into my tender and raced over to where a woman was frantically pointing towards an elderly lady who had swallowed a lot of water during her heart attack. You can imagine as I tried to pull her onto my tender how hard to is to lift someone's body as its 'dead' weight out of the water. After a short struggle, I managed to get the lady out of the water and onto my tender where we whisked her off to hospital for immediate treatment. Fortunately, both ladies survived their heart attacks.
Snorkeling is such a wonderful water sport to enjoy. You get to play in a diverse ecosystem where what we see is often brand new to children and most adults alike. The temperature of the water in the Caribbean is almost the same as your body, so jumping in and out is a fantastic pleasure.
In the summer months, one inch long small minnows are everywhere and swimming through thick clouds of minnows is always a lot of fun. Sometimes you will get to see large fish swimming in shallow water feeding on them and sending them scattering in all directions to avoid being lunch. It is also time when you can see long tailed tropical terns flying in from Argentina to nest and have their young among the Caribbean islands.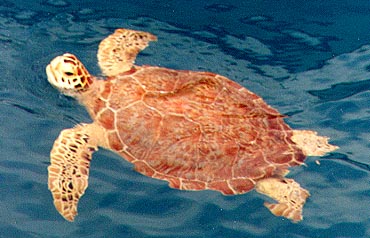 The gentleness of a
green sea turtle
can be seen in their eyes. I guess every creatures eyes are the windows to their souls. I know of one anchorage in the British Virgin Islands where my wife, Gaile and I counted 7 turtles breathing air on the surface all at one time. This anchorage really does have more turtles than anywhere else and I always made sure to take my catamaran charter guests to see these magnificent creatures. Gaile and I would swim into the middle of the bay and see a turtle 40 feet below us eating the sea-grass.
I remember once swimming down to one of them and he let me get very close to him. I put both my hands and arms against my side and swim side by side with the turtle while continuing to inch closer and closer, at the just the right moment, I shot out with both hands using one to grab his right shoulder and the other to hold his left shell area, down close to his buttocks. The turtle spun clock-wise very fast for 5 or 6 turns and rotated my entire body as well ( I relaxed as to save precious air), then he suddenly stopped. Afterwards, once he stopped I was able to guide him to the surface allowing me to show him off to my wife close up so she could see how gorgeous he was.
We were filling our catamaran sailboat with water at Marina Cay one morning and my wife spotted a small turtle 2 inches long, it must just have been born and the side of our catamaran was in deep water, so we picked up the little fellow and found some mangrove roots to place him in for better protection.
You would be very surprised where you find seahorses, 99% of people will snorkel right past seahorses and not see them. Those brown/yellow seahorses I have seen at a good few spots in the Caribbean and they love the harbors and calm anchorages we all take for granted. My Mellow Yellow moment is snorkeling on the outside of the
Horseshoe Barrier Reef
in Grenada when we came upon this small herd of red seahorses. Nothing much to look at for any period of time but so great to see 4 of them within a little 14 inch area. Squid are the same guests can miss seeing squid because they keep so still, but their big eyes are watching every move we do.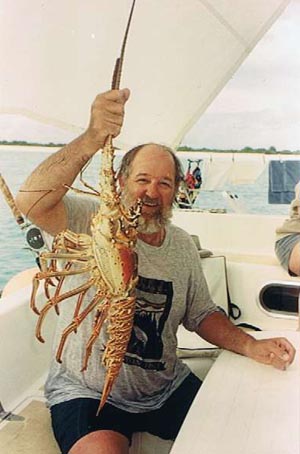 Catching lobster is for locals only but there are captains who enjoy showing guests where and how to catch a lobster to enjoy for that evenings happy hour treat. I am such a captain. It took me 6 months to find out where to look for lobster, because the
Caribbean Spiny Lobster
is a very large lobster with adults normally being 7-8 pounds. I saw one at Marina Cay that was 11.1 pounds and it looked like a small Alsatian puppy with all its long thick legs. That huge one was caught in a fisherman's trap and sold to the resort at Marina Cay. Slipper lobster hide in those smaller caves waiting for dark, as do the normal Spiny Lobster, there is one other smaller lobster making a total of 3 different species and all are nocturnal. Note the picture of the gentleman on the right. He is six foot six and weighs 250 lbs holding up a big boy spiny lobster. Look ma - no claws.
At Marina Cay I was down at 40 feet and 30 feet from me was an Eagle Nose spotted ray, with it's nose under the soft sand a puff of a cloud behind it while the ray was looking for crustaceans under the sand. It was a lovely sight to see and one I remember always. However the one magnificent moment I ever had under water was by myself I had Anchored my tender well past those famous Pirate caves near the southern point of Norman island and I was in 30 feet of the clearest water I have ever seen, it was 12 noon so the sun was super bright and there a few yards from me was a large spotted eagle nosed ray with a 20 foot long tail. The ray was motionless in the water suspended not moving with this long tail straight behind her. I looked and enjoyed the moment together, then I moved closer and as I did that she was I mile away somewhere, gone.
These Grass eels are normally in 40 feet of water and I had no idea they were there until one day I was close to the seabed and could see the soft movement of each individual blade of grass, but hey that is not grass it is an eel half in half out of a hole in the sand and as soon as I got close, ping, they were all gone. There were thousands, but very few of us get to see these eels.
We have several videos on what to expect on a luxurious charter vacation and they can be viewed by visiting:
Luxury Yacht Charters
The owners of Barrington Hall Yacht Charters, Andrew & Gaile Buys captained their own luxury catamaran sailboat on charter in the British Virgin Islands for over five years. They were the first catamaran charter offered BVI, starting in 1990 - after sailing across the Atlantic from their native South Africa. With this perspective they are able to offer unique insights and experiences with clients to assist them in selecting the best vessels and destinations. For additional information, kindly contact us toll free on 800-478-2029 or outside the USA on 954-720-0475.