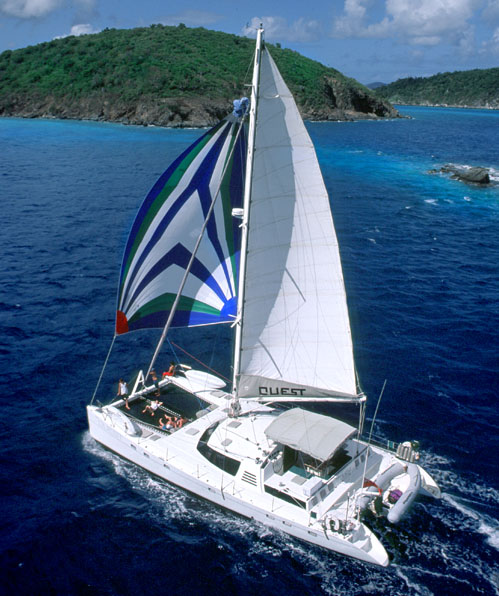 My father taught me how to fish but I must have missed the lessons on how to actually catch them! Fishing is a super fun when you have a captain who knows how to catch and is willing to share his knowledge with you. Even better is being taken to a 'honey hole' that the captains know produce big fish. You can imagine that they are very secretive about those locations and the skills required to know how to catch the big ones. If you are looking forward to fishing as a part of your Caribbean catamaran charter then make sure to ask me about which boats have the best fishing captains.

While on a British Virgin Islands charter there are usually different times and places to do various types of fishing. Having been a captain my own catamaran sailing yacht in the Virgin Islands for over 5 years, I spent a lot of time 'catching' fish and happily sharing my knowledge of the islands with my charter guests. The memories of seeing the excitement in the eyes of kids catching a dolphin are still among my favorite times being in the BVI.

I'd like to share my knowledge about fishing that I learned during my time in the BVIs with a variety of guests. Young and old alike love catching fish, while most of us dislike just fishing! The British Government recently brought in a law making it mandatory for guests to pay for a fishing license of $45 per person for a 1 or 2 week stay. This is a small price to pay to have some of the best fun you can ever have while you are on your dream vacation..

So let's fish, but keep in mind that you need to use your fishing time wisely as there is just so many things to do while you are on your catamaran vacation. So, I am writing these tips out for you to be able to make very good of your fishing time when in the islands. My guests always felt comfortable talking to me about what they were wanting to do on their private catamaran vacation and fishing always seemed to be the top topic.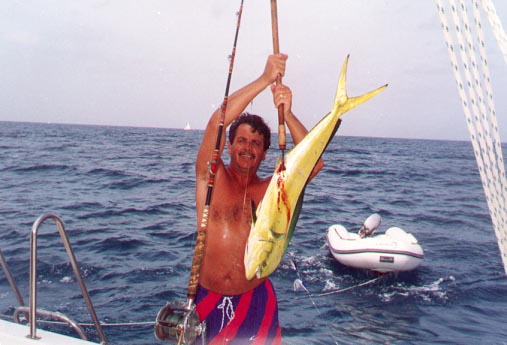 Some yacht owners, who love to fish will go out of their way to accommodate your desire for a successful fishing excursion. By letting us know that fishing is a high priority for you we can get the some owner/captain to stock their catamarans with frozen bait that has already been dressed on a leader and hook. This is the very best method to ensuring that "you" do catch that big one. Remember the world's largest marlin was caught in the British Virgin Islands. There is a 7,000 foot drop-off shelf 1 mile from Peter Island. Plan on 'sneaking' out to to the outside of Peter Island for an hour or two, but your catamaran sailing vacation is probably not intended to be just a fishing trip. Fishing is one of the many fun activities to look forward to. Your captain will be wanting to show you and your party all the other pleasures to enjoy on a private yacht charter. You can always get in a little more fishing by trawling the baits between the islands as you travel to and fro.

What about artificial lures? Yes, you catch fish by trawling lures behind your catamaran, but I have found that using the baited lure (frozen is good, fresh is better) produces more fish than by using any lure just by itself.

If you are interested in a side excursion to do deep sea fishing as there are many qualified fishing charter boats in the islands. You can hire a deep sea power boat with a captain and mates to take you out for the day. Don't worry about the rest of your party as they'll be kept very busy exploring other small islands, caves spending time snorkeling. Cost can vary ranging in cost from $750 to $1,000 depending on whether its a half or full day charter and how many people will be going fishing.

Guarantee to catch!

Here comes the most exciting news about fishing in the Caribbean - the fish are plentiful. I'd guarantee that our guests would get a bite within 30 seconds of the bait hitting the water. Now how is that for immediate action and gratification? My guarantee was a bold one - if you do not get a huge run within 30 seconds I'll give you my catamaran! Fortunately it always came to be so I never lost my catamaran to any guest.

The following is my secret to catching success: Bring 8 "2-O" hooks with you for this private yacht vacation and a spool of brown cotton thread. Ask your captain to keep some good parts of any leftover 'cooked chicken' that still has with some fatty flesh for the evenings fishing. Your captain can set up one "2-O" hook only at the end of the leader line. Yep, no float, no sinker, just the hook with the cooked chicken tied on with brown thread. The fish are literally going to attack the 'chicken of the sea' as it is a delicacy to them. The smell sets them right off and fight to be the first one to get the bait.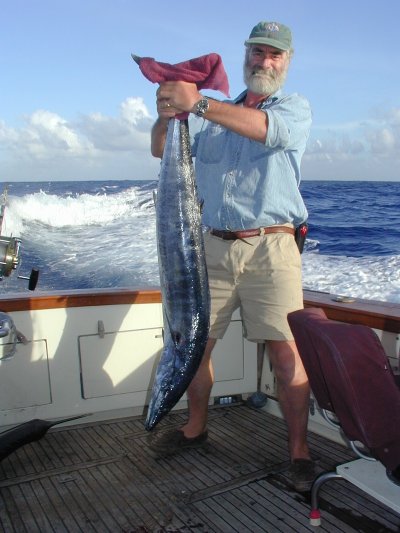 Let's step back into the past. Modern chartering has only been popular for the last 50 years or so and private yachts of all sizes and make stops at the same places every night. Usually, after the 8 pm meal all the chefs throw the soft foods into the water and there are all these little fish waiting to eat up this 'chum'. These little fish will grow to be large fish and they have gotten used to the sound of the luxury yachts' evening dinner bell. Don't ever think fish aren't smart because they have learned to wait for the sound of the chef's foot steps walking to the back of their yacht to empty rice, vegetables, and other soft foods into the water where they anxiously await the smorgasbord that is about to be served.

After hitting the water those leftovers becomes a free for all. Now that the chef has been chumming the waters for you in the dark, at about 8.30 pm the feeding frenzy has settled down. This is an ideal time to toss your big piece of hooked cooked chicken softly onto the calm surface of your lagoon. The food might be gone but the little fish attracted the bigger fish and almost immediately some big boy will pick up that bait and run down the highway. Set the hook carefully and keep letting him run, as he gets tired you can start to reel him in but be prepared as its bound to run again, as its not going to give up it hard earned meal easily. Now you are really fishing and quite possibly catching your dinner for tomorrow.

Your captain will know what species you are catching and will advise you on what you can and cannot eat as there is a very real sickness named Ciguatera, that you will get by eating the wrong fish. The fish variety and its size generally run between 5 and 15 pounds. Catch the right fish and your chef will prepare it and cook it creating a delicious meal for you. Now that's fresh fish!

Bone and Permit fishing:

These types of fishing can be done in two ways, either pay for a day fishing license in the shallows for Bone Fish and/or Permit. This is a sure fire way to make sure that you catch some 10 lb beauties in the shallows by using a fly rod and reel. This is real action fishing and there are various guides who do this with you.

Method number # 2 is to bring your own fly fishing pole with a few lures and do it yourself. There are Bone fishing areas all over the Caribbean with Anegada containing the mother load of bone fishing locations.

Even using a small thin normal fishing pole and lures works just fine. Doing these different sports with a guide increases your odds that you will walk away with a big smile and a few fish to take back your your catamaran sailboat to enjoy as the evening meal. While on your BVI catamaran you can have a great time fishing, catching and being out in the beautiful waters. Want to have some fun? Go fishing!
A True Fishing Tale:

Here's a short, but true fishing story that occurred with one of our guests in an area called 'The Arena' (Fallen Jerusalem.)

During a lunch stop at "The Arena", a sort of anchorage at Fallen Jerusalem, the guests and I were fishing when suddenly one of the guests caught a very lively Yellow Tail Snapper. The guest, Tom was his name, heroically fought the fish and finally pulled it onto the deck of our catamaran. The fish was flapping around and not pleased to have been caught and wrestled out of the water, the hook suddenly came loose on its own. That's when the flapping and thrashing about intensified and that's when the the fish fell down the open hatch and right into the open mouth of the toilet bowl below!

I started to laugh out loud when I noticed where it landed and called everyone over to see what had just happened. I went down into the cabin and unceremoniously retrieved the flapping fish from the toilet bowl. When I got back on deck the guests said, "We really do not wish to eat that one right. Let's just pretend it was the one that got away". Luckily for the fish it was not his day to become sushi. I couldn't resist thinking as he swam back down to his buddies if he didn't have his own fish story to tell his tale to share with his pals.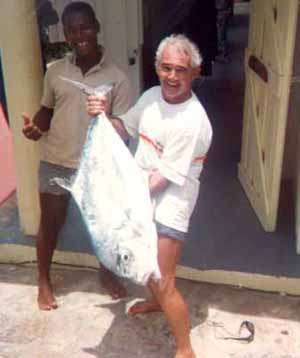 Andrew & Gaile Buys chartered and captained their own luxury catamaran sailboat in the British Virgin Islands. Additionally, they were the first catamaran to offer catamaran charters in the BVI, starting in 1990 - after sailing across the Atlantic from their native South Africa a voyage of over 6,000 miles! With this perspective they are able to offer insights and share experiences with our clients to assist them in choosing the best vessels and destinations.

For information about booking your own BVI Charter on a luxurious catamaran sailboat, call us toll-free on 800-478-2029. Visit us on the web Click Here