What makes a yacht charter the ultimate vacation?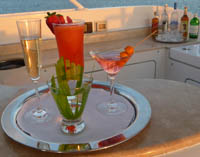 It can be a very long list, but at the top of my list is that it is only vacation where you get to call all the shots from ports of call to cuisine to departure dates to the daily schedule. Go where you want to go, when you want to go. Do what you want to do, when you want to do it. Whether you choose a luxury power yacht or a catamaran sailboat charter you will be onto the vacation experience of a lifetime where you'll never want to travel any other way ever again.
Chartering a yacht is as far from the typical vacation you can get even if you have been to some pretty exotic or far-from-it-all destinations. Ever come back exhausted from your vacations? I've taken trips to wonderful places where I booked a guided tour or planned my own tours including flight, car and hotels either online or called my trusty travel agent.
Next you see all the sites within a day's drive of your hotel or packed up and moved onto the next hotel, visited as many of the sites as you rushed through the day only to return that night too tired to see the night life (especially if you are traveling with smaller children). Then you do it all again tomorrow, this time without getting lost or spending an hour trying to find a parking spot! On day six all you can think about is making sure to get back in time to catch your flight home on day seven! Its been a whirlwind and a blur and soon becomes a distant memory. Once you get home all you want to do is to go back to work and recuperate from your "relaxing" vacation adventure.
When traveling aboard a luxury yacht charter the pace and experience is entirely different. First and foremost you are on a floating palace and are not limited to just one location. Secondly, you don't have to worry about checking into a hotel for each place you visit (unpacking and stuffing dirty laundry in bags and putting them in the suitcases!).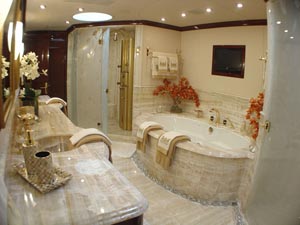 You go where you want to go, stay as long as you like and you leave the driving to your captain. On a private yacht your luxurious suite travels with you as well as a personal chef, staff and steward. No driving, no parking, no waiting in lines, no restaurant to choose to please everyone and no crowds to fight through. On top of that, all of your closest friends and family can come along where the biggest decision facing you is what type of tropical drink you'd like to try next.
Luxury yacht vacations are generally all inclusive packages that includes all meals, port charges, taxes and fees, snacks, adult beverages and refreshments for the kids. Most of these luxury yachts carry speedboats, snorkeling and scuba gear, jet skis, rafts and water toys of all sorts.
What It's Like on Board a Luxury Yacht Charter?
Imagine a 5 star hotel with the best restaurant in your favorite city at your beck and call 24/7 and you begin to imagine what else awaits you while on a private yacht charter. Add to that a private spa, luxurious accoutrements, extravagant and lushly appointed suites, exercise equipment, steam room, refreshing dips in the pool or just relaxing in the jacuzzi on deck. Now you are getting closer to the imagining the allure of a charter vacation.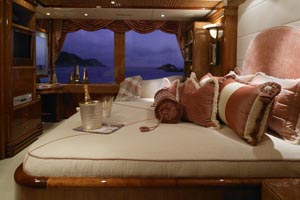 Accommodations are not the only aspect of luxury. White-gloved service that is over the top and being available to you around the clock really enhances the overall experience. A well trained and knowledgeable crew is always at your disposal. Depending on the size and type of vessel you have selected you will have a captain, a first mate, world glass chef, stewards and efficient housekeeping services. After experiencing such service you'll want to take the crew home with you.
It's never too soon to book a yacht charter vacation. Pick your date, destination and choose your yacht from 100's of luxurious yachts in destinations all around the globe from the French Riviera to Australia to the British Virgin Islands and you will be onto one of the best, most relaxing and enjoyable vacations of a lifetime. Your chartered yacht experience will be the standard by which all futures travels will be measured.
For your convenience we have a searchable database of all super yachts.
Luxury Yacht Search
Click the links below to start exploring the yachts you might like to charter for your dream vacations.
Bahamas Power Yachts Over 100 Feet
Bahamas Catamaran Sailboats
Caribbean Motor Yachts Over 149 Feet
Caribbean Catamaran Sailboats Over 60 Feet
Kindly email us
contact
or call 800-478-2029 to speak with a yacht charter specialist at Barrington Hall Yacht Charters for information on any luxury boat or charter destination.