Scuba Diving and Snorkeling in the Virgin Islands.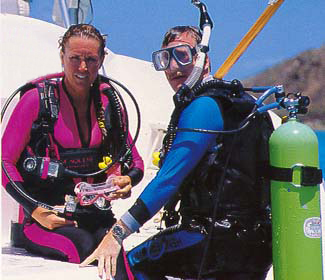 BLUE WATER DIVERS
Nanny Cay & Soper's Hole
Rates: $75/1 tank' $100/2 tank; $115 resort course; CC.
Dive boats: 36' & 32' catamarans, 34' Delta, 32' Island Hopper
Equipment sales & rentals, compressor facility, rendezvous w/charter. We are set up for your luxury power yacht guests, your sailing and catamaran yacht charter guests to rendezvous directly with you.
For many years Blue Water Divers have catered to all yacht charters in the British Virgin Islands, captains call us and we respond immediately to serve their private yacht charter guests.

DIVE BVI LTD.
Virgin Gorda Yacht Harbor, Leverick Bay, Scrub Island, Little Dix Resort
PADI resort, 2 & 1 tank dives, snorkel, Anegada trips, 5 boats, (Nitrox), DPV
diving, air fills, rendezvous, Scubapro sales/rentals, CC.  We have geared our company to serve your motor boat guests, sailing and catamaran yacht charter guests.
You call us and we come to you, morning noon or night.
RAINBOW VISIONS PHOTO CENTER
Prospect Reef, Box 680, Road Town, Tortola, BVI
Underwater photography & custom video. Personalized service, instruction, sales, rentals, commercial & wedding photography

SAIL CARIBBEAN DIVERS
Hodge's Creek, Cooper Isl., Norman Isl.
Rates: $80-110/1-2 tank; $140 resort; $80 night
Custom dive boats, PADI 5 star IDC Resort beginner to pro, rentals, air fills, CC.
Our custom dive boats, have an instructor on board plus a dive master to take private yacht charter guests to dive on anyone of the popular scuba dive spots.

SUNCHASER SCUBA
Bitter End, North Sound, Virgin Gorda
Rates: $85/1 tank; $130/2 tank; $135 resort course, CC
Rentals, airfills, night dives, rendezvous and private charters.
Virgin island yacht charter clients have been serviced by our company for many years now.
Luxury yachts for charter would call our base and ask us to rendezvous with their charter yacht so we could take their guests scuba diving at their preferred spot.
We supply all the needed gear.

TRIMARINE CUAN LAW
Box 2338, Road Town, Tortola, BVI
Rates: For individuals, groups & children
105' sail/dive trimaran, full equipment, lux, all inc. AC, AP, CC, CCH, WS.
This trimaran is huge and does scuba yacht charters, so the yachts for charter touch base with us
The RMS Rhone was a 310' Royal Mail Ship that was dashed against the rocks off Salt Island's southwest coast during an 1867 hurricane. Now a national park, its remains have become a fascinating underwater habitat for marine life.
More private yacht charter guests and yacht charters guests have dived here than any one else.

COMMERCIAL DIVING
USVI Commercial Divers         Compass Point Marina                   usvicommercialdivers.com
Compression Tech Services   129-131 Subbase                            manta.com
STX Anchor Dive Center         Salt River Natl. Park, STX               facebook.com/anchordive
STX Cane Bay Dive Shop       2 Strand St., Frederickstead, STX   canebayscuba.com 
STX Dive Experience              100 King St. #6, STX                       divexp.com
STX Dive St. Croix                  1104 Strand St. #109, C'sted           stcroixscuba.com
STJ 6-Paq Scuba                    PO Box 1085, STJ                           6paqscuba.com
STJ Cruz Bay Watersports      Cruz Bay, STJ                                 cruzbaywatersports.com
STJ Low Key Watersports       Bay Street, STJ                               divelowkey.com
STT Admiralty Dive Center      3562 Honduras St., STT                 admiraltydive.com
STT Aqua Action                      Estate Nazareth, STT                     aadivers.com
STT Coki Beach Dive Club      6406 Coki Point, STT                      cokidive.com
STT Red Hook Dive Center     Red Hook Quarters E1-2, STT        redhookdivecenter.com
STT St. Thomas Dive Club      Iggies, STT                                      stthomasdivingclub.com
STT Underwater Safaris          9715 Estate Thomas 143, STT        adventuresscubaschool.com 
STT Wreck Life                       Compass Point Marina, STT            wrecklife.com