The modern luxury catamaran has forever changed the yacht charter vacation industry.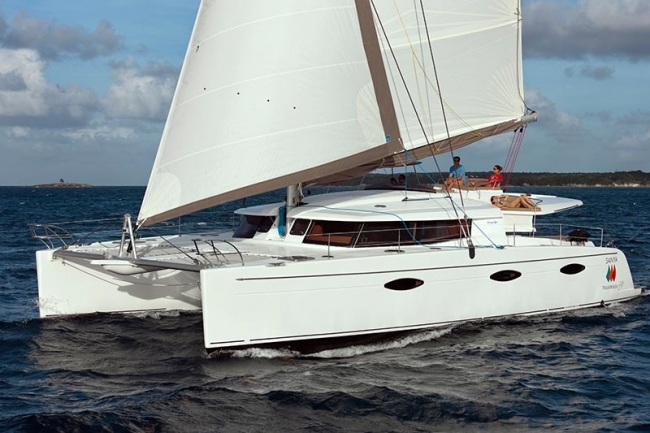 Today our 60 and 76 foot catamarans, with their new fly bridges and walk around beds in all cabins, are now equal in every way to 120 foot high-end a mega luxury power yacht.

Guests who paid $100,000 for a one week vacation can now enjoy the 76 foot catamaran with the same quality cuisine and the same high-end luxury interior; the cabins are larger walk around cabins.

The cost for 10 guests in a 76 foot catamaran is all-inclusive at $50,000, half the rate paid in the past on power boat charters, with equal amenities, better stability and comfort due to its 2 hulls.

This modern BVI catamaran revolution commenced in 1990, when the first modern designed catamarans arrived on the charter scene. Brokers would not book a catamaran because they were comfortable booking monohulls.




Click here to watch Video



Change is not what they wanted to do, but that change was bearing down on all of them. In 1990, the first modern catamaran arrived in the BVI, named Splendidum, and this luxury catamaran belonged to my wife and me. For 2 years, we were the one and only Virgin Island crewed catamaran doing 1 week yacht charters. Yes, there were 2-3 day sail trimarans, but day sail catamarans/trimarans are totally different from a fully crewed catamaran.

I also knew that there were 5 Donnelley designed catamarans (changed to Simonis design, but he had zero to do with the design), and all of them were headed to the Caribbean after Splendidum, which was already chartering. So to me, a bunch of catamarans were following: Shellette, Quest, Breanker, Jinglebells, Bruce's and Tamarin.

Since those early days, both Breanker and Quest remain chartering and have done so every year since then. Shellette also chartered all those years but left the charter industry in 2006. I saw a TV news clip of Shellette being broken up during a storm in New Zealand in May 2013. She had been blown off her mooring and drifted into the sharp rocks, a part of chartering history stopped right there. Jinglebells never chartered, and Tamarin had a checkered life.

Before catamarans, it was the mono-hull sailboats that ruled the yacht charter world. There were a few trimarans which were altered to do weekly charters, but trimarans are dark because of the way thinking was done pre-1990. In those days, trimarans were also built in a backyard from kit form; no factories were manufacturing trimarans.

In early 1990, the number of private yacht charters into the Virgin Islands was around 350, maybe 400, per year. Today we are looking at roughly 1,700 each year, and we have not scratched the appeal of a luxury vacation. I feel that the modern catamaran has opened up our industry twenty fold, because chartering these 1 week crewed catamaran charters now appeal to the wives in your families.

There are 3 major reasons why: Stability, Comfort and Space inside and on deck.

Today there is a good movement between catamaran to luxury power boat, and back from luxury power boat to modern luxury catamaran.

1. A 76 ft catamaran is equal to a 120 ft mega power yacht in cuisine, space, stability, equal interior luxury and double the comfort.

2. In 1990, there was one crewed catamaran in the BVI Splendidum; today we count over 100 crewed in the Virgin Islands. Shellette, Breanker, Quest, Jinglebells, Bruce's and Tamarin all followed Splendidum, thanks to Michael Donnelley.

3. Today guests who have done 120 foot power boat charters now happily pay for a 76 ft catamaran.

4. Yes, my wife and I led the modern catamaran explosion into the Caribbean charter world without knowing it and without meaning to. We just purchased a catamaran because it was more comfortable than the yacht we did our captain's course with. We liked the space, the comfort and that stability.

Barrington Yacht Charters believes in prompt personal service providing expert insights into crewed yacht charters and catamaran sailing vacations. Reserve an all-inclusive private yacht vacations on luxurious catamarans and motor yachts in the Caribbean and BVI's. Kindly contact us on 800-478-2029 or explore our very informative website to learn more about what you can look forward to during a private yacht charter vacation.