Akasha Crewed Catamaran Charter | British Virgin Islands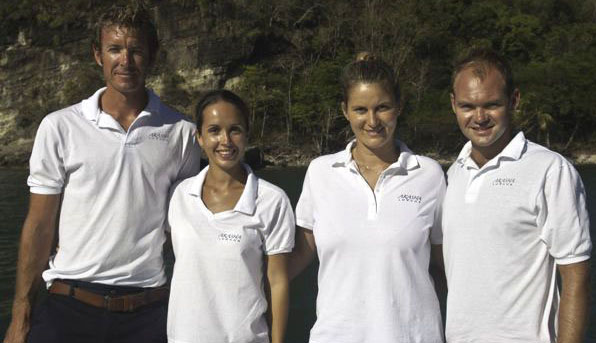 James Micklem (30) is from Cornwall, England, and spent his childhood helping on the family farm as well as sailing, competing on a triathlon squad, and playing rugby and hockey. An avid sportsman, James is an accomplished tennis coach, skier & snowboarder, windsurfer & dingy sailor. After completing an Honors Degree in Geography, James managed an award winning bar & restaurant. James completed his MCA/RYA Yacht Master based in the Solent, and has spent the last 2 years gaining invaluable experience as Captain aboard the highly acclaimed Whitbread 60 and Clipper 60 race yachts with great success, he particularly excelled in teaching and entertaining corporate clients.

Carlene Williams (27) also hails from England, and her natural creative talents led her to achieving an Honors Degree in Fine Art. Traveling South America, Asia and New Zealand/Australia has inspired Carly's passion for both photography and culinary crafts which she refined with additional culinary courses in Thailand and the UK.

Carly stepped into the yachting industry and landed on her feet working as sous chef aboard a 150 ft motor yacht. During a two year circumnavigation, Carly cooked for up to 14 and assisted the head chef in all areas of galley duties as well as stepping in as head chef when needed. A keen scuba diver, she has dived with sharks in the Galapagos and the beautiful pristine reefs of South Eastern Asia. While in Thailand she learned the art of fruit carving. Together James and Carly make an exceptional team, along with their yachting experience, James's calm and safety conscious nature complements Carly's creative talents & attention for detail, to make a balanced and professional team.

Stewardess Kim and Mate CJ
Carl aka "CJ" Coetzee (25) started to follow his dreams when he was only 16 as a freelance photographer for a local South African extreme sports magazine.

Shortly after completing the Scuba Diving Open Water course his passion for photography followed him into the water. After a year of diving in the Cayman Islands every day he returned to South Africa to qualify as a Master Scuba Trainer. CJ subsequently joined a team of under water filmmakers in Mozambique, and was fortunate enough to spend 6 months working on an educational documentary about over-fishing and the Shark Fin industry in Mozambique waters.

After completing Coastal Skippers course in Cape Town he left the Africa to work in the yachting industry in the Mediterranean, following which he ran a diving center in the South Pacific.

CJ continues to travel the world whist following his passion, his work now published in African Geographic, BBC, Scientific journals, multiple diving books and magazines.

Kim van Eyk (23) from sunny South Africa spent her early days next to a motocross track and as soon as she could walk was on a quad competing. Fuelled by adrenalin sports, Kim enjoys sailing, scuba diving and sky diving. She started working in the corporate hospitality industry at a young age which inspired her to complete a degree in BCOM Marketing Management.

After graduating Kim decided to travel, working as a Dive Instructor in Mozambique, and later in the beautiful Pacific Islands where she lived in and amongst rainforest, volcanoes and waterfalls. Before jet setting she completed her RYA Coastal Skippers from Cape Town, which started her carrer in the yachting industry. In the past year she has gained valuable experience working as stewardess on high-end luxury motor yachts. A trained massage therapist, Kim can relax and ease all your tensions with a Swedish massage.

CJ's passion for diving and water-sports combined with Kim's attentive nature and attention to detail will ensure your days aboard exceed all expectations. Cj and Kim look forward to welcoming you aboard Akasha.