Marinas in the Virgin Islands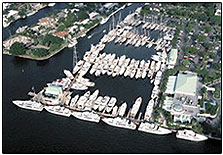 Marinas in the Virgin Islands assist owners, captains and crew to establish where they wish to base their yacht, to do business in the yacht charter industry, or to keep their yacht at a marina for private use only. Dry docks are also mentioned because all yachts, big or small have to be taken out of the water once a year to do underwater maintenance, especially in the vibrant Caribbean.  Sacrificial anodes replaced, propellers checked, fresh red bottom paint to be applied to the hull of the yacht and any other under water maintenance that needs attention.
For the private yacht charter captains doing yacht charters, the Marina's is the one place where they can also get all food products, drinks for their guests as well, as all weekly supplies like extra ice to keep beers cold. The marina is more than that, all maintenance can be done at a marina.  The marina is normally within walking distance, or tender distance to source any items captains need to keep their yacht running.  Parts and power stores and every item relating to every yacht is normally situated close to a marina.  Picking up the new luxury yacht charter guest at a marina is normally a sign of top service, so most Virgin Island yacht charter vessels make sure they can have their guests walk along the dock to board their charter yacht.  Below is a comprehensive database of Marinas in the Virgin Islands.

Dry Dock: Virgin Gorda Yacht Harbour          virgingordayachtharbour.com
Virgin Gorda, BVI

Dry Dock: Puerto del Rey                               puertodelrey.com
Fajardo, PR

Dry Dock: Independent Boat Yard Marina     ibyvi.com
The Lagoon, Benner Bay, STT

Dry Dock, Subbase Dry Dock                       
8186 Subbase #1, STT

BVI Marina: Village Cay                                 villagecaybvi.com
Road Town, BVI

BVI Marina: Nanny Cay                                  nannycay.com
Nanny Cay, BVI

BVI Marina: Soper's Hole Marina                   sopersholemarina.com
Frenchman's Cay, West End, BVI

PR Marina: Puerto del Rey                            puertodelrey.com
Fajardo, PR

STX Marina: Green Cay Marina                    greencaymarinastcroix.com
East of Christiansted Harbour, STX

STX Marina: Jones Maritime Marina             jonesmaritime.com
Christiansted, STX

STX Marina: Salt River Marina                     facebook.com/saltrivermarina
Salt River Bay, STX

STX Marina: St. Croix Marina                      stcroixmarina.com
Gallows Bay, STX

STT Marina: American Yacht Harbour, IGY  igy-americanyachtharbour.com
North side of Red Hook Bay, STT
STT Marina: Compass Point Marina           
The Lagoon, Benner Bay, STT

STT Marina: Crown Bay Marina                   crownbay.com
Gregorie Channel, Sub Base, Crown Bay, STT

STT Marina: Fish Hawk Marina
East End, STT

STT Marina: Frenchtown Marina, CYOA      cyoacharters.com
West of Charlotte Amalie, STT
STT Marina: Haulover Marine Yachting Centre
Subbase, STT

STT Marina: Oasis Cove
The Lagoon, Benner Bay, STT

STT Marina: Sapphire Beach Marina            sapphirebeachmarina.com
(Amantha Yacht Sales) North of Red Hook Bay

STT Marina: Subbase                                    subbasedrydock.com
Crown Bay, STT

STT Marina: Tropical Marine, Inc.                  facebook.com/TropicalMarineInc
Estate Nadir, STT

STT Marina: Yacht Haven Grande, IGY         yachthavengrande.com
East End of Charlotte Amalie Harbour

Coral Bay Yacht Club                                     facebook.com/CoralBayYachtClubSt-JohnVi
St. John, Coral Bay

St. Croix Yacht Club                                       stcroixyc.com
Teague Bay

St. John Yacht Club                                        stjohnyachtclub.org
St. John

St. Thomas Yacht Club                                   styc.club
Cowpet Bay

Bitter End Yacht Club Marina                         beyc.com
Virgin Gorda

Fort Burt Marina                                             tortolafastferry.com
Road Town, Tortola

H.R. Penn Marina
Tortola

JY Harbour View Marine Centre Ltd.            bviharbourview.com
East End, Tortola

Hodge's Creek Marina
East End, Tortola
For that private yacht charter captain who cares.

Inner Harbour Marina
Road Town, Tortola

Leverick Bay Marina                                     leverickbay.com
Virgin Gorda

Manual Reef Marina                                     manual-reef-marina.com
Sea Cow's Bay, Tortola

North Latitude Marina
Great Harbour Marina, Jost Van Dyke

Penn's Landng Marina                                 pennslandingbvi.com
East End, Tortola

Peter Island Marina                                     peterisland.com
Peter Island

Pusser's Marina Cay                                   pussersrun.com
Marina Cay

Saba Rock Resort                                      sabarock.com
North Sound, Virgin Gorda

Scrub Island Resort & Marina                    scrubisland.com
Scrub Island

The Moorings Marina                                 moorings.com
Road Town, Tortola

Village Cay Resort & Marina                      villagecayhotelandmarina.com
Road Town, Tortola.
Home of the Virgin Island yacht charter captain and friends.

Yacht Club Costa Smeralda & Marina        yccs.com
North Sound, Virgin Gorda