201' custom motor yacht ESMERALDA, built by Codecasa and fully refitted in 2000. She was previously named Taoey.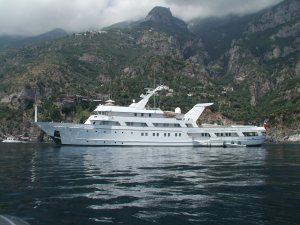 The
M/Y Esmeralda
provides an unbelievable travel experience that immerses you in unbridled luxury and style. Perfect for charter vacations on the
Mediterranean
or Caribbean Seas.
Your captain and crew team on board the super yacht Esmeralda are head and shoulders above the rest and the reason to see why is easy, Captain Michael Spiller at the helm since 1995, leads by example.
He's an easy going captain who is charming fun and professional. He's told me "Andrew during the day my crew are in their uniform and after 6:00 pm they all required to change into white dress uniforms with bars for the guests".
Captain Spiller has selected the right crew to correctly service his guests. "Andrew, we are a team so any in-house fighting ends immediately or someone gets a pink slip".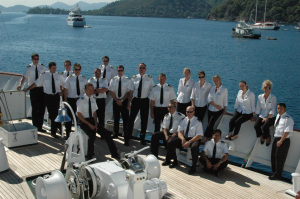 The team knows we work together towards the same goal and that goal is to serve guests better than any other charter yacht out there. "Andrew, you have seen the spreads we do for guests and they are over the top, but that is what they pay for. If a client goes to the day head (the wash hand basin on the day level and washes their hands, one of my crew has to go in afterwards without being seen and clean the whole room so well that those small water mark drops left on a basin after use have to all be whipped off so it looks as it the basin has just arrived from the factory".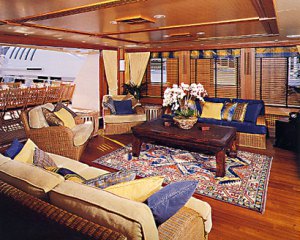 Captain Spiller continues with "I feel I have the best crew in the world on board M/Y Esmeralda, they come to me to share ideas, to open their hearts to me as if I were their father and I appreciate their confidence in me."
I personally met Captain Spiller on board
Esmeralda
in 1995 and today he remains on board and this is the perfect charter yacht when you know the captain and crew have consistency. He loves his charter guests being on this
super yacht Esmeralda
.
Meet Your Crew On Board M/Y Esmeralda
Chief Officer is David Filgueira and his second year with Captain Michael. Chief Stewardess is Lidiya Sydoruk born in the
Ukraine
and her ninth year on board Esmeralda and this is that stability I am talking about. A stable crew means a happy crew. Chief Engineer is Ivo Prebisalic of
Croatia
and has been on board for fifteen years, here is that stability and top professional.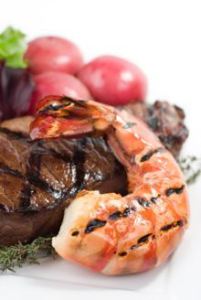 Your chef on board is Andrew Fleming. When a chef has 13 years on board any yacht it means stability and he is at the top of his game. There are few charter yachts that can equal the stability of this crew and this all stems from Captain Spiller.
Andrew has a background at the Devonshire Gardens in Glascoe, Scotland before coming to the luxurious motor yacht Esmeralda.
With a crew of 19 it means there are too many souls to cover today, but you now understand how important stability with crew is. Well done captain!
The
private yacht Esmeralda
is one of the most accommodating charter yachts available worldwide and is perfect for large group dining for up to 22 people.
It is most unusual to find any private charter yacht that sleeps 20 guests or more, well here is
Esmeralda
a luxury yachting perfect pearl, where the rich and famous play.
One of my last groups on board wanted to play golf all over the
French Riviera
, so traveling days and golf days were planned for their 10 day tournament and it went down perfectly that same group did 3 charters on board
Esmeralda
and every charter was a golf charter so different locations and courses were enjoyed. Thank you Michael Spiller for doing a wonderful job!
Experience an unrivaled service level provided by a professionally trained crew of 19 and spend your days being attended to in the lap of luxury.
Call Andrew
954-720-0475
or toll free 800-478-2029 for the charter yacht vacation of your dreams. All 11 staterooms on the super yacht Esmeralda are on the main deck with each having large windows filling the cabins with beautiful natural lighting.