Luxury Tandem Yacht Charter Vacations.
Guests always have far more fun with two boats, two captains and crew than just one charter yacht. Here are a few ideas to consider.
Have you ever considered taking an all-inclusive catamaran sailing vacation?


Take a look at a different idea to rent private yachts, at a significantly lower rate that only a private tandem yacht charter can provide.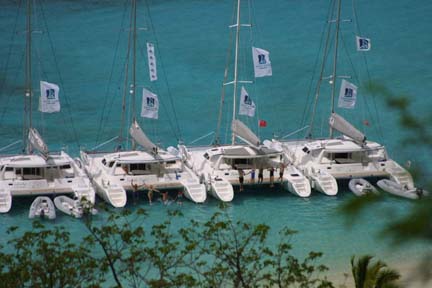 Clients of ours who originally requested a big power boat ended up chartering two power catamarans.
The twin sisters the 60' Sea Boss and La Manguita were selected for their tandem
yacht charter
for 12 guests. Six people on each catamaran in 3 private en-suite staterooms.
Unlike the power yachts, catamaran sailboats charters do not charge the additional APA and are all-inclusive of all food, wine, beer, equipment, taxes, mooring fees, etc.
The twin power catamarans rental ended up costing $29,500 for each group of 6 people meaning that so renting both power catamarans cost $59,000 or just
$4,900
per person. That works about to being a third of the price of the
140 foot power yacht
with her 6 cabins that the client was first interested in chartering for their holiday.
Two 10 guests, 5 cabin
BRAND NEW
catamarans can cost
$2,950
per person per week each, so either 10 guests can pay
$2,950
per week or 20 guests can pay
$2,950
per person per week all-inclusive.
As you can see there are different ways to 'skin a cat' and at a significantly lower cost per person. So price can be a large factor in making yacht charter holiday decisions.
Guests will have a lot of added fun on their adventures.


Our guests definitely have double the fun on board a tandem charter. The whole idea of a tandem yacht charter is for both vessels to travel together and to anchor together for lunch time and every night stop.
Being
rafted
together also means the guests can easily step from one
catamaran
to the next at will.
The goal of all BVI tandem charters vacation is for two or more groups of friends or family to have fun together. It also gives everybody on board both yachts two professional chefs who will work together doubling the variety of cuisines.
There are plenty of choices to be had when it comes to enjoying meals together. One such choice is to have all the adults seated for a formal dinner on one boat and the children having a special kid's-only menu on the other.
Perhaps you'd prefer to have all meals together and on different nights swap the chef from the othercatamaran. You can be assured that both chefs are talented world-class 'cuisine queens' giving you a lot of options for foods and seating arrangements.
These chefs are so good you will want to send them birthday cards for life.
One of the best features of a private
catamaran charter
is that you make all the decisions and set your own itinerary on where to go, what to do, what to eat - the choices are yours to make.
When are the best days of the month to go on a private charter vacation?
Call
800-478-2029
for great ideas, destinations and rates.
Guests also have two professional yacht captains who each has his own stories and preferred locations to take the guests to have the most fun. Both captains can take you out for water sports, exploring uninhabited islands, snorkeling, fishing, shopping, local bars and hangouts or even scuba diving.
In a nutshell, you'll have 2 captains and 2 crews to make sure you have the best vacation you have ever had in your life!
Whether its having fun with water skiing or many other water sports. Guests have two chefs to enjoy different styles and varieties of international cuisine and can walk from one power catamaran to the next.
These are just a few of the reasons why a tandem charter is far better than having one vessel to enjoy your charter vacation.
Two boats. Two different itineraries.


On one morning the women and children can board one of the catamarans and take a leisurely cruise to a predetermined anchorage to sunbathe, relax and frolic in the warm tropical waters.
This is a women bonding morning or day however the ladies want it to be.

Then all the men can take the other catamaran to do men things like fishing, snorkeling or other endeavors.

After some fun in the sun you'll rendezvous with the other boat later in the day for lunch and exploring local restaurants, bars and shoppes.


All these options are only available to tandem charters and cannot be done with a single vessel. This only supports my opinion that a tandem yacht charter is a better and less expensive alternative to a single super yacht.

Now let's look at it from the captain and crew perspective:

Let's look into the background of a tandem charter by the crew. Although tandem charters are less frequently booked than single yacht charters there are still many BVI tandem yacht charters booked each year. When they do get booked there is great excitement between both captains and the chefs on board the respective catamarans.

They say to themselves "Yahoo! we are going to work with another captain and crew team to do a tandem yacht charter, this is the feeling when two captains and their crews get to work together. It is really a treat for the captains and crews as it breaks up the routine of life on board a luxury yacht.


One captain will be nominated by me who will be the "lead captain" and that is to ensure that both captains work together rather than against each other. After receiving your completed food, bar and activity forms and prior to your Caribbean tandem charter both captains get together to decide where to go and what to do.

Both captains will speak with their respective head person on board their catamaran 10 days before their charter's departure to discuss meet up locations and would also cover the topic of foods before the chef buy the provisions.

These BVI yacht charters are well planned out weeks ahead of time, but can change to whatever the guests wish to do provided all wish to do the same thing.


Each independent vessel will have its own food and bar preferences on board their luxury catamaran or power yacht.

This is by far the ultimate experience families can have when planned while working with Barrington-Hall.

Barrington-Hall Yacht Charters has arranged many different sizes of guests parties in the past including our largest tandem charter involving 112 people on board 17 catamarans!

It was a flotilla of epic proportion and had arranged for a chase boat that would pick up all the garbage bags everyday, any vessel that ran out of ice would call and it would be replenished. If one of the boats wanted beers or champagne we would simply shoot ashore and purchase whatever needed to be purchased. The chase boat also helped keep this big party together.

Different sized charters we have created include 12, 14 and 16 guests as well as one with 45 guests.

Large parties are hard to do outside the British Virgin Islands because the volume of affordable vessels does not exist else where, so when planning a tandem charter please consider a BVI power boat yacht charter or a Caribbean catamaran sailing vacation.

We recently received a thank you note from our most recent tandem charter and this particular charter involved two power catamaran charter boats. It is my pleasure to share this extract from their e-mail to me and it read as follows:


"Good morning, to Barrington-Hall Yachts and staff. As you may know, the twin Horizon PC60 power cats Sea Boss and La Manguita are currently based in the British Virgin Islands. We have just completed our first BVI tandem charter, which worked out very well indeed. What a great trip and a wonderful suggestion from you that we do the tandem!".

The guests were initially looking for a mega motor yacht that accommodated twelve guests, which as you know can be on the pricey side. They ended up booking both our power catamarans at far less than it would cost them for a mega power boat.

Our guests gained a lot more flexibility, too. As mentioned before the boats could split up during the day if some people wanted to go fishing and others wanted to go to a spa. Our ladies on board wanted to have a massage and spa treatment with nails done et cetera, so the men went one way and the ladies had fun on their own.

What ever type of Caribbean yacht charter you seek we can assist you in creating the best vacation you have ever taken.


LUXURY POWER YACHTS FOR 8 AND 6 GUESTS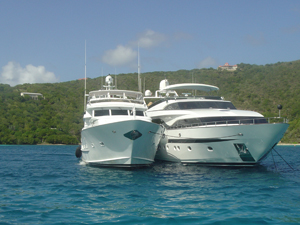 Did you know that more charter rentals occur in the British Virgin Islands than any other place in the world?
It's simply because there is a greater selections of vessels from which to choose.
For this BVI luxury power boat charter experience let us look first at the many benefits that a tandem charter presents.
Let's begin with the advantages of cost.


It's best to start with looking into how a
tandem yacht charter
works and why it is best for parties of 12 guests or more.
The approximate cost of a one week charter on a 140 foot luxury
power boat
that sleeps 12 guests in 6 staterooms is $150,000.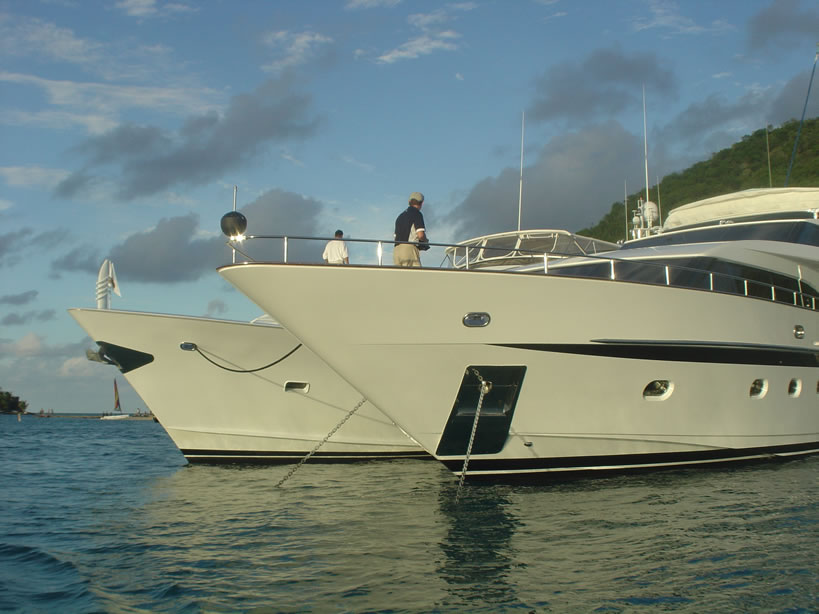 You'll also need to add an additional 35% for what is called the 'advanced provisioning allowance' or APA. This a prepaid allowance for fuel, food, taxes, fees, beer, wine, etc.
So, altogether it will cost about $200,000 for the week or about
$16,500
per person.
It's important to note that any portion of the APA not spent for the benefit of your charter will be reimbursed to the client at the end of the charter. All expenses will be itemized and sent to you so you can see where, when and what the money was spent on Call 800-478-2029 for great ideas, destinations, rates and planning assistance.

Book a British Virgin Islands Charter and experience the ultimate luxury vacation on board a private crewed yacht charter.