M/Y Northern Lights - Luxury Motor Charter Yacht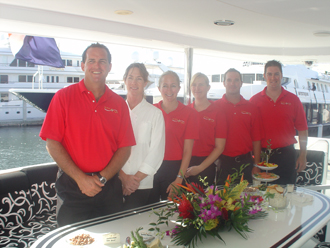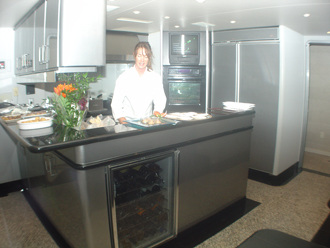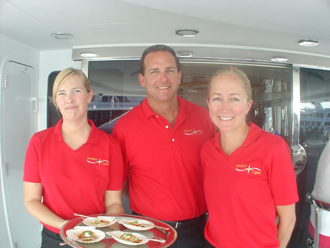 Captain William C. Noyes III
AMERICAN
Bill hails from the historical New England seaport of Mystic, Connecticut and has been involved in the luxury yachting industry for over 20 years. Due to the love of the sea and his desire for adventure Bill has captained both sailing and motor yachts around the world. His charters have taken him from places as far North as Alaska on the West coast and as Far East as Nova Scotia on the East coast. He has spent the last 7 years providing amazing fun, relaxing, adventurous charters throughout the Caribbean islands. With over a 100 successful charters under his belt, Bill knows the best ports and anchorages whether it be beach combing or absorbing the island cultural he's happy to take you there. He currently holds a USCG 1600 ton & MCA 3000 Class 4 license. Bill and his crew on "Northern Lights" truly look forward to welcoming you onboard for a memorable charter experience

Engineer: Lincoln Bell
AUSTRALIAN From a young age Lincoln has been on, in and around the ocean, with family activities from sailing to wake boarding, fishing and pretty much anything to do with the water. He is from a small town called Airlie Beach in Queensland. Lincoln has a keen interest in engineering and has worked in a number of different fields, ranging from large and small marine mechanical equipment as well as mining in northwest Australia. Northern Lights it has combined his passion of the ocean, engineering and travel.

FIRST MATE: PAUL FERDIAS
CANADIAN After graduating University, Paul worked in a variety of positions within various industries ranging from Currency broker, Stock broker in training, Financial planner, Road construction to oil field worker to name a few before settling in the yachting industry for his next career path. As one of the Deckhands, Paul's first boat took him along the east coast of Africa for a year before returning to him to civilization. From then on, while moving up the ranks to First Mate, he spent his seasons working around the North American continent traveling from Alaska through the Panama Canal and all the way up to Nova Scotia in Canada. In the winters, the Caribbean has also been frequently visited. Paul is a fitness enthusiast and practices yoga and weight training to stay healthy. The next challenge is an around the world motorcycle trip, currently in the planning stages

Deckhand: Christiaan Olivier
SOUTH AFRICAN
Born in Cape Town, South Africa he grew up in and around the ocean. After successfully obtaining a degree in Commercial Accounts and Post Graduate in Enterprise Management, Christiaan realised it was not for him but to trade it for a Yacht Masters Offshore certificate and to pursue a career within the yachting industry. He has been privileged enough to have travelled through most off South America, Africa, Europe and parts of Asia as well as sailing across the Atlantic ocean. Some of his passions include surfing, travelling, skate/snowboarding, hunting, camping, family, friends and spending time in nature. He is a happy, easy-going person with a keen sense of humour and will make your stay on-board Northern Lights memorable and a lot of fun!

Chef: Zachariah Rath
AMERICAN
Zachariah Rath was born and raised in York, Nebraska. After completing his degree in Food Service Management and Culinary Arts at Southeast Community College in Lincoln NE. decided to take his skills around the world. Zach has worked on a variety of seafaring vessels ranging from a river boat down both the Rhine and the Danube in Hungary to The Clipper Cruise Lines out of St. Louis Mo. He then travelled extensively visiting places such as Antarctica, New Zealand, Thailand, Europe, South America and the Caribbean. After these adventures with influences of diversified foods, Zach decided to work in the charter yacht industry. Some of the yachts he recently worked as a chef onboard were M/Y C'EST, LA VIE, and M/Y SAVANAH. With his exposure to so many different cuisines and his love to please his guests, Zach is happy to tailor a menu to meet your personal preference.

STEWARDESS: Tara Leigh-Fowell
SOUTH AFRICA
Tara-Leigh was born in Paeroa, which is in the Waikato region within the North Island of New Zealand. Tara-Leigh grew up on dairy farms then moved to Auckland to peruse a career in the hospitably and tourism trade, which lead to private property management. Here she was introduced to the Super Yacht Industry, and started working as a stewardess on super yachts through the Caribbean, Bahamas and Florida in which she thoroughly enjoys and has never looked back. Combining her skills as a corporate businesswoman and fantastic personality, she welcomes you aboard and will ensure you enjoy a luxurious experience on board Motor Yacht Northern Lights

SECOND STEWARDESS:Roberta Gill
AMERICAN
Roberta has a vibrant personality, always willing to go above and beyond to help out where ever needed. Roberta's training includes hospitality management as well as the Silver Service Course from the American Yacht Institute. She enjoys swimming, yoga, snorkelling and also indulges in the occasional travel while participating in volunteering for the House of Hope Orphanage. Her list of prior yachts include Pride of Hawaii, 200FT M/Y Morning Glory and 154 FT Charter Yacht D' Natalin.