Luxury Yacht Charters on Sailing Yachts

In this Issue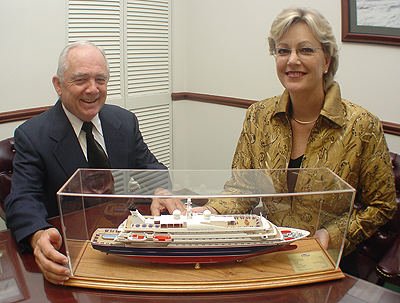 D
ear Passionate Traveler and friends,
This month we are highlighting the sailing yachts of our industry, which are the yachts that appeal to the sportsmen of yachting. These guys and gals love to have their yacht cut through the water in front of them, while enjoying the soft feel of wind and salt on their faces. We can say they are the formula 1 drivers of our sport, but it is the location to sail which is all important. Many of these locations can be calm at times with the soft trade winds coming through. So select your location wisely, talk to our staff and ask questions. We do business the good old fashioned way where you are number one. Our guests will be in a position to call me 24/7 so have fun out there, the world is your oyster and you are the pearl, so take advantage of this.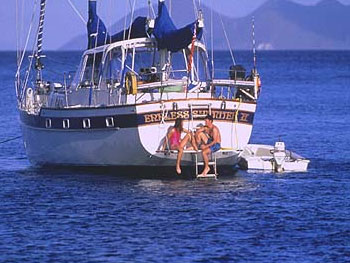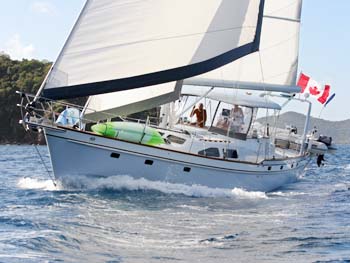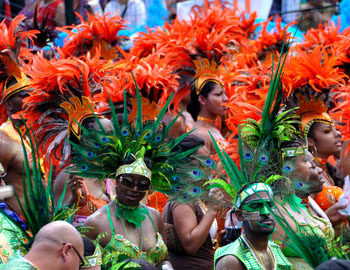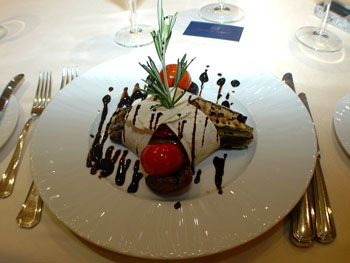 T
he Endless Summer yacht with the crew's True Stories.
Endless summer is offering a bargain rate at this time so get in touch with Captain Andrew for more details. Better than her bargain rates is the yacht and her top captain and chef team. Your chef Susanna Rice first took to the wheel of Endless Summer when she was 1 year old (assisted by her dad Barry). In July 2010 Susanna was up the mast freeing a halyard (a line) when she spotted a large manta ray gliding around Endless Summer and they were in deep water, charter guests on board. So plucky Susanna picked up the under water camera and shot this picture of the giant manta ray. What a lady, what a picture.



Endless Summer II is a classic monohull and a legend amongst Caribbean crewed charter yachts. She was conceived to charter in the British Virgin Islands long considered the sailing capital of the world with their constant breeze, calm seas and amazing anchorages.
View the entire yacht Endless Summer here:
www.esbrochure.com
Call for hard cover color brochures.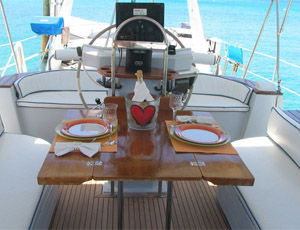 T
he Crew of SY Paradise like to present little true stories which happened on charters. On one charter a whale and several dolphins had been involved. We just got our guests aboard Paradise and we left Road Town to our next destination, which was Norman Island. We had a nice wind and the sky was deep blue and our guests were sitting along the railing enjoying their feet hanging over the side.
All of a sudden a huge fountain of spray came up on our port side of yacht Paradise. It was a totally exiting moment for all of us; Captain Bernie was able to maneuver the yacht right towards the fountain. Then the enormous body of an Orca Whale came up showing his white belly. Our guests were really excited we were just behind this gorgeous creature. We followed this black and white whale for 15 minutes.
The Orca must have noticed the water becoming shallower and with a loud call dived down and disappeared. Because that experience was so unusual we decided to cut our trip shorter and went into Great harbour Peter Island for the evening. Excitedly drinks were handed out and our chatter continued, it was sooooo close to us, wow. Then out of the blue dolphins appeared, Ruthie jumped over board flippers and mask, Ruthie swam with a mother and baby dolphin, what an unusual scene Ruthie, baby dolphin and Mother dolphin swimming together.
Captain Bernd lowered the guests on Paradises platform so they too could touch the water. Everyone could hear the little dolphin making noises to Ruthie who tried to answer through the mouthpiece of the snorkel. Our four guests then were able to see the little dolphin swimming back and forth between dolphin mom and Ruthie. After a lot more talking the little dolphin then turned away from Ruthie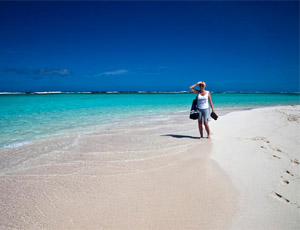 leaving a big white splash to be closer to Mother dolphin, they were gone. Mom and Pup dolphin was later seen amongst a large heard of dolphin which were mixing with 30 cruise ship guests in the water.

On another charter a young boy seemed to be a little bit bored while his parents were snorkeling all day long enjoying the tremendous amount of fish around Norman Island. Captain Bernie started to tell this young man Pirate tales of treasure on Norman Island and doubloons in the water. The young lad agreed to snorkel with captain Bernd close to where the yacht Paradise was anchored. The young lad was diving down looking everywhere for money and out of the blue this shriek of triumph came the young lads hollering voice, I found 20 dollars, I found 20 dollars, this crumpled 20 dollar bill firmly in hand and a grin that stretched way across the bay. Now the serious hunt was on, the entire bay was scoured by the young man in his quest to find more.
A note from Captain Andrew, I too found a 20 dollar note on the seabed next to the first cave on Peter Island so well done with this true tale of doubloons at the pirate caves.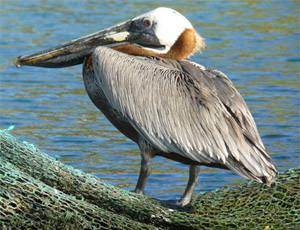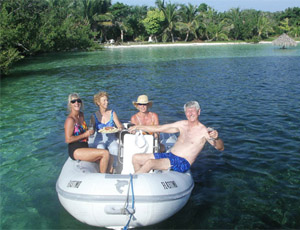 Call Barrington-Hall 800-478-2029 or e-mail Captain Andrew
at

This email address is being protected from spambots. You need JavaScript enabled to view it.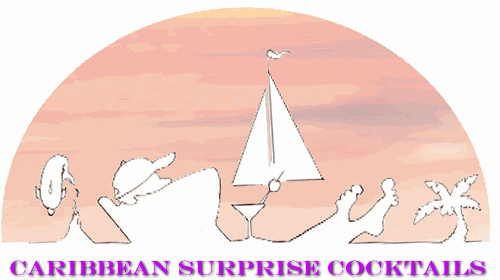 These illustrations are a tribute to nature's tropical secrets. These exotic flavors of nature are put together as if my wife was a gorgeous humming bird and it was her I wished to attract. Enjoy these carefully selected Caribbean favorites; they are dedicated to the art of service and a lot of fun. I believe that nature's handyman would be proud of them, dry or sweet. Thank you for your selection, enjoy your party no matter how big or small.

We are honored to present these to you and delighted you are about to test these extremely special tropical mixtures. As of today there is not one charter company in the world who has provided this type of service for their guests.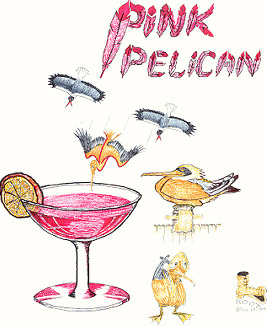 PINK PELICAN
Captain Bernd and Ruthie.
Charter Yacht "Paradise."
2 oz Malibu rum


1 teaspoon honey


3 oz lemonade to taste


1.5 oz Grenadine then stir.


Salt rim of glass garnish with cherry and orange slice serves 4-6 guests

NECTAR
Captain Gordon Monsen and Lizane Heine
The trusty sailing yacht Liberte.
1 oz Marula Juice


1 oz Peach schnapps


4 oz Spumante sweet champagne (or use dry champagne)

2 oz Fruit punch

2 oz Pineapple juice

Pour into 2 cold champagne tulip glasses

no ice. Ladies favorite.

The world's most perfect drink, serve dry or sweet.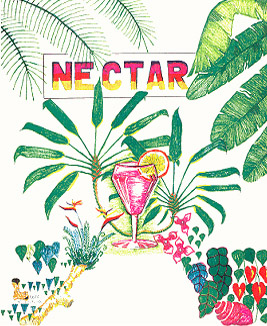 The First Monday in August.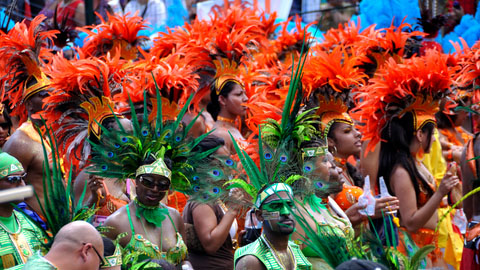 First Monday in August
is carnival which normally runs for the week.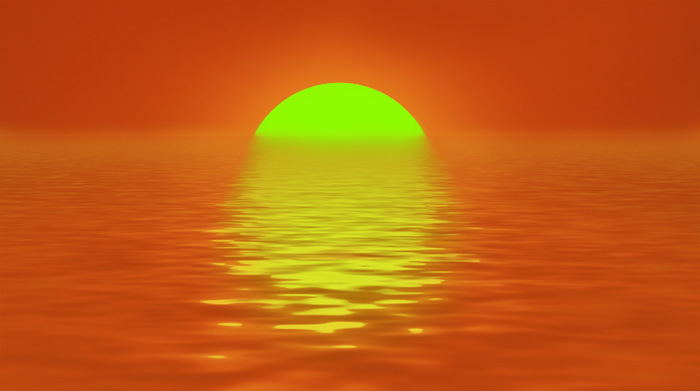 T
he famous
GREEN FLASH
can be viewed on a clear day when the yellow sun slowly drops behind the blue Caribbean horizon. It is the last quarter-section of the sun which turns to a lime green. When you are having fun onboard your luxury catamaran, keep your eyes on the sun setting; try not to miss the GREEN FLASH. I have seen the green flash more times from Pomato Point at Wilfred's restaurant than anywhere else. No clouds on the horizon and the 2 colors blue and yellow turns the sun into lime green just for a few seconds.
Another true family story
A private yacht vacation is one of the best adventures guests can ever experience in their lives. Here is an example of a little boy who went with his partents 14 years before and that wonderful seed remained with him for 14 years until he could afford to take his wife on the same adventure all those years alter, see the pictures.
Click here:
Yacht Charter Story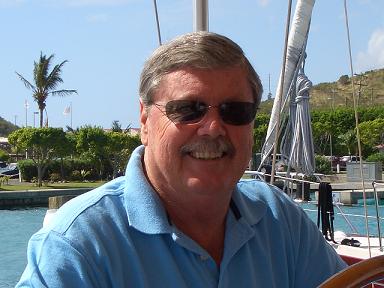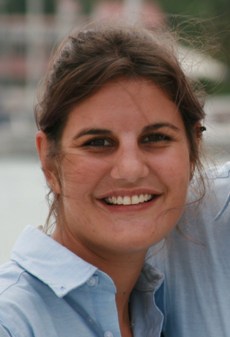 Captain Gordon Monsen & Chef Lizane Heine
Charter yacht Liberte
8 guests
A
s I sit here in Liberte`s comfortable salon, connected to the local Internet provider CCT (which is getting better each year),I reflect on what changes are taking place here and in the US and Europe and where we are going....
T
here is no doubt that the Industry is much quieter than it has been and, although some folks see an imminent upturn I must be wearing different spectacles. In fact, I liken this slow-down to the last big one in the 80`s which affected the BVI so strongly. I believe that we have a ways to go yet. This does not, of course, signal doom and gloom everywhere. In fact, it makes for a much more efficient machine, fat trimmed away, much keener prices and efficiency for our clients both Guests and Brokers. And leading from that, Operators and Owners who have all that massive investment to try to offset. I have written about this before and shall probably do so again---we spare absolutely no effort or expense to make it 'all come together right' for you all. Liberte` is a well found and well run Yacht which conforms.....and that brings me to the next uppermost thought------BVI or 'Virgin Islands Small Ships Registry' requirements. In the past, Operators have been left largely to their own devices, to decide themselves what their own Yachts need in terms of safety standards which change according to operating area. These were often determined by a 'flag of convenience' and sometimes fell well short of what they should have been. This has all changed. No small commercial vessel (ie. a 'charter boat') will be permitted to operate in BVI waters unless she has a Certificate of Compliance issued by the relevant government department in the BVI. Yachts are to be given a short period to get their affairs in order and, if not compliant safety-wise, will be asked to cease operations in BVI waters, an interesting new chapter and challenge therefore unfolds.
N
eedless to say, Libby is compliant as she is a world-class Ocean Cruiser--- apart from a couple of minor items which will be rectified within 14 days when the safety items arrive in the now-depleted stores. These added costs are going to be very hard to swallow for an already embattled industry, but the final outcome will be enhanced safety for all.
Liberte is running some very special offers for the month of
November
only---so come on down to the warm and comfortable breezes of the Leeward Islands, leave those gloves and coats and boots in the frozen car at JFK, BWI, Chicago and Boston and other points north and let us relax you as only the Islands (and our excellent rum), can......Read on for some interesting info on our fishy friends...."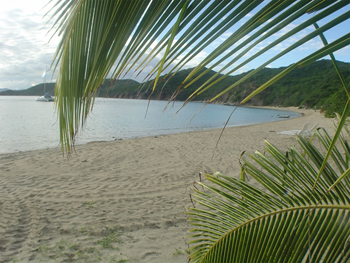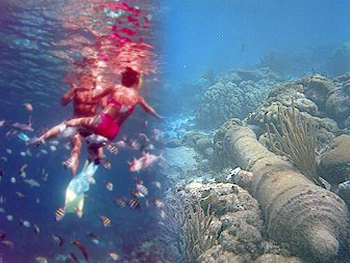 Ciguatera Do not eat the fish.
H
ere in the British Virgin Islands, its widely known and understood that the local reef fish should not be eaten. Consuming a reef fish may result in poisoning and illness...The question often asked on charter is how these fish could cause us to become so sick and why specifically does it occur here in the British Virgin islands? We do a little research to find out exactly what is going on.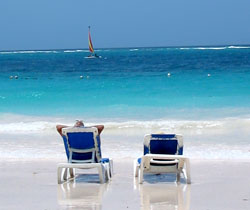 S
norkeling and Diving is magnificent, the fishes and reefs are colorful, beautiful and radiant, you become speechless and amazed at the hundreds of fish swimming around you, the shades of color from light to dark, its hard to believe these spectacular fish could cause so much harm if eaten.
T
he source of the problem lies on the reefs, the coral, the algae and the sea weed. Toxins (dino-flagellates) adhere to the coral, algae and sea weed which the smaller herbivorous fish eat, the larger carnivorous fish in turn eat the smaller fish and the toxins bio accumulate which increases the severity of the toxin... There are number of certain toxins that together produce "Ciguatera" poisoning, a contamination of the fishes flesh that makes the fish unsafe to eat...Predator species near the top of the food chain in tropical and sub-tropical waters, such as Barracudas, snapper, moray eels, parrot fishes, Groupers, trigger fishes and amberjacks are most likely to cause ciguatera poisoning, although many other species have been found to cause occasional outbreaks of toxicity. Cigua toxin is very heat-resistant, so cigua toxin-laden fish cannot be detoxified by conventional cooking...
O
riginally, cigua toxin was linked to Poison passed to tropical fish through consumption. However, the exact source of the toxin was unknown, and many sources were identified as the culprit. these included fruit, berries, compounds containing copper, as well as Pololo worms...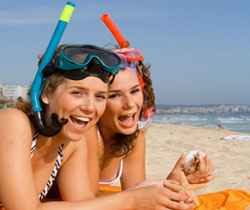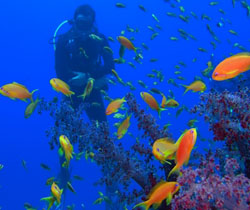 I
t is a generally held theory that ciguatera, as a poisonous substance, was named and identified in Cuba, circa the early 1800s. Local folklore has identified that the etymology stems from a story of an Englishman who caught a barracuda on the Isla de Pinos. After consuming the barracuda, the Englishman became terribly ill. When queried about the origins of his illness, the Englishman claimed to have caught and eaten "a fish, from the seawater". This gave rise to the name of the ailment as ciguatera, a transliteration into Spanish of the English word seawater.. A more commonly encountered explanation is that ciguatera comes from the word 'Cigua', a Cuban name for a gastropod that caused similar symptoms. Captain Cook during his voyages in the Endeavor (1700s) when off New Caledonia describes eating a fish 'with a large ugly head' and goes on to describe symptoms consistent with ciguatera poisoning.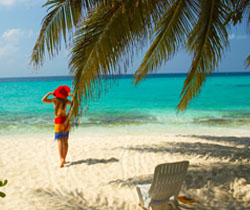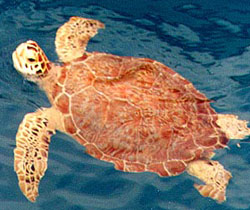 D
ue to the localized nature of the cigua toxin-producing microorganisms, ciguatera illness is common in only Tropical waters, particularly the Pacific and Caribbean and usually is associated with fish caught in tropical reef waters. Cigua toxin is found in over 400 species of reef fish, and therefore avoidance of consumption of all reef fish (any fish living in warm tropical waters) is the only sure way to avoid exposure to the toxin.
In Northern Australia where ciguatera is a common problem, two different methods are widely believed to be available for determining that fish harbors significant levels of cigua toxin. The first method is that if a piece of fish is contaminated with the toxin, flies will not land on it. The second is that the toxin can be detected by feeding a piece of fish to a cat, as cats are allegedly highly sensitive to cigua oxin and will display symptoms. There is a third, less common method for ciguatera testing that involves putting a silver coin under the scales of the suspect fish. If the coin turns black, reportedly, the fish is contaminated; but if it does not turn black then it should be safe. It is not known whether any of these tests produce results that are actually accurate.

Gastrointestinal symptoms include nausea, vomiting, and diarrhea usually followed by neurological symptoms such as headaches, muscle aches, parenthesis, numbness, and hallucinations Severe cases of ciguatera can also result in cold allodynia, which is a burning sensation on contact with cold (commonly incorrectly referred to as reversal of hot/cold temperature sensation)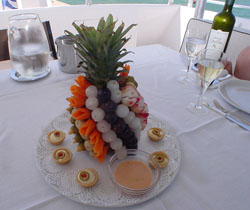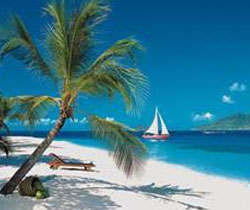 T
he symptoms can last from weeks to years, and in extreme cases as long as 20 years, often leading to long term disability. Most people do recover slowly over time. Often patients recover but redevelop symptoms in the future. Such relapses can be triggered by consumption of nuts, alcohol, fish or fish-containing products, chicken or eggs, or by exposure to fumes such as those of bleach and other chemicals. Exercise is also a possible trigger.
So there you have it, although these fish are harmless to snorkel with as well as dive with they are not to be eaten... All the fish that is served on board is imported from the US... What is interesting is that the locals on the islands here seem to have some immunity to the toxins and are able to eat the reef fish. What is also interesting is that Lobsters do not seem to be effected by the toxins are safe to eat here in the British Virgin Islands....
We hope you all enjoyed this month's news letter! Kindly touch base with Captain Andrew if you wish to charter with us. Guests and friends please do keep in contact, we are looking for a charter or two in February here in the British Virgin Islands and have some great specials running to make your visit to the Sunny Caribbean absolutely wonderful.
Sincerely,
Gordon, Jacques and Chef
Liberte' Charters