Luxury Yacht Charters in the Cyclades

In this Issue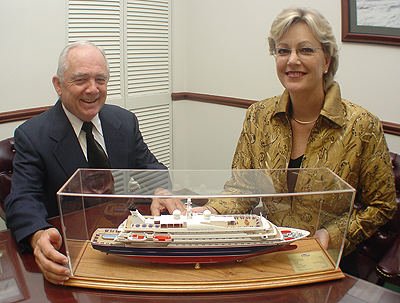 D
ear Passionate Traveler and friends,
The Barrington-Hall staff knows exactly how to listen to all your requests, ask questions to hear what you and your party enjoy doing during the day and at night. Then and only then can we guide you to the best locations for charter. This month we are featuring the Saronic Gulf in Greece.
We are showing a sample itinerary. These are just some of the many islands and anchorages that you may visit on your charter in the Cyclades.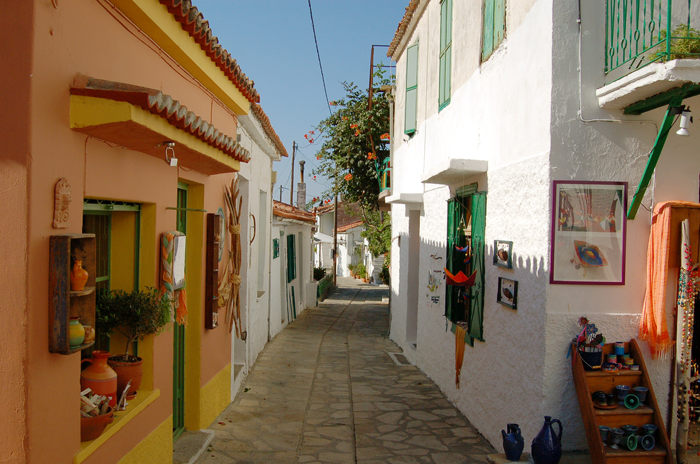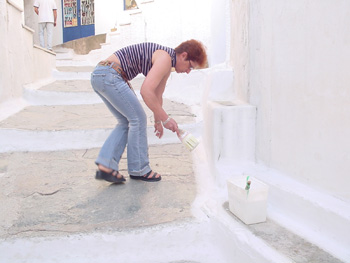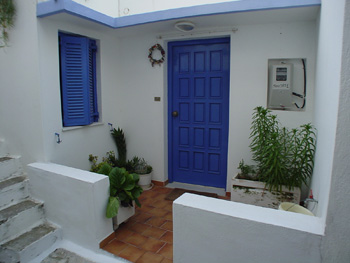 T
hese mythological islands of enchantment of ancient Greece are waiting to seduce you with her charm. A king's ransom could not purchase a better method to enjoy a private family vacation, or any corporate incentive. There is no finer way to enjoy Greece and her sister islands than with your own private yacht.
O
n your arrival at the airport (normally at 3pm), Julie Kourouvanis, our Greek agent, will have a SUV taxi waiting for you at the airport. The taxi takes you to your hotel the first night; the next day, the same taxi driver will meet you at your hotel and take you to the yacht where you would meet Julie, who introduces you to your captain and crew team. Now your enchanting adventure begins on board.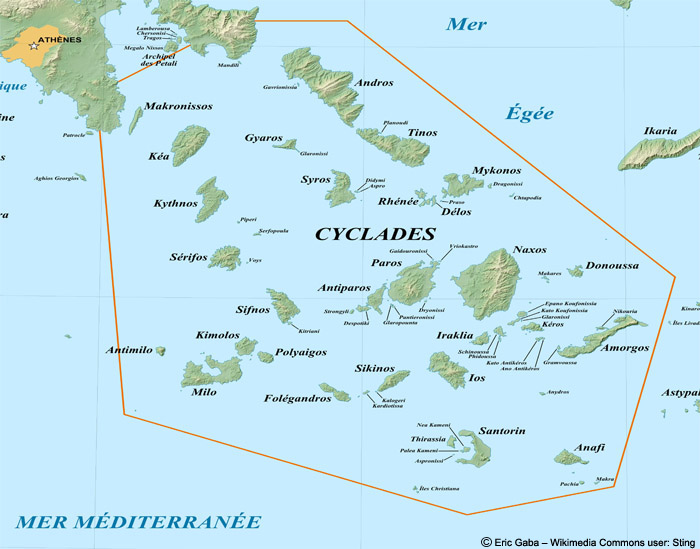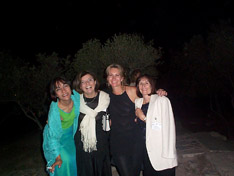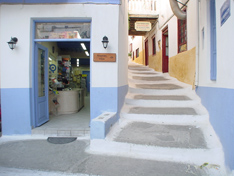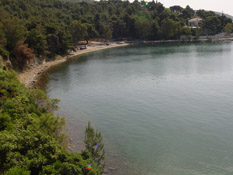 Top

Your islands to enjoy: The Cyclades
N
othing is written in stone; these are all ideas for you to gather for your adventure. The knowledge of your broker will greatly affect the quality of your vacation. This now is your gathering period, and it is your broker who provides 90% of the information about where you are going. Call one of our staff and talk to them about where you wish to go and what you wish to accomplish for your important week vacation. The very idea of a private yacht charter is for guests to select where "they" wish to go. There are no fixed itineraries or regimental times to do anything on board your private yacht. As you know, the first question your captain will ask once you are on board is, "Where do you wish to go?" You can change direction at anytime during your vacation as well, so the world is your oyster; go and have family fun. You are in the hands of people who know these islands well. Everything is designed just for you; grasp each moment with both hands and savor these special times.


ONE WEEK - CYCLADES ITINERARY
Greece the gentle, silent Paradise by day,
kick off your shoes and dance by night

Embarkation at Piraeus port, immediate departure to Kea, staying overnight. (42 nautical miles)
Kea
A small rocky and picturesque Island. A beautiful beach with clear waters and fish taverns. The first taste of the Aegean islands. Enjoy the sea and then go directly to the tavern for fresh fish, Greek salad and fried calamari (squid). You do not have to change; wear your swimsuit and leave the sea salt on you. This is my favorite island because of her history. 900 years ago, pirates used to plunder towns around the marinas, so these folks built Kea Town 6 miles up a very high hill, making it difficult for pirates to walk all that way uphill to begin plundering, so this town has been spared all these years. Go to this town by taxi.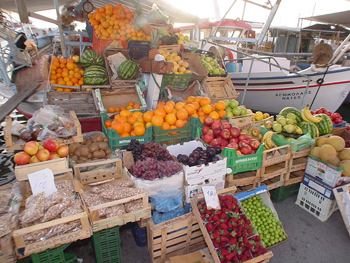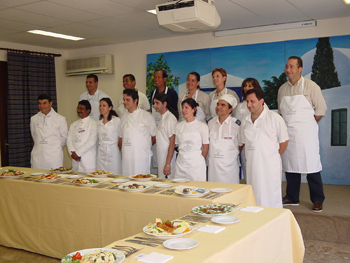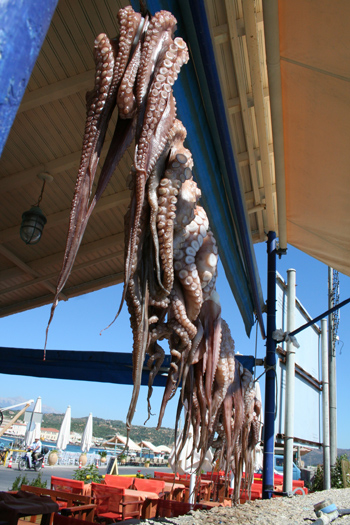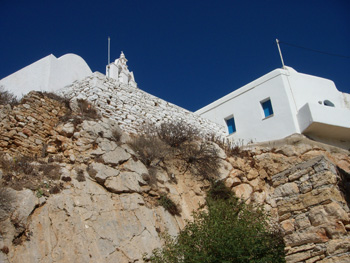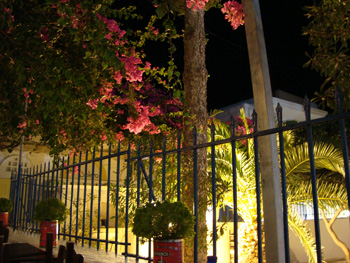 Delos:
This uninhabited island is one vast archaeological site, and its remarkable monuments today attract throngs of visitors who come to pay homage to a place that was the cultural and religious center of the Aegean from the 9th century BC for approximately a thousand years. There are also other uninhabited islands very small with a solitary church built and no one is home, unless it is a Sunday, or special event or celebration, then people come from islands all around. This seems unique to Greece.
This is why we go on vacation to see how other people live.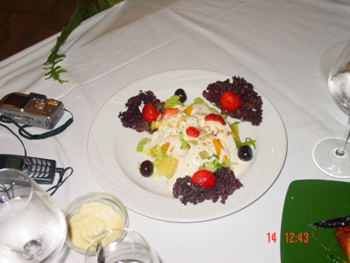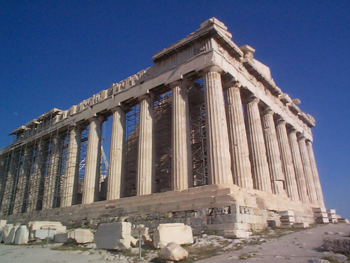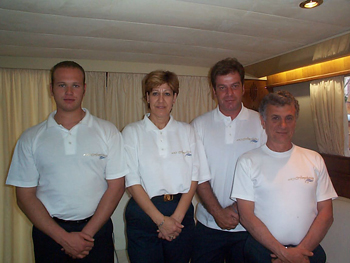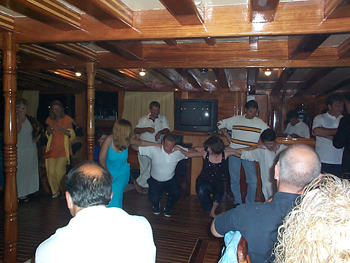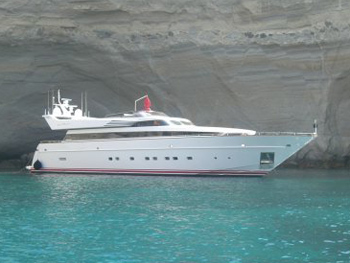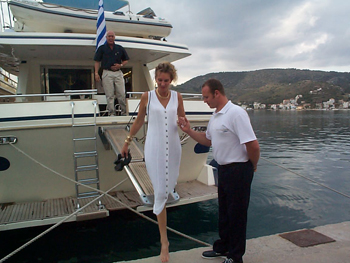 Mykonos
One of the most cosmopolitan of all Greek islands, Mykonos has an international reputation and quite justifiably attracts a large number of tourists from all over the world; among them are many intellectuals and well-known artists. The high mountains encountered in most of the Cyclades islands give way to small rocky hills that combine with beautiful beaches to make up the landscape of the island. The nightlife here is an experience. Drink, dance, have fun! But first of all, live this magic moment: the sunset from the little Venice of Mykonos. From Mykonos to Paros, staying overnight. Fruit is brought from one island by boat and offered to market on the dock at another island.
(20 nautical miles)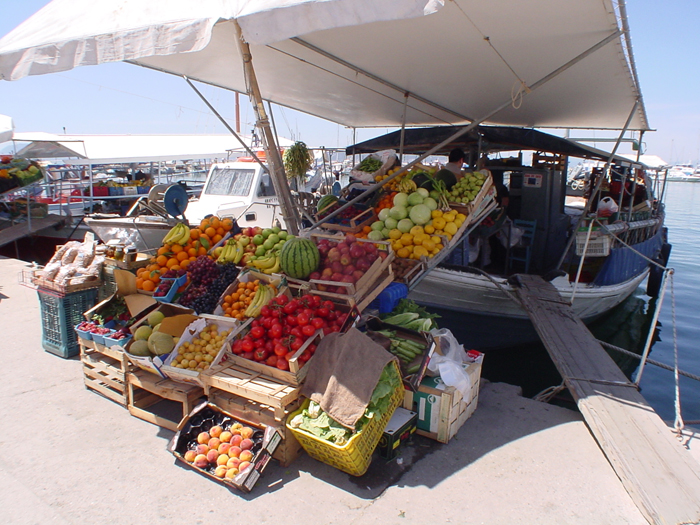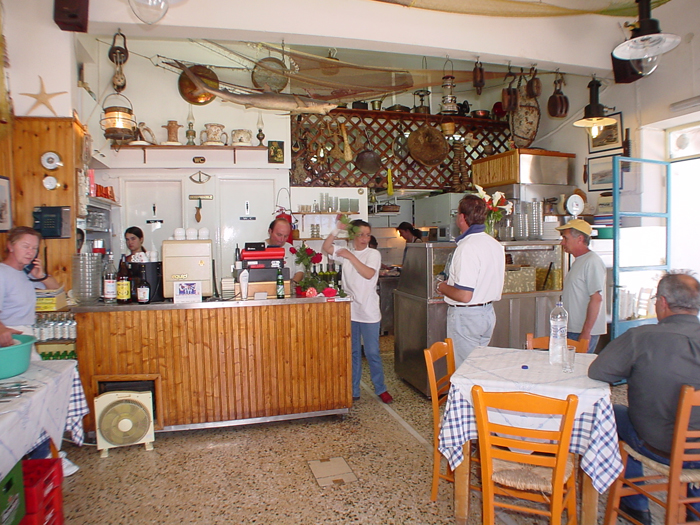 Paros
You will be visiting the monastery of "Panagia Ekatontapiliani", which means with the hundred gates. Out of them, only the 99 have been found. Try and locate the 100th. In case you succeed, we are offering you free vacations onboard our yacht for the next ten years. Paros also offers great landscaping and superb swimming locations. Generall salaries are very low in Greece, but that took me 12 years to uncover, what charming people.
From Paros to Sifnos, staying overnight. (30 nautical miles).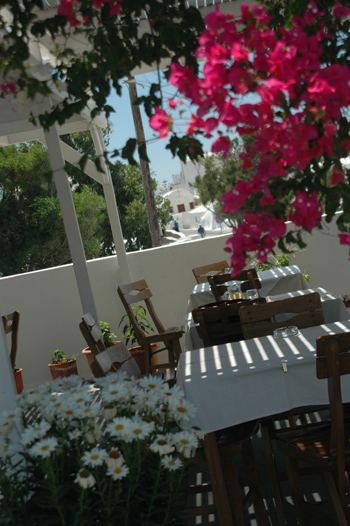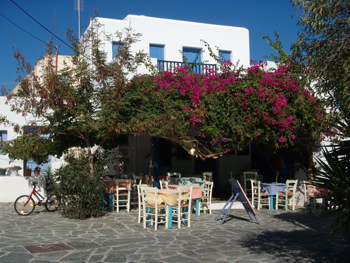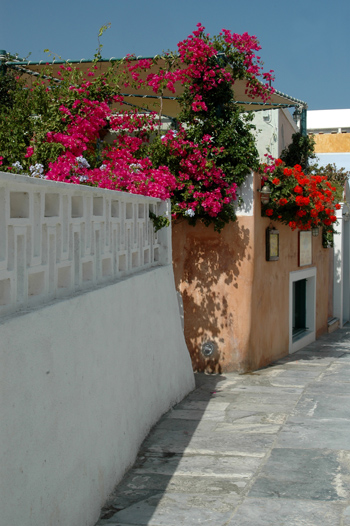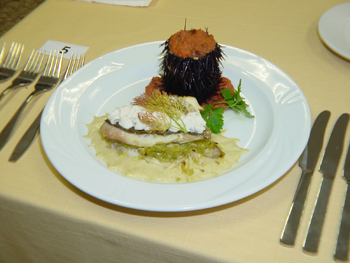 Sifnos
Buy honey - the best in the world - I fully agree and always bring home 2 bottles of honey each year. This honey has a more concentrated exotic taste and smell to it. I put this down to Greece having a dryer climate than ours. Here is a recipe for a magnificent meal, this is to do when you are back home in the USA: Use a Dutch oven/pot add 3 different kinds of meat, potatoes, oregano, olive oil, salt, pepper and no water at all. Put the pot/Dutch oven in the oven at very low heat; let it simmer for at least ten hours. Add some honey. Now you are ready to surprise all your friends………………enjoy a Greek meal.
From Sifnos to Serifos, staying overnight. (11 nautical miles).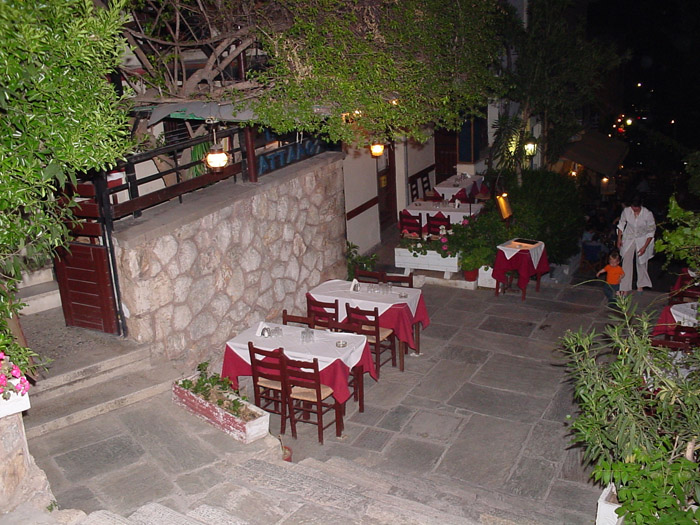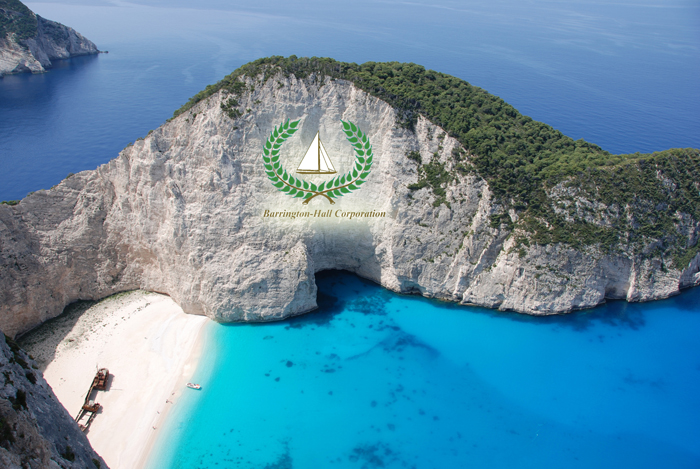 Serifos
The town is built on the top of a hill, surrounded by walls intending to protect the island from the raids of pirates. A rocky beautiful island with a spectacular view from the inner chora (village). Some of the most beautiful houses in Greece were on the island of Serifos, and some of the most well known artists, writers, architects, have made their summer home on the island. The fish Tavernas and shops which line the harbor of Serifos have something innocent about the Greek islands, something like to Tavernas which are set on the sea sand a few feet from the water. Lovely quaint places to behold and enjoy. The Chora (village)of Serifos is one of the most spectacular in the Cyclades, perched on the side of a mountain, overlooking the large harbor. The trip is about 20 minutes of hairpin turns, going back and forth across the face of the mountain until you come to a spot where the bus is able to turn around and leave you at the entrance to the lower square of the village, nice.
From Serifos to Kithnos, staying overnight. (24 nautical miles).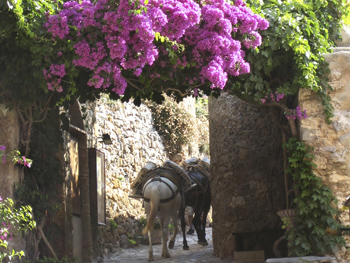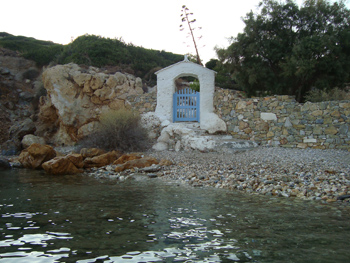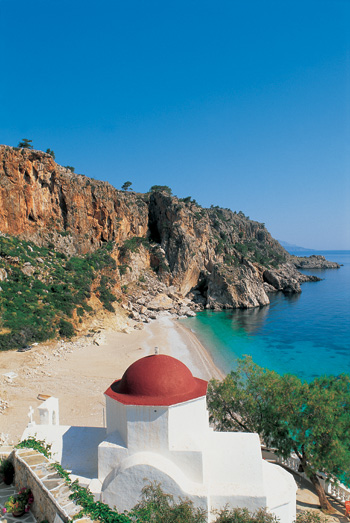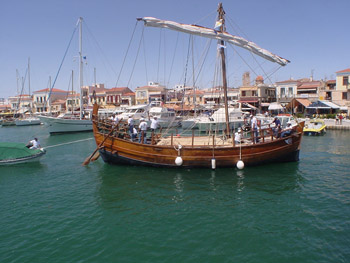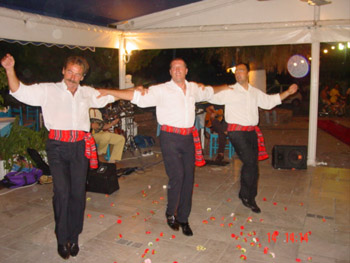 Kithnos
Beautiful sandy beaches, whitewashed houses, small cafes called "Kafenion" in Greek, a unique atmosphere where life seems endless.....Kythnos was until recently considered to be one of the last Cycladic islands unaffected by the impact of tourism, but this is inexorably changing. Still, the island has not yet been overdeveloped, and in the more remote areas of the villages, traditional ways live on relatively unchanged. Here is one little town where you may find the odd speaking english person.
From Kithnos to Sounion, staying overnight. (24 nautical miles).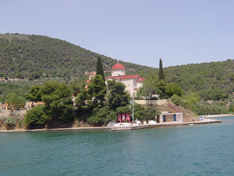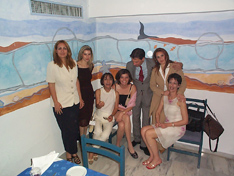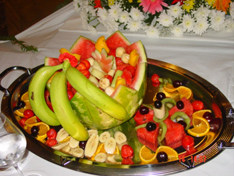 Sounion
The temple of Poseidon, the god of the seal. We thought it is the ideal place to end our trip via the same sea routes which the ancient Greeks followed many centuries ago. We will visit the temple and enjoy the sea. This has been a round trip, making new ports each time.
From Sounion back to Piraeus, disembarkation. (27 nautical miles)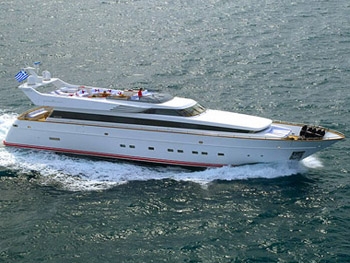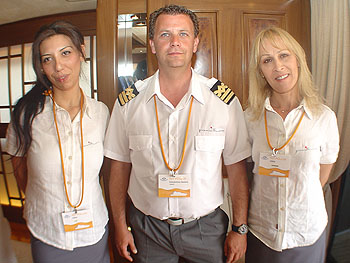 Summarizing with a quote from author Henry Miller:
"
Marvelous things happen to one in Greece
- marvelous good things.
"
Words for your travel
EFHARISTU
:
Ef-hari-stu
Thank you………………………………..
Parakalo:
You are welcome.