Luxury Yacht Charters - British Virgin Islands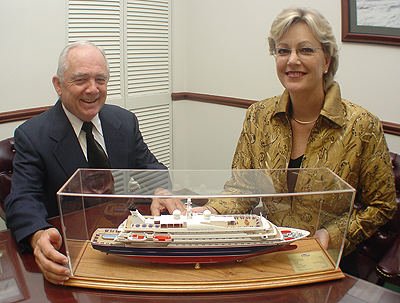 D
ear Passionate Traveler and friends,
The Barrington-Hall staff knows exactly how to listen to all your requests, ask questions to hear what you and your party enjoy doing during the day and at night. Then and only then can we guide you to the best locations for charter. This month we are featuring the British Virgin Islands.
We are showing a sample itinerary. These are just some of the many islands and anchorages that you may visit on your charter in the British Virgin Islands.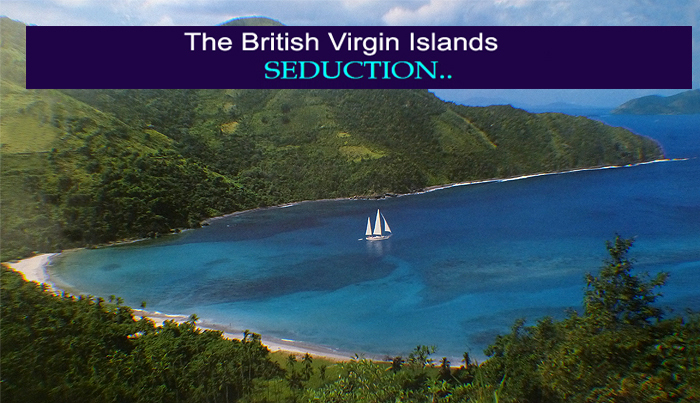 N
othing is written in stone; these are all ideas for you to gather for your adventure. The knowledge of your broker will greatly affect the quality of your vacation without you knowing it. This now is your gathering period, and it is your broker who provides 90% of the information about where you are going. A glossy color cruising guide is complimentary to all our groups, and this has a lot of juicy information with which to expand your knowledge of the islands. This book complements the information provided to you below. Take it with you during your journey. The very idea of a private yacht charter is for guests to select where "they" wish to go. There are no fixed itineraries or regimental times to do anything on board your private yacht. As you know, the first question your captain will ask is, "Where do you guys wish to go?"
So picture yourself in these scenarios
You can change direction at anytime during your vacation as well, so the world is your oyster; go and have family fun. You are in the hands of people who know these islands well, and they are great crew. Everything is designed just for you; grasp each moment with both hands and savor these special times.

Top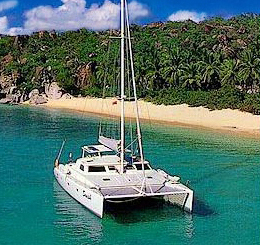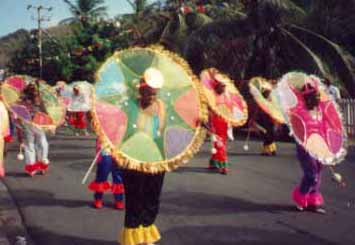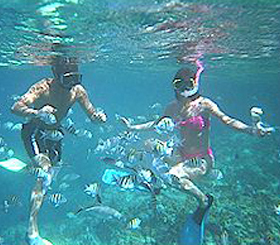 DAY 1
Arrive by air at Beef Island, Tortola, British Virgin Islands where your captain is waiting for you. You can walk 100 yards to your boat or take a taxi, but it is very close, so walking is fine for most people. Within 10 minutes of meeting your captain, you can be on board your yacht enjoying tropical drinks prepared by a master lady cocktail queen. All charters begin at 12 noon, and you have normally arrive at 1pm, so a light lunch is prepared for your group while you settle into your new luxury vessel. Once you are settled, your Captain motors slowly round to one of the world's most magnificent islands, Marina Cay (Republic of Jose Cuervo), for the evening, one of the smallest of the Virgin Islands and my favorite island. Marina Cay has a lovely beach restaurant under the coconut palms where you can relax and enjoy the tropical surroundings, or you can jump in the warm tropical water and snorkel round the small reef. Children as well as adults can water ski, kneeboard or snorkel here, but going ashore is a must. At about 5 pm, the chef will bring out snacks and your favorite cocktail for all to enjoy your first sunset. After sunset, dinner is served in the main cockpit area under the stars or in the salon.
Pinch yourself, you are in paradise where mermaids and dolphins play. There are no set times to do anything; your captain will guide you for all activities, so toast to your first spectacular tropical sunset.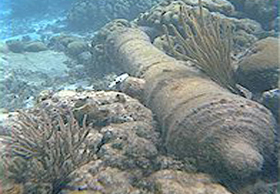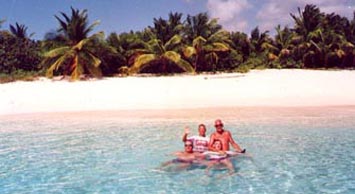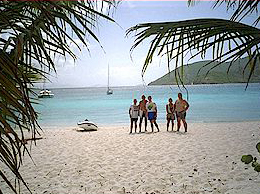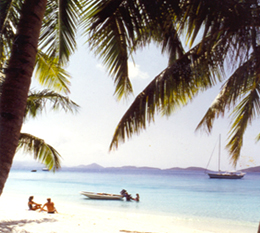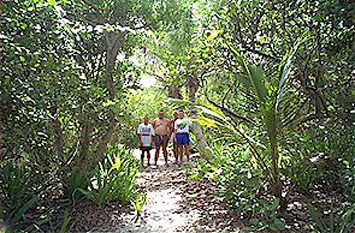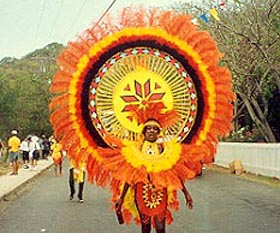 DAY 2
After a good morning breakfast (9.30am), a morning cruise can take you to the Baths on Virgin Gorda. This takes roughly 2 hours and is a picturesque sail. So you anchor at this spectacular rock formation at +-11.30am; now you can discover the beautiful world underwater and on land. We anchor just short of the beach and prepare lunch while your captain takes you through the walk from the Baths into "DEVILS BAY"; take flip-flops and a swimsuit. This takes about 20 minutes and is worth each step through the dense bush. Or you can anchor and prepare lunch outside Spanish Town, so you can shop or take a taxi for an island tour. This can be arranged by your captain, so let him prepare this for you. After a hearty lunch, cruise up the west side of Virgin Gorda, one of the most beautiful of the Virgin Islands and relax/anchor at the Bitter End Yacht Club. Happy hour with treats and cocktails is done every night round 5pm. For something different, you can dance at the Bitter End Yacht Club to the local reggae band under the elegant coconut palms.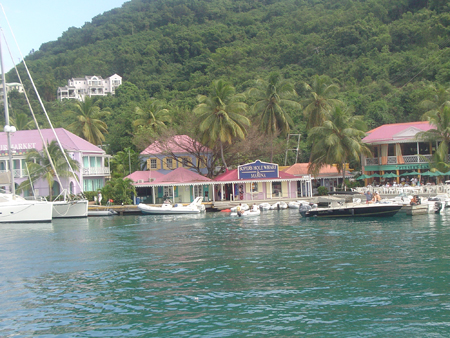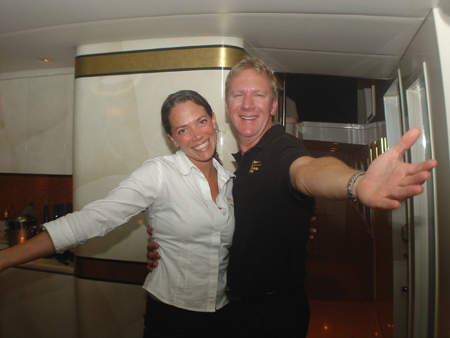 DAY 3
Wake up and walk to the cockpit, where morning coffee is waiting for you while breakfast is served. At 9.30am, you decide what you wish to do. Spend the morning enjoying the North Sound - truly one of the most outstanding natural harbors in the Caribbean. Enjoy good windsurfing, snorkeling, hiking and shopping. Do a short walk through the grounds of the Bitter-end Yacht Club and see the marvel of what man has created in paradise. Get your captain to show you where the four 16th century cannons are in 10 feet of crystal clear water; take your camera for underwater shots. Lots to do here, snorkel, see the barrier reef, water ski, and visit the famous Biras Creek restaurant. This restaurant has views of two different oceans and the North Sound Bay; there are three different views of the sea from their seating positions. Enjoy a quiet evening enjoying happy hour and then dinner. Sleep comes easy.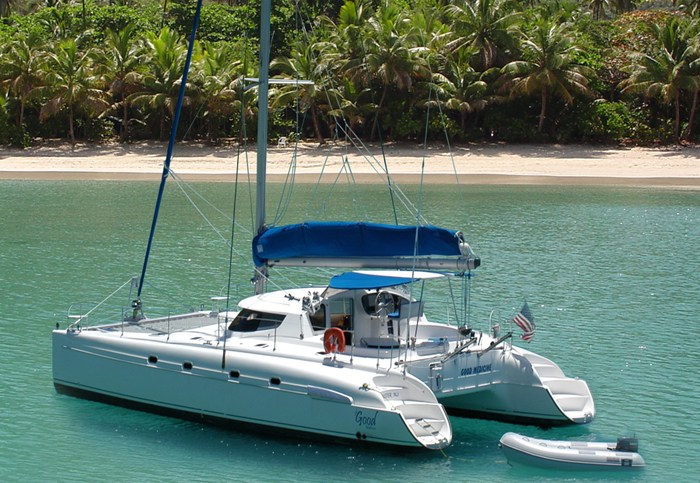 DAY 4
Awake to a light breakfast of tropical fruits, fresh muffins, then Cruise to Anegada, the sunken land nestling within a horseshoe reef, the third largest barrier reef in the world. For the first half of this 2/3-hour cruise, there is no land visible, and then the palm trees appear on the horizon warning of your imminent arrival. After lunch, absorb the atmosphere of the anchorage at Pometo Point. Informality and relaxation are the key elements of Anegada. Deserted beaches, fringing reefs and the unique flora and fauna of the salt ponds, home to the 21 pink flamingos, await your exploration. Lobster dinner at the Pometo beach resort with Wilfred is a must. We have seen the famous "green flash" five times at this location. The green flash is when the weather is perfect and the yellow sunsets at the horizon, the color (yellow) of the sun changes to green from the blue of the Caribbean Sea. Watch carefully just before she sets. As darkness falls, with cocktail in hand, you see from the cockpit of the boat the driftwood fires on the beach grilling your lobster. The open-air restaurant in and around the beach promises a dining experience only Anegada can offer. Wilfred's Pometo point restaurant simply cannot be manufactured anywhere else in the world. This is why you come to paradise, to view nature at her best 100 years ago.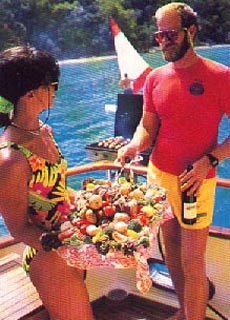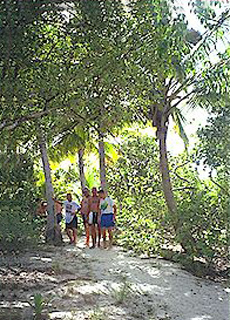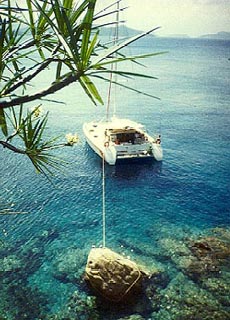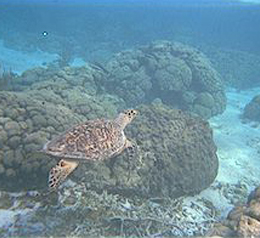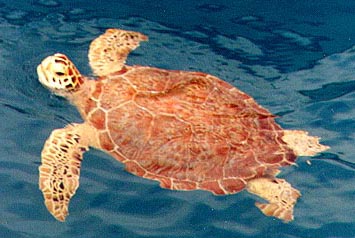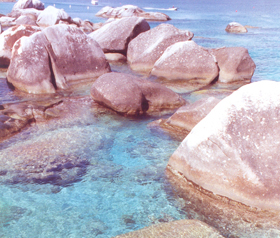 DAY 5
After breakfast (9.30am), a leisurely downwind cruise to Jost Van Dyke offers ample opportunity for fishing on the way. Sandy Spit and Green Cay are all places of exceptional beauty. Just take your pick. For the overnight stop, White Bay is secluded and quiet with only the Soggy Dollar Bar ashore; or Great Harbor is ideal for those who would like to visit the famous Foxy's Tamarind Bar. Foxy is the name given to a local gentleman who is famous for his singing. Sample his "Sly fox" or the "Dread fox", both made from Foxy's firewater rum and listen to his calypso songs. Beware, you will possibly be in one of his Caribbean songs! The words Sly Fox and the Dreaded Fox are names of special drinks he has mixed over the years. So dancing to the sound of yellow bird under the coconut palms on the beach is what transpires at Foxy's. These three perfect anchorages are close together so select one of them and enjoy your happy hour, followed by dinner and sleep.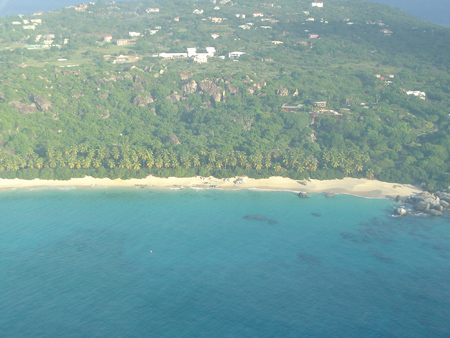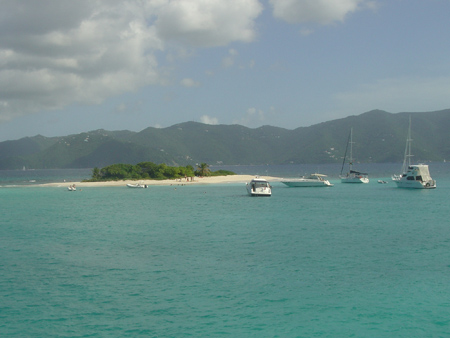 DAY 6
After a good breakfast (9.30am), cruise over to Cane Garden Bay (arrive 10:15am). This is a relaxing day on the beach in between 5 Caribbean music cafes all vying for the happy Caribbean music customer; pick a spot on the beach and settle down. Lots of coconut palms on a soft white sunshine beach give you that perfect tropical atmosphere. After some sun, walk to any one of these beach bars, listen to the music, then amble back to your boat for lunch at 1pm. Lunch is served on the open deck under the shade at 2pm. You can fish from the boat, snorkel, or relax with a book on the rear deck area until 5 pm when Happy hour is served. After happy hour, dinner is served in the open cockpit area on deck. At 8pm, relax and count the stars until you feel like going to bed.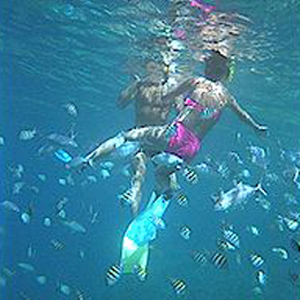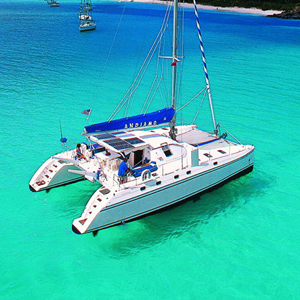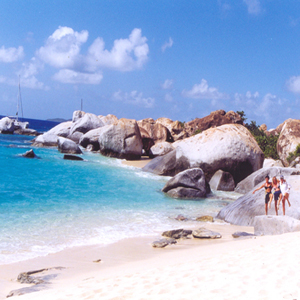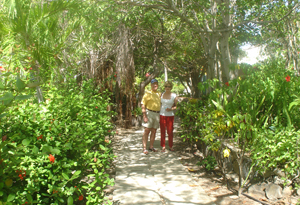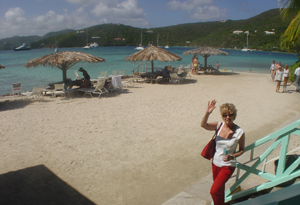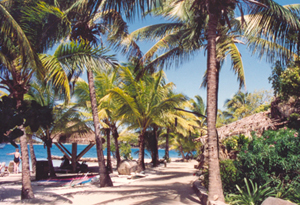 DAY 7
After breakfast (9.30am), cruise to Sandy Cay (15 minutes) and explore this small uninhabited tropical island with white beach and lots of coconut palms. Get your captain to take you for a walk through the dense coconut-palmed undergrowth; this leads up to a volcanic peak about 50 feet directly above the water. The views are magnificent, so take a camera and shoes. After an early lunch (12 noon), cruise to Norman Island (Treasure Island), about 2 and a half hours. Snorkel at the caves and be amazed at how many fish there are in the crystal clear waters. The evening is spent in the Bight, with a visit to The William Thornton for an after-dinner party - a wild floating bar where everybody lets their hair down and tells their seafaring tales of the day.............and how fast did you cruise? But it is the pirates' 3 caves that are the vivid picture you remember. Beware, if you did not plan for 7 nights, you would not get to see all these locations.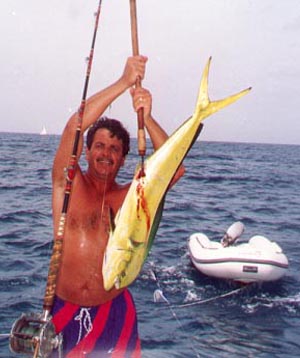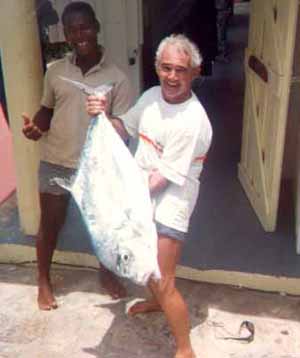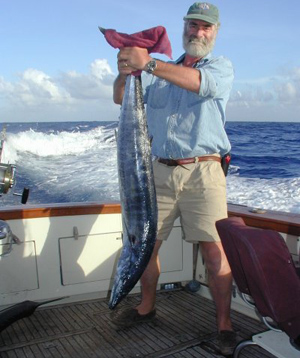 DAY 8
After breakfast (9.30am), enjoy your last snorkel, then head for Road Town anchorage so that you can take a taxicab to the airport for your flight home. 12 noon.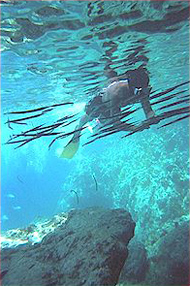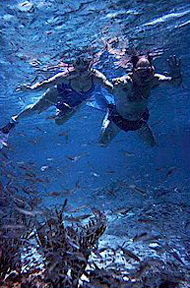 Barrington Hall Favourite anchorages:

Long Bay, Virgin Gorda

Baneurs Bay, Norman Island

Marina Cay

Deep Bay, Virgin Gorda


Click here for Catamaran Flow 59 Feet

Video

Top
Sample Cocktails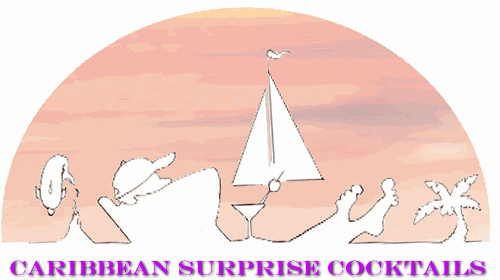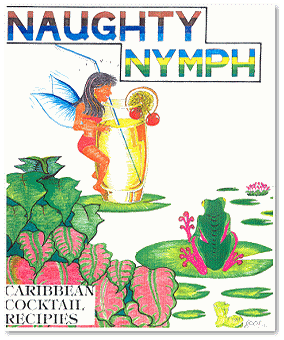 NAUGHTY NYMPH COCKTAILS
Courtesy Captain David and Stella Beavis.
Charter Catamaran "Genesis 50ft."
6 oz gold tequilla

6 oz gold margarita

3 oz grand Marinier

10 0z minute-made lime concentrate
Salt rim of glass garnish with cherry and orange sliceserves 4-6 guests
These illustrations are a tribute to natures tropical secrets. These exotic flavors of nature are put together as if my wife were a gorgeous humming bird and it was her I wished to attract. Enjoy these carefully selected Caribbean favorites, they are dedicated to the art of service and a lot of fun. I believe that natures handyman would be proud of them, dry or sweet. Thank you for your selection, enjoy your party no matter how big or small.
We are honored to present these to you for the first time and delighted you are about to test these extremely special tropical mixtures. As of today there is not one charter company in the world who have provided this type of service for their guests
TROPICAL PUNCH
Captain Ralph and Debbie Harris
Charter Catamaran "Catalyst 44 ft"
Our tropical rum punch serves 4-6
3/4 fill pitcher with gingerbeer sweet soda

10 oz minutemaid lime consentrate.

6 oz tequilla,

3 oz triple sec.

10 oz dark rum blend with ice.
Salt rim of Tall Collins glass garnish with pineapple slice.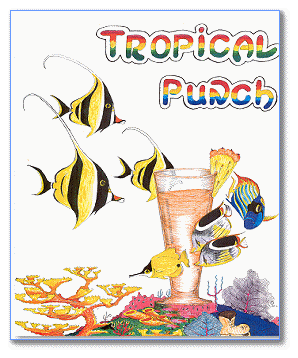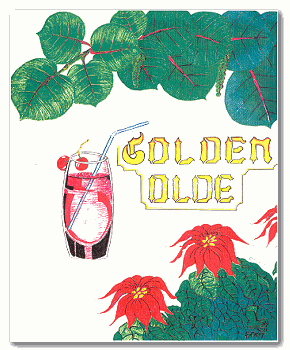 GOLDEN OLDE
Captain Norman Welthagen and Rose
Charter catamaran "Free Ingwe 45ft."
1 oz dark pusser rum

0.5 oz lime

2 spoons honey
Dash bitter- top-up with soda water, tint ice pink
with Angostura bitters before freezing,
Garnish with cherry in tulip glass.