Catamaran NAUTI DOGS 5.4
At Barrington Hall we provide yacht charters around the world on motor yachts, catamarans and monohull sailboats. The Catamaran listed below, NAUTI DOGS 5.4, is one of the many yachts we offer for charter. Please contact us for up to date information on NAUTI DOGS 5.4 or any other yachts in your desired location.


NAUTI DOGS 5.4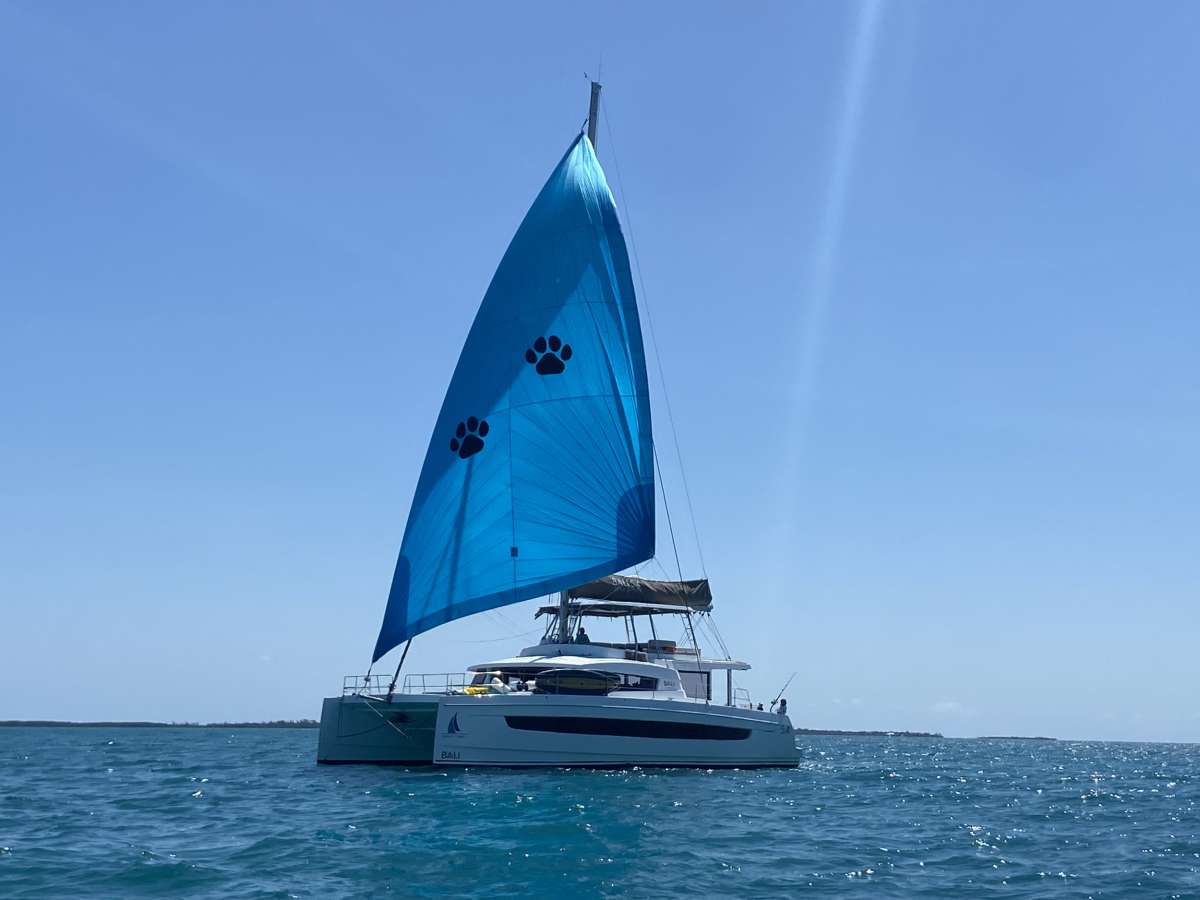 Low Price: $26,700 High Price: $33,000
Accommodations: 4 queen berth guest cabins each with a private en-suite electric head, stall shower and sink/vanity. All cabins with exception of starboard aft cabin are dry heads.
All cabins have individually contract air-conditioning for each cabins comfort.
Top desk fly-bridge with lounging and seating with a 360 degree view.
Forward cockpit and lounge and dining area.
Aft cockpit with seating and dining accommodations.
Main deck has a bright and airy main salon (fully air-conditioned) as the galley direct access to the forward cockpit lounge area.

Crew take starboard mid-ship cabin (twin cabin).
Crew will not move cabins.

BERTH SIZES:
All queen berths are 5'w X 6'6"L
Bunks: Top bunk 32"W x 75"L; bottom bunk 36"W x 75"L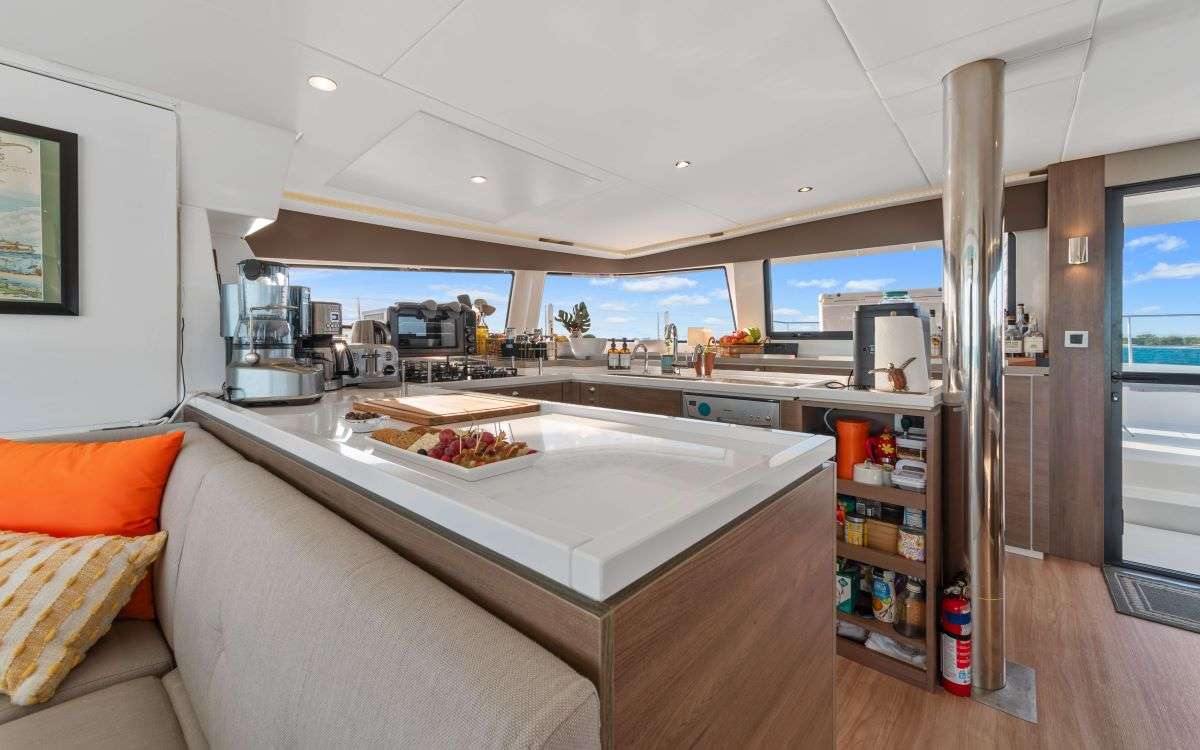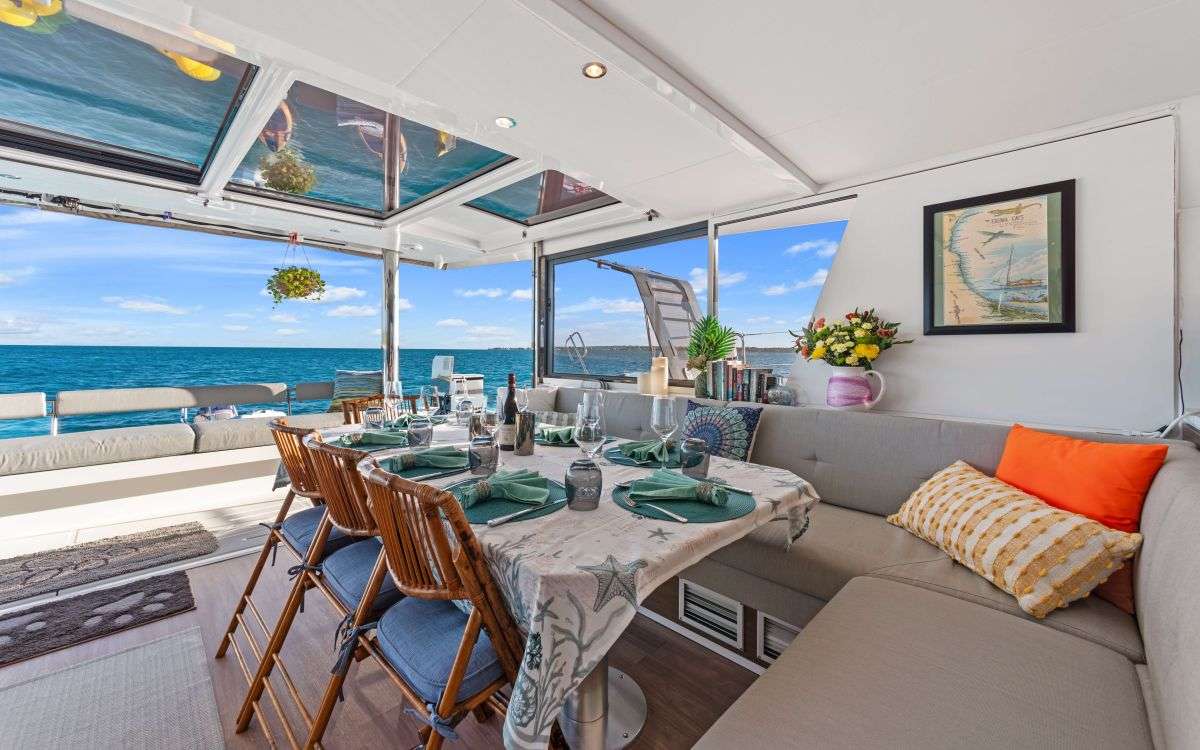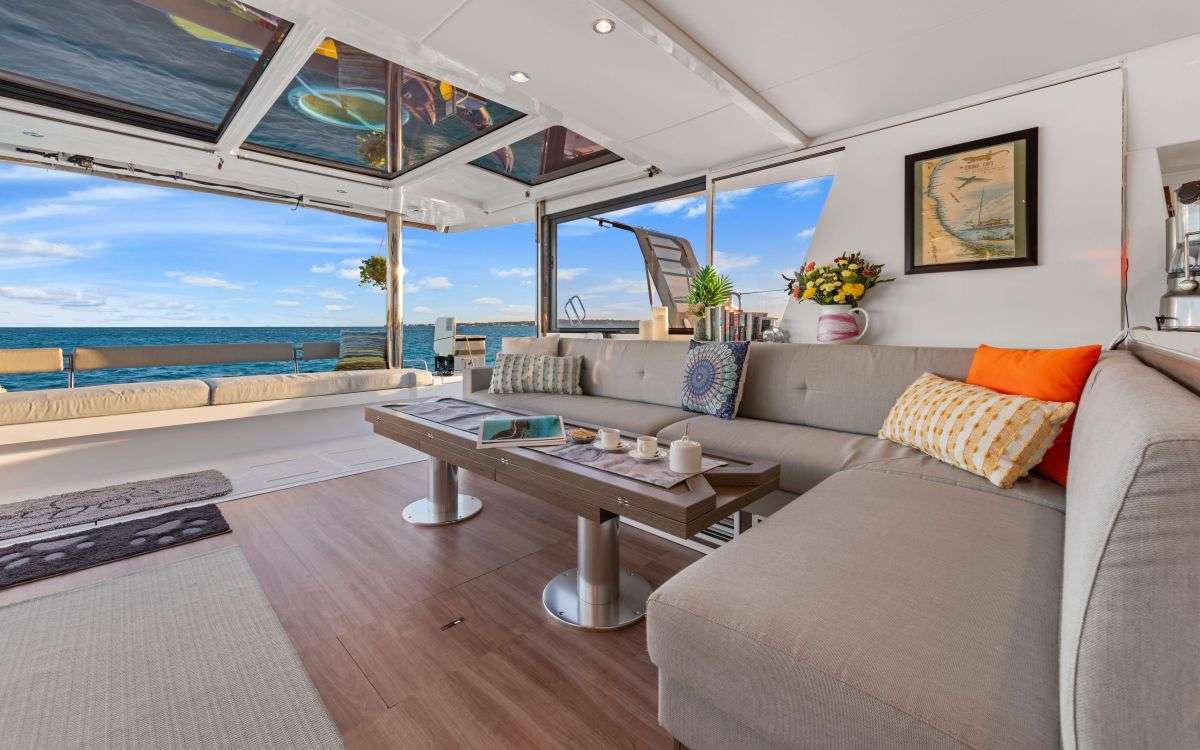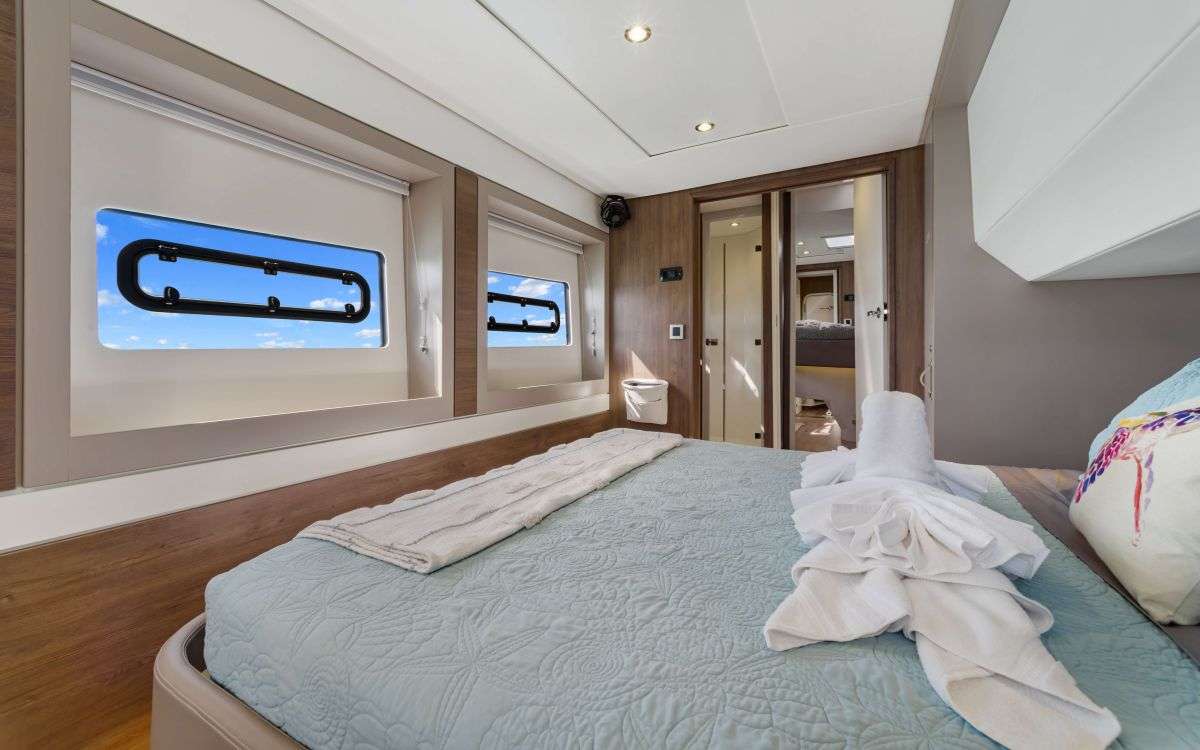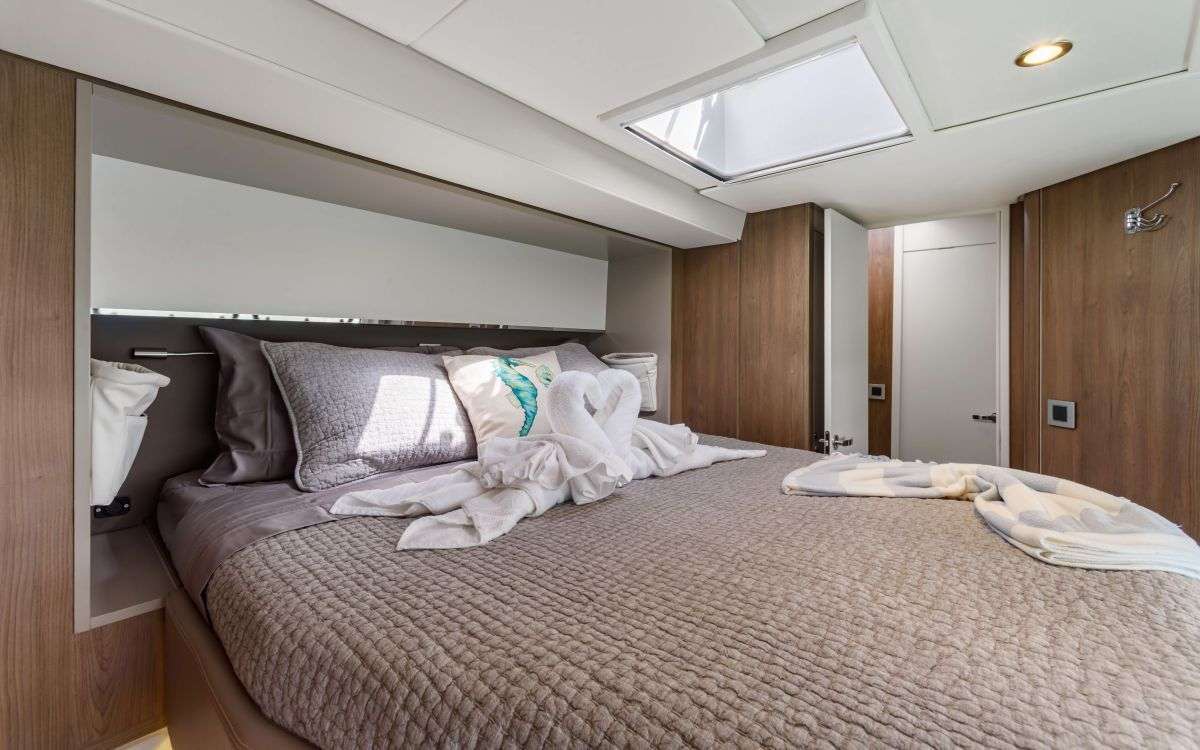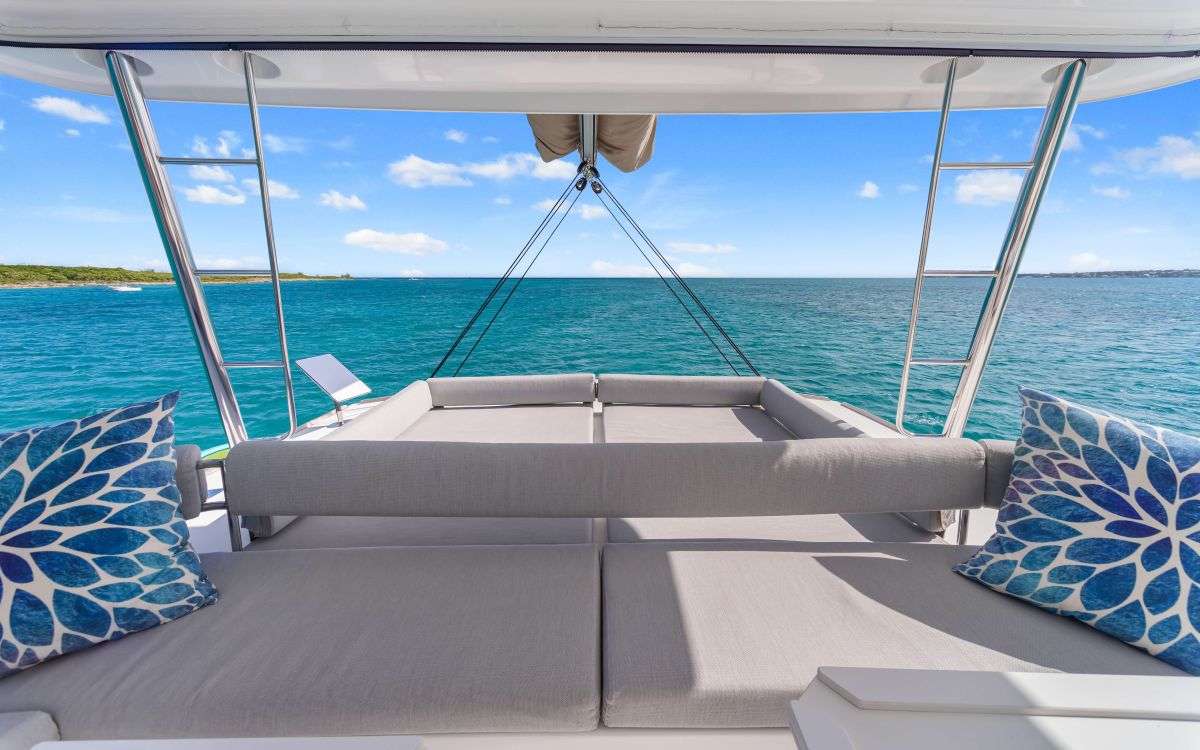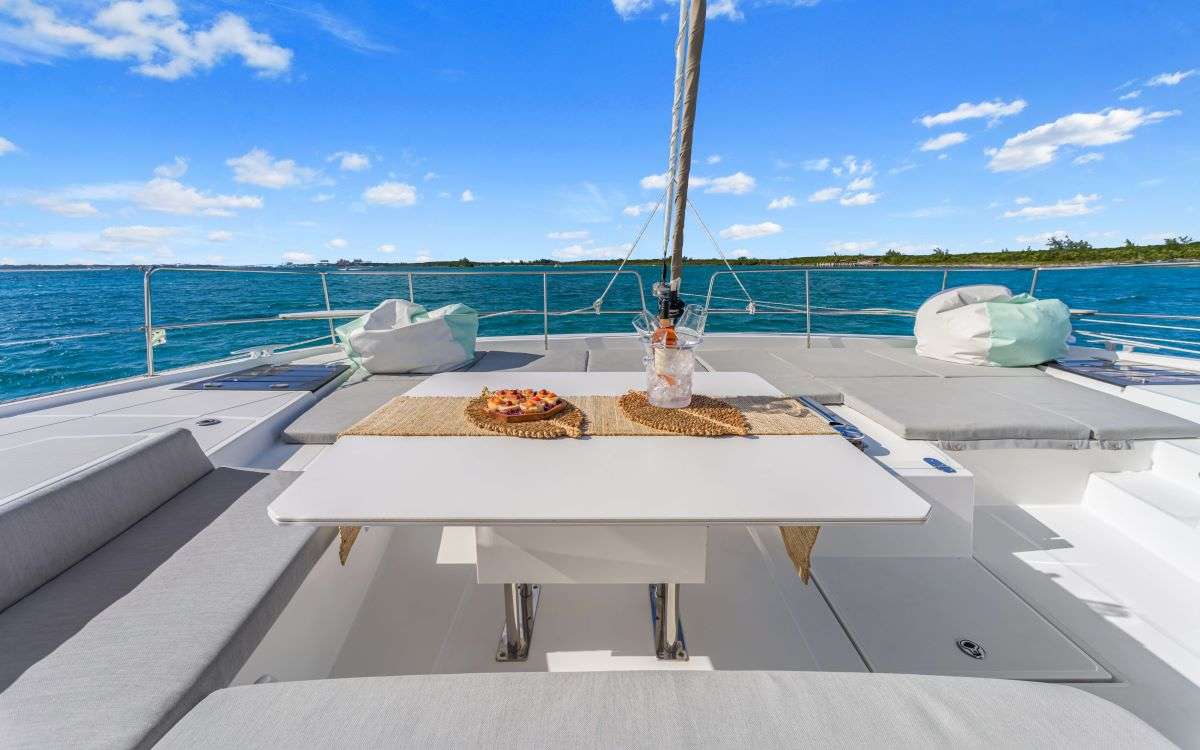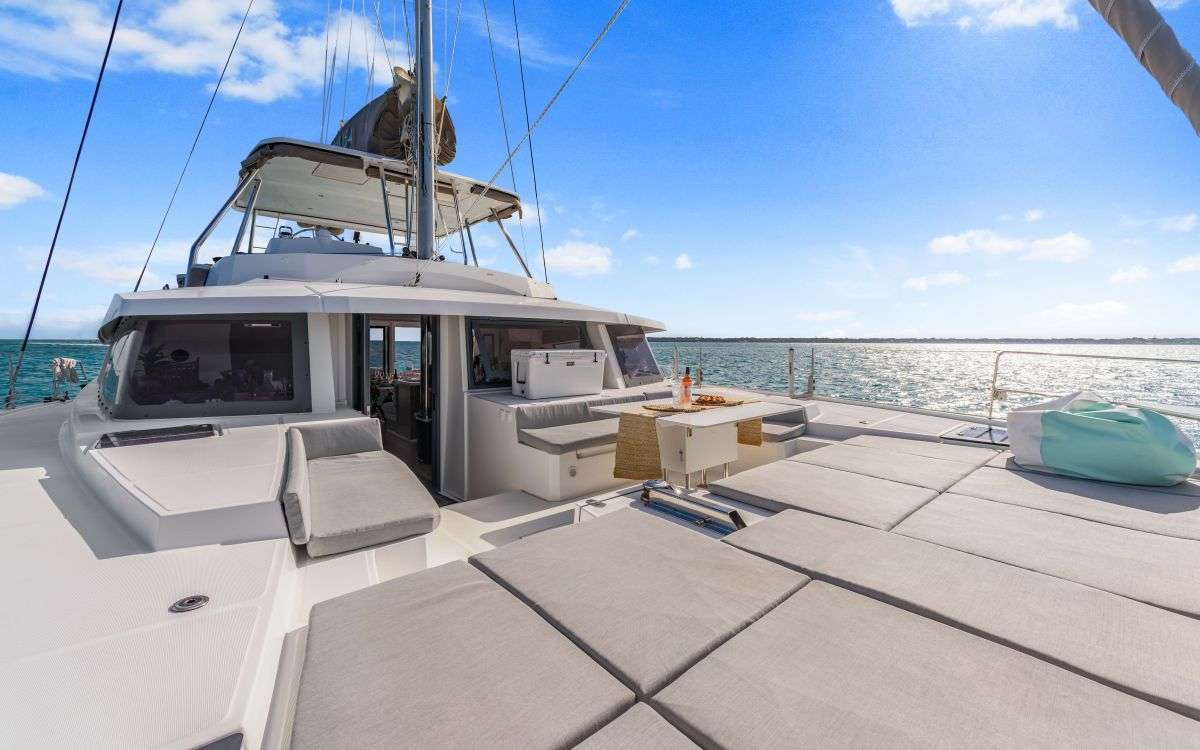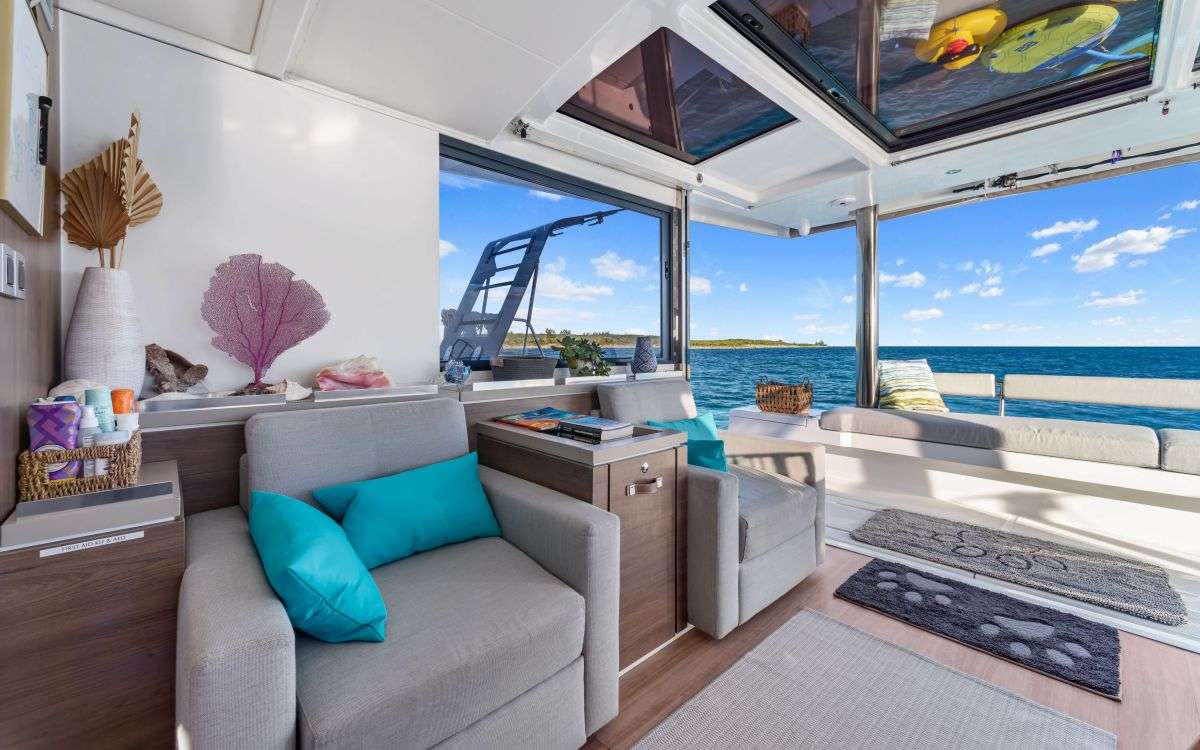 Amenities
Water Capacity:
1000 liters
Water Sports
Gear Type:
3 trolling rods
Other Toys: • Snorkeling
• Yamaha underwater scooters
• Subwing
• (2) Stand Up Paddle Boards
• (1) Wakeboard
• (1) Kneeboard
• Ski Tube
• A Sun Chill
• Fishing Gear

Other Toys: • Coffee /Espresso Maker
• Full Sized Refrigerator
• Ice Maker
• Water Maker
• Dingy / Yacht-tender
• Outdoor Shower
• Fusion 3 Zone Bluetooth Enabled Sound System
• Television in the Salon
• Board and Card Games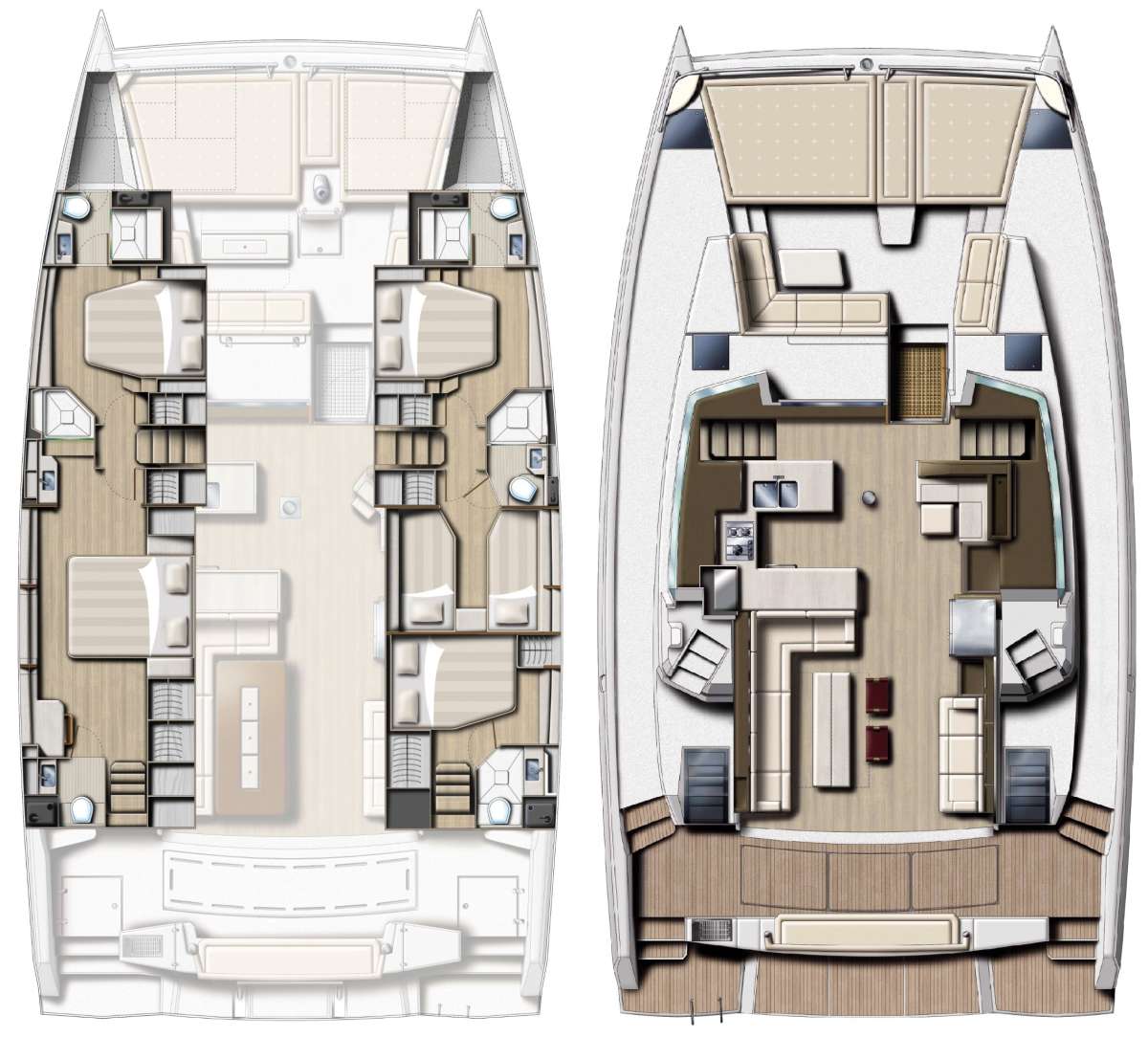 Crew Profile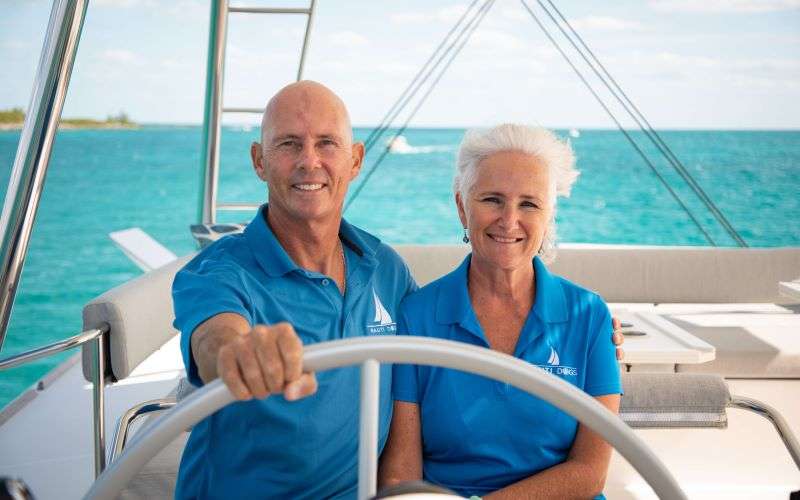 Captain Troy

Sailing through life Troy Roker's passion for the water, dedication to learning and commitment to sharing the beauty of the Bahamas makes him the ideal Captain!

Troy's story begins on the sun-soaked shores of New Providence Island in the Bahamas. Growing up with the crystal-clear waters all around him he quickly developed a deep connection to the sea. In addition, his genuine passion for boats led him to spend countless hours at local marinas, not just enjoying the view, but actively participating and learning from those around him. He eagerly offered his assistance to anyone who needed it. Troy soaked up all he could regarding cleaning, maintaining and operating boats. One day he was offered the opportunity to sail. He fell in love, immersed himself in the world of sailing and never looked back.

Among the many mentors who shaped Troy's journey, his father and grandfather played pivotal roles. His father, a skilled sailor himself, not only nurtured Troy's love for the sea but also strength of character. Meanwhile, fishing escapades with his granddad instilled in him a deep appreciation for the island's natural beauty and the joy of sharing these moments with loved ones.

Captain Troy honed his skills and knowledge, while working side-by-side with Captain Craig Doring. Captain Troy discovered an inherent desire to share the wonders of the Bahamas with others. He realized that sailing wasn't just a personal passion – it was a way to connect people with the magic of the islands. He started working on charter boats and sharing his wealth of knowledge about the Bahamas' hidden gems.

Captain Troy is dedicated to educating people about the environment, sustainability, and the importance of preserving the beauty of the Bahamas for future generations. His passion for teaching, mentoring, and fostering a love for the sea makes him the ideal Bahamian Captain for making memories and enjoying an adventure of a lifetime!

Captain Trevor

Born and raised in Johannesburg, South Africa, at a young age Trevor discovered that he had a wandering spirit and a lust for life and its many experiences.

In his early 20's, Trevor travelled and worked in many different countries where he amassed quite the collection of adventures. He can share a few while on charter!

In his late 20's he decided to conquer his greatest fear - the ocean. He received his Skippers License in Durban and sailed the East and West coasts of South Africa, then crossed the Atlantic and into the beautiful Caribbean Sea where he lived & worked on St. Martin. He worked on different boats and chartered sunset cruises on a 40' motor yacht.

When Hurricane Luis hit in 1995 Trevor stayed on the island helping to rebuild homes. A year later he sailed to the Azores & then headed back home and started up his own company building residential houses and a few high-end homes. He continued working in the construction industry running turnkey projects and managing civil and steel construction sites until the Covid pandemic hit. During lockdown he reassessed his life and decided to reconnect with his passion for sailing and attained his Yachtmaster Offshore License.

In 2021 Trevor sold his home, his car, his motorbike, and mountain bike and bought a 31' yacht which he lived on with Sarah. They sailed the Cape waters and did a couple of deliveries around the Cape of Good Hope.

Trevor & Sarah flew to St. Martin in January of 2022 where they worked a season chartering out of St. Martin, Aguila and St. Barths.

Trevor is at his happiest when he is at the helm on the open water trying to set the sails for a perfect course. He has a very calm and soothing demeanor which the guests always comment on, and he loves chatting and getting to know the people he encounters.

When not at the helm, you will find him paddleboarding, snorkeling, mountain biking, hiking or enjoying the outdoors, and to fully relax he loves to read.

Chef Sarah

Sarah was born in Zimbabwe and moved to South Africa at a young age. She always wanted to travel and in her mid-thirties decided to venture to the UK for a year. One year turned to fourteen after the travel bug hit! She has been to 41 countries & counting!

A few of her biggest adventures include climbing Machu Picchu, taking a local boat through the Amazon & volunteering in the Borneo jungle.

Sarah is very much a free spirit and has always had a passion for the outdoors, so she prefers to travel to more remote places. She worked multiple jobs simultaneously to fund her 3-5 months of backpacking and volunteering each year. There were various hospitality jobs which included working at Royal Ascot, The British Open and festivals around the UK and Scotland.

In 2020 Sarah decided it was time for a new adventure, and headed back to South Africa to enroll in a couple of sailing and cooking courses before heading to the Caribbean. This was of course when Covid hit.

The plan then changed, and Sarah and Trevor bought a 31' yacht in Cape Town in 2021 which they lived on for 8 months while Sarah learned to sail, realizing how much she loved being on the ocean. Even though it's a newly discovered passion for Sarah, there is a long history of sailing in her family with her father and grandfather being in the navy, as well as her brother and nephews all working in the charter industry.

Sarah and Trevor now own a 43' monohull which they have fixed up and plan to in the future sail around the world exploring. Sarah loves spending time in the kitchen trying out new dishes and recreating old recipes. She prefers using fresh, seasonal and local ingredients making lots of salads and delicious meals and desserts. She enjoys sharing typical South African dishes and her food is always made with love!

When not in the kitchen you will find Sarah somewhere in nature; snorkeling or hiking, exploring. She also enjoys reading and taking photos of the beauty which always surrounds us. Sarah's motto is "Live Life in Full Colour"!