New Law Governing Chartering in the Virgin Islands Have Been Changed 2016
This new law : Charter yachts are now allowed to pick up 12 guests in the USVI and transport all, into the BVI.
Brokers, captains and central agents, such as Barrington-Hall are absolutely delighted this old derelict law set round 1984 is now redundant. This law prohibited any commercial charter yacht from picking up more than 6 guests in United States water and traveling across a 1.5 mile section into the British Virgin Islands. Over the years it cause many irritating issues, that is now gone.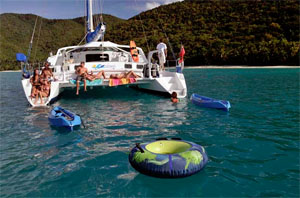 TODAY groups of 12 guests can be picked up in St Thomas United States Virgin Islands, by a sailing yacht, Catamaran, or Power boat and transferred into the wonderful British Virgin Islands. For many many years this has been a huge issue, because airline flights are direct from Miami into St Thomas USVI. The Cyril E. King airport is an international airport, so she can accept the largest airlines. The British Virgin Islands has a small runway, which only accepts small jets, this means guests are forced to do two different sized airlines, when flying into and out of Beef Island Tortola British Virgin Islands. To do this guests had one stop in Puerto Rico (also an international airport) and take a puddle jumper (12-10 passenger plane into the BVI).
There were many different ways to get around this old law, but today we can now pick up 12 guests in US waters and transport 12 guests to the British Virgin Islands.
Catamaran Slivochka 59 foot is a high-end luxury catamaran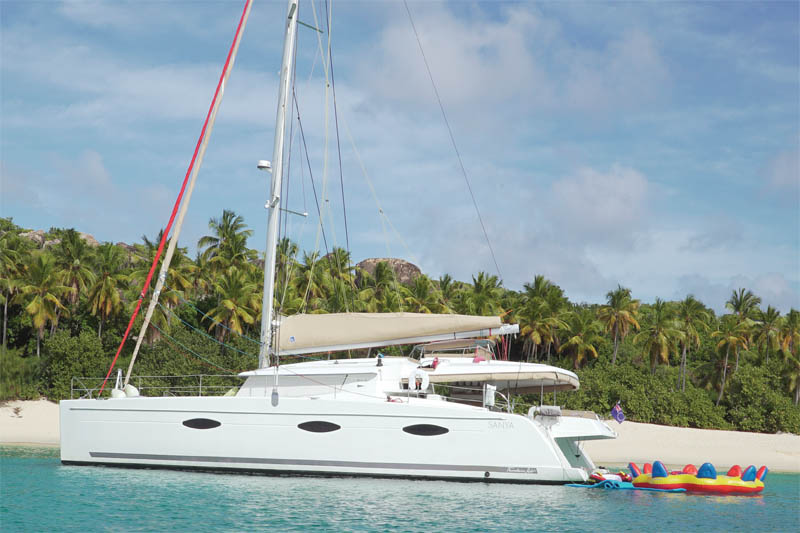 charter vessel, which sleeps 10 guests, so in 2016 we have been picking up 10 guests in Crown Bay Marina in St Thomas USVI. The guests charter starts Immediately, with Christmas Cove, or Hawksnest Bay a perfect stop for guests first night on board. Slivochka (means my little plumb) is what we term brand spanking new she has walk around queen beds in her cabins, for guests comfort. Slivochka also has the new sky lounge which is a 3 rd section of floor on the roof of the catamaran and it is here where guests sun-tan, or sit next to their captain when cruising between the islands. It is also the sky lounge where guests watch sunsets, with happy hour treats in one hand and their favorite drink in the other. The sky lounge is high in the air. Only the new Caribbean catamarans enjoy these two options. SLIVOCHKA 3 minute VIDEO here: www.bitly.com/svochka set up for yacht charters and excited guests are keen to learn more about Caribbean Catamaran vacations.
A great way to describe a private yacht charter is: Your ultimate experience. Here is your private floating resort, which travels where you wish to go.
When looking to do a super yacht rental, make sure you get the best company to represent you.
All our vessels are fully crewed, which means a minimum of a personal top captain and a personal world-class chef. Slivochka is our top crewed catamaran. Your personal chef will customise your meals specifically for you and your party, no matter what you ask for. Having this 6 passenger rule now superseded means they crew also have less problems picking up split arrivals. Having been doing this since 1990 and being the one and only term catamaran in all of the virgin Islands in those early years means we know when new laws make guests chartering much easier and Barrington-Hall are delighted with this new change. Now when guests aim at BVI catamaran charters, they have a one-way ticket to their boat no matter what it is. We concentrate on BVI yacht charters.