Tandem Yacht Charters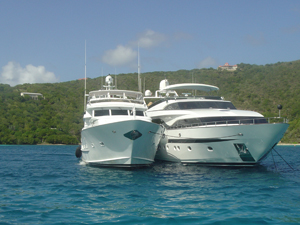 Have you ever heard of a '
tandem charter
'? It is when 2 or more private yachts are chartered by the same group of people but have too many people to fit onto one vessel.
As a yacht charter broker I have had the pleasure of arranging this type of charter vacation many, many times over the last 20 years and have assisted the clients with creating their own custom itineraries.
Yet, it was not until last year was I invited to go on the tandem charter with my clients! So not only did I get to arrange the tandem charters and help in planning the itinerary I got to experience it first hand, too. The story below not only describes a wonderful yacht vacation, it is a perfect real life example of a yacht charter itinerary, one that we helped our client create.
I've put together our itinerary for our last yacht charter on board the super yacht Miracle. We are often asked if their are set itineraries that the yachts must follow and we always answer with a resounding NO!
A private yacht charter is so unlike the commercial cruises in that you have total control of what you want to do, where you go, when you go there, how long you want to stay, what you want your chef to cook for you and what you like to drink. And, you are not sharing a vacation with 4,000 other people, too.
Let's start at the very beginning when our client first called to inquire about 'something special' for his wife.
This particular power boat yacht rental started 3 months prior to the actual charter dates. The client, Patrick Proctor and I have been friends for many years and he called to tell me that he wanted to spoil his wife Priscilla for her birthday.
He had been considering a sailing vacation in the
Caribbean Islands
. It was one of their bucket list items and to take a British Virgin Islands sailing vacation did not seem to sit well with his idea of 'spoiling her'.
"What about a Caribbean
catamaran vacation
?" I asked. You know, one of those modern luxury fly bridge catamarans for the trip; but that too did not seem special enough.
"No, no", he replied. "I want something bigger and grander, like one of those power yachts I've read about". Is this a charter you can arrange for us? Of course, I replied. We are agents for charter boats of all types, sizes and destinations around the world. OK, so we were set; it was to be a high-end luxury
power yacht
, and the rental would be handled by our firm, Barrington-Hall
Yacht Charters
.
So we are off to the races and after much consideration, Patrick chose a magnificent 115' yacht called '
Miracle
' for his Caribbean charter vacation for him and his wife.
What he said next just about knocked out of my chair. "Andrew, I would like you and your wife Gaile to go on this vacation with us". Wow! Every time I think back on that day I am still floored by the invitation and his generosity. So, if you accept, then you two will be on board Miracle with us.
During the planning stage, Patrick decided that he wanted to invite additional friends and family along on the trip.
As it also happened, it was going to be his son Julian's birthday, so this was to be a double celebration. It was Priscilla and Julian's birthday, so Patrick wanted to do something very special to commemorate the occasions.
He said "Here is what I plan to do. It will be Priscilla, me, her mother and dad, who were both 87 at the time and you and Gaile, all on board
Miracle
". But, I do have 3 dear couples that have all been our friends forever, and I wish also to spoil them, too.
I know that we are out of cabins on Miracle so it looks like we are going to need a second 110-foot luxury power boat. This group will includes 6 people - Julian and Marian (our son and his girlfriend), Hector and Ruth, and Jim and Marlene.
Now we needed to find another yacht to accommodate these six additional guests. There had been several boats that Patrick had considered prior to his selecting Miracle, so we just went back and looked at the other ones he liked. We discovered that the boat he wanted (Insatiable) was available and he immediately booked her for the same week.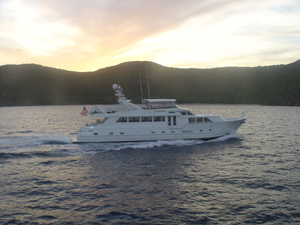 So we were now set to do a tandem charter with Insatiable, a luxurious 100-foot power boat, and with Miracle, a 115' beauty. Patrick decided that we would take turns dining on the yachts with various meals taken on board Miracle and Insatiable. Both boats have their own private chefs as part of their crews and it was going to be a contest between the 2 chefs to create sumptuous meals to out do each other. I must admit that all meals were exceptional no matter where we ate them!
Priscilla and Patrick Proctor are an exceptionally charming couple and did not want any one of their guests to spend any amount of money on the trip; but all of the guests had to find their own way to and from the British Virgin Islands, a fair request.
So, we are all set. Yachts are reserved, all guests have filled out their preference questionnaire for foods, drinks and activities, flights are booked and now all there is to do is to look forward to the trip.
As an aside, it was quite a coincidence that I met the man who was the captain on Miracle while I was attending a yacht broker conference here in Fort Lauderdale, FL. The charter yacht broker industry was sponsoring a one-day seminar on October 14, 2012 and was for captains and yacht charter brokers alike.
It was while we were attending this seminar that we met our future captain.
At 12.30pm, a lunch recess was underway, and I was standing in line waiting to make my selections from the large buffet that was setup for the attendees. Standing in front of me was a man and his wife who I did not know.
I struck up a conversation by introducing myself and we chatted while getting our food. As it were, their names were Phillip and Carol Beamish. "Oh, what do you do for a living, Phillip?" was one of my my first questions. "I am a captain of a charter yacht named Miracle", he replied.
Really? "My wife and I are due to take a private yacht charter on board Miracle in just a few weeks time."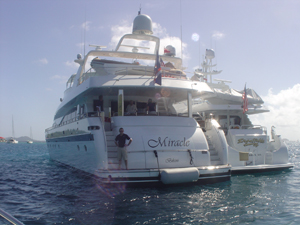 What? What a great coincidence and so began an excited talk around our up coming trip together. I explained that one of my charming charter guests had asked my wife and me to join him for his wife's birthday on board Miracle.
It was a good sign for the great trip that was to come.
Finally, the day had come. We were off to take a charter vacation in the British Virgin Islands. We knew what a marvelous adventure this was going to be because Gaile and I had been
charter captains
on our own catamaran sailboat for 5 years prior to our starting the charter business.
Here's our itinerary and we had a blast. Every day was filled with friends, fun, fabulous food, tropical drinks and miles and miles of turquoise water and white sandy beaches.
Day One
.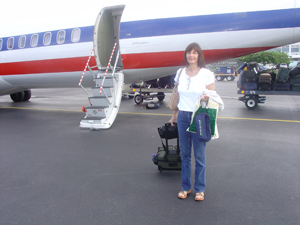 Leaving the Fort Lauderdale Airport at about 8:00 am, Gaile and I landed at
Beef Island Airport
in Tortola, British Virgin Islands right at 12 noon, and eager to see both Caribbean power yachts.
We knew that everyone was already on board their respective yachts at the
Village Cay Marina
dock. I had told the captain not to send any of his crew to meet us, because we actually lived there for 5 years doing yacht charters ourselves, getting to Village Cay Marina was easy for us to do.
Gaile and I landed at the airport on time and walked to stand in the line at customs. I expected to know the customs lady, but 12 years had passed since I lived there, and new faces smiled at us. Getting through customs was easy; we did not wait long for our bags.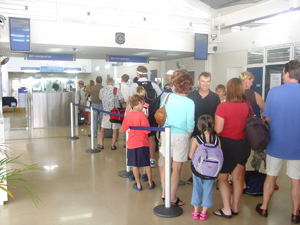 We walked outside to look for a taxi and walked into Captain Phillip beaming with pride at coming to personally meet Gaile and me at the airport. "Hey, Phillip, how are you my good man? You know you did not have to do this." "Yes, Andrew, but it is my pleasure to do this for both of you. Everyone is waiting for us to enjoy our first meal together. Blimey, mate; the entire party are very nice people."
Many captains who do power yacht charters are from Australia, and Phillip is a damn good one. The normal taxi trip went well from the airport to Village Cay Marina. Phillip told me the plan was to have a short lunch meal and then set cruise for Marina Cay. Wow, Marina Cay is my all-time favorite Caribbean Island. Yahoo! a luxurious power yacht for rent just for us; the excitement was really building now.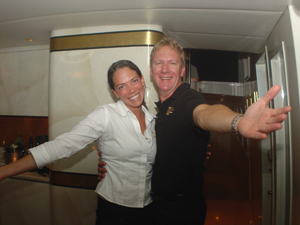 As we got out of the taxi, the first mate arrived to pick up our bags, even our hand-held bag. "You are now with us, Andrew, so relax and enjoy the fresh Caribbean air." We turned the corner, and I could see our friends waiting for us with huge smiles on their faces. With smiles all around and hugs and handshakes galore, we were all ready for our first Caribbean
crewed yacht charter
meal that was prepared fresh for us.
Lunch is set up for everyone and, when it comes, it is awesome, maybe too good, but it looked good and tasted even better and at 4PM we were going to depart for Marina Cay. After lunch, we head down to our luxuriously appointed cabins and packed away our clothes into the drawers, the suitcases were stored away and then 'wow', we'd just noticed the gold and silver faucets in the en-suite bath.
Two huge luxury power yachts traveling together over calm water is an awesome experience and you can see on this page some of the pictures we took while on this trip.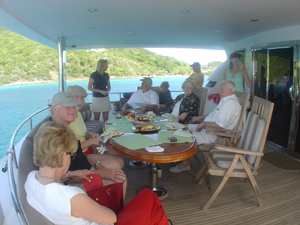 The Captains had coordinated the twilight cruise to arrive together to anchor at Marina Cay.
Marina Cay
is a perfect Caribbean island in the sun. She has a white beach, a coral reef surrounding the entire island, and this small island in the sun juts out of the water by 70 feet.
The width of Marina Cay is small, possibly only 80 yards, with a few coconut palms, a beach bar-cum-restaurant and a small Pusser's shop next to their small dock, where various charter yachts can get water and some fuel. Marina Cay is just the perfect motor yacht vacation hideaway in the tropical sun. We enjoy happy hour drinks and treats, which leads to a late dinner.
Pusser's
is the name of a rum dating back a good few years; now there are 4 different Pusser's shop outlets in the British Virgin Islands which also sells clothes and other items of interest.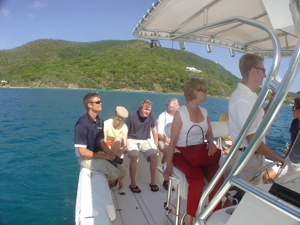 Priscilla and Julian's birthdays were on the same day, which happened to be the first day of the charter. Birthday wishes went around and instead of going ashore, Patrick had planned a spectacular dinner for all the guests in honor of his wife and son.
During dinner Priscilla said to me, "Andrew, I was considering a Bahamas yacht charters until you mentioned to Patrick that there was far more protection from ocean waves and breezes in the Virgin Islands because they are "Volcanic". So the Bahamas idea was put to rest. Then she mentioned that she had seen a yacht with a helicopter on board, but charter her price was very high."
The birthday table had been set on Insatiable by their excitable crew team. The crew had hung a "happy birthday" sign on one wall, and they had decorated the entire inside of the dining room and salon with ribbons and other birthday items, so we were all very impressed when we walked into the room. The table was set for a birthday; we all had colored paper hats, confetti ready to use at each plate, and all of us sat down together.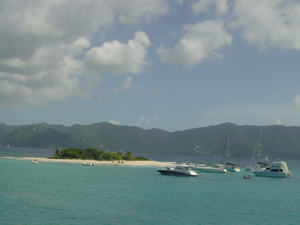 The delicious meal was served by polite professionals, and each course was designed by the chef on board. A perfect evening was enjoyed by all. The birthday girl and boy were each given moving flashing lights to wear. Both were given singing birthday cards. Patrick gave the largest cards with personal statements. A lot of fun was had by all. A cake for Priscilla and Julian arrived, so the Happy Birthday song was sung to both of them.
This first half-day had been a long one, so instead of enjoying a Jacuzzi with all the other guests, Gaile and I head for the shower (gold and silver faucets again), then to bed. The first wonderful day was over and it was just what a guest would expect from a Caribbean mega yacht charter.
Day Two
Waking up to very soft enjoyable movement in the soft queen-sized bed, my wife close and asleep as well, it was a little light outside, and I could hear the hooded seagulls calling in the distance. We were in paradise doing one of many gorgeous luxurious motor yacht charters, with friends.
Let's get up and start the day. My wife Gaile had also slept exceptionally well; I love this bed. I am up and wobble into the high-gloss timber bathroom with its silver and gold touches. I brush my teeth, wash my face, brush my hair and dress in a swimsuit with a T-shirt and go upstairs to breakfast, egg, bacon, coffee, and fetch my camera for shots when we go ashore at Marina Cay.
We board the dinghy and dock back at Marina Cay. We wander into the Pusser's Company Store and then follow the path to the top of the hill. The view from up there is awesome. Pictures taken at various places, we go back to
Miracle
and Insatiable for lunch, our majestic charter motor yachts moored side by side. Here we go; lunch is served. Mexican nachos plus all the sides: avocado, Mexican cheese, tomatoes and onions. Milk is requested to complete another good meal on board. Guests can ask for anything that jumps to mind; some have coffee, one lady loves tea, and all of us settle down to relax after lunch.
Captain Phillip tells us he plans to cruise down to Sandy Cay, which is a small tropical uninhabited island in t
he sun, but it is a typical island full of coconut palms on a white beach, surrounded by gin-clear water and a small 100-foot volcanic outcropping. We took a charming walk through the dense undergrowth up to the top of a small cliff face, which looks directly down to the coral below. This 36o-degree view is a very good one to see, so bringing cameras are important just for that one shot alone. The walk back is just as gorgeous, but guests always need to take flip-flops, bug spray, and their cameras, which all of us had.
Of course, snorkeling at every spot is something some of the group did do. Gaile and I just enjoyed the company and the crew team. We leave
Sandy Cay
and cruise to our new anchorage for the evening, Foxy's.
Both yachts anchor, and then the 14 of us head for
Foxy's Tamarind Bar
and its happy hour. Merry music and tropical drinks are enjoyed. "Time flies when you are having rum." After visiting Foxy's, we bought the required T-shirt and then headed back to Miracle for dinner.
The cuisine is fit for kings and queens (royalty), but we are eating far tooooo much. We all rush to the hot Jacuzzi, enjoy telling tales and having more fun while reminiscing about the entire day, and sip some wine. Gaile and I talked all the luxury yacht vacations we have done from our office, never thinking we would be on one like this. We've had a grand day and were ready to dry off and then go to bed.
Each evening in our cabin, we find 2 chocolates on a tray with 2 crystal glasses and a silver/chrome pitcher of welcoming water. Day two is over, and it is back into the best bed I have slept in, soft and comfortable.
Day Three
AAAH, another perfect night's sleep in paradise!
At breakfast, the captain plans the day and the plan he has to meet the clients' expectations. Small squalls are moving westward, and the cloud formation of the night will be gone between 10AM and 11AM. The warm day sun will evaporate all the clouds, and we will enjoy
Painkillers
at the Soggy Dollar Bar today.
Two of the guests swim before breakfast then meet the rest of us at breakfast. After another wonderful breakfast, we are whisked off by tender to
White Bay
and the Soggy Dollar Bar. We wade ashore with our wet soggy dollars, so we'd better enjoy a painkiller at the Soggy Dollar Bar. While there we learned how the name
Soggy Dollar Bar
got her name.
As the story goes - often the cruise ships would drop off guests here, but there is no docking, so all guests would have to wade in 2-3 feet of water, and that soft swell would wash up to their midsections, wetting swimsuits and any money carried by the guests; hence the name Soggy Dollar Bar.
Whoops, then a short snorkel after their famous Painkillers. Back on board our power yachts, we change plans because of clouds, a few squalls and wet winds from the northeast. Captain says it is best to head directly to the
Bitter End Yacht Club
and its super calm protected waters. While traveling, the winds subside, and those winds did not affect us in any way either.
We arrive at the Bitter End Yacht Club, drop the front anchor and tie up the rear to the dock. Insatiable rafts against us with fenders and ties up to the dock as well. Happy hour treats are served, with dinner being served afterwards. We are invited to a steel band "jump up" ashore. The band stops playing at 12 midnight; Gaile and I left at 10.30pm after a wonderful day in the Caribbean. The captain always has one crew member wait up until every guest is back on board both Miracle and Insatiable, so soon after midnight everyone is back on board
Miracle
, our beautiful crewed motor yacht.
Day Four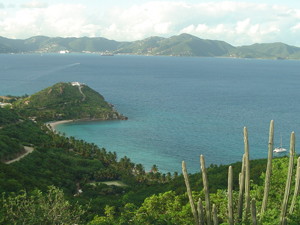 Living on board these gorgeous and luxurious yachts is easy. We simply wake up the next day to a full breakfast being served, and then everyone heads to the barrier reef to snorkel.
A good-sized nurse shark is seen nesting on the sandy bottom next to a large coral outcropping. Then we find 2 ancient cannons on the sea bottom! I get to pick up a mature conch with the animal still in its shell. I take many underwater pictures. We head back to the yacht for an early lunch so that we are ready in time for our helicopter ride at 3PM.
Oh, here we go. We hear the flick-flick of the helicopter before we see a big dragonfly. The helicopter arrives and lands, sandblasting all of us until the big rotors stop. A smiling captain walked up to us and introduced himself to us, "Hi, I am Chris; let me assist all of you into the helicopter, which has 6 seats for guests." Chris (the pilot) and I discussed a plan. As we took off, the gorgeous turquoise water and coral reefs began to show us how even more stunning they are from the air.
It is very different looking down at the green islands and deep blue water, and the ability to rise higher above them is marvelous. Many pictures were taken, and I can see the buoy we docked at when we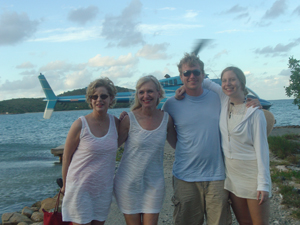 were at Marina Cay. As we landed and everyone was safely on land, I could see the excitement in everyone's eyes and happiness in their smiles. They were so very delighted. "Now I can die and go to heaven" is what Ruth said.
"Priscilla, now that you have enjoyed your helicopter ride, did that make up for not carirying one on board all the time?" When we got back from the helicopter flight, we all went to shower and dress for one special evening at the famous
Biras Creek Resort
. The resort's ferry picked us up at our yachts and took 12 of us to their private dock. Crystal Clear (a private sailing charter yacht) was there, but no time was available to spend time with the captain and chef on board who are dear friends of Gaile and mine, so I had to walk on by without even getting to say hello.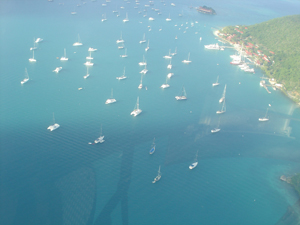 A special dining room was made available to all of us. We felt like royalty. The service here is the best we have had in all the islands. The wine and cuisine were so tasty and the helpings were small, which is "just" what we were after, eating sooooo much every day on our yacht. Doug, the new owner, has done an exceptional job with his new resort.
Biras Creek Resort has a view from the dining room which can see the Atlantic Ocean to the southeast and the Caribbean Sea to the northwest; just to the left is also a super view over the entire north sound of
Virgin Gorda
. So this unique restaurant has 3 sea views, very pretty indeed. We were transferred back to our yachts around 10:30PM. What a wonderful day, thanks again to Patrick and Priscilla.
Day Five
Today, the yachts split up and headed in different directions, meeting later that day at Sprat Harbor,
Peter Island
, at about 1PM. Miracle went directly to Peter Island Resort for the ladies to relax by themselves on a beach with no men around.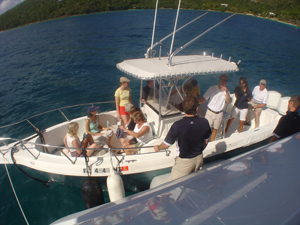 The beauty of BVI yacht charters when two vessels travel in tandem gives guests many more options, and here is a perfect example. The ladies wanted to do their thing and the men wanted to go to
Deadman's Bay
. Well, this is easy to do with a tandem yacht charter. The tandem charter is also perfect for the corporate yacht charter for corporate events.
Insatiable had everyone on board who wanted to go see the famous Baths. They arrived at
The Baths
at 10AM and immediately set anchor. Nick and Cassandra (crew on board Insatiable) took the guests into
Devil's Bay
, where the dinghy was attached to a mooring buoy. Everyone put on fins and masks, then all swam ashore, snorkeling as they went. Jim picked up 2
sand dollars
16 feet below, and then beached his body, taking off the fins and masks.
Cassandra remained on the beach looking after the fins and masks while Nick took the group on a tour of the Baths. They all walked up a path to a restaurant to look at the views. Then everyone walked back through the dense undergrowth and back through the Baths to Devil's Bay, where Cassandra was waiting. All (5 of the guests and 2 guides) snorkeled back to the 22-foot tender and dragged themselves into the tender. Jim picked up 2 more sand dollars, then boarded the tender.
All of them cruised back to Insatiable, then they headed for Sprat Bay, Peter Island. We went to Deadman's Bay, where everyone had lunch…wow. A special table was set up just for us on the band's cabana stage (where the steel band plays). This cabana is on the beach between rows of coconut palms, with the turquoise water as a backdrop. The food and service was superb. The ladies and gents were all whisked away on a tour of the island. Many more pictures were taken.
We get back for happy hour and dinner onboard Insatiable. Wow. Lamb chops served after endive salad. Lattes served after a great meal. It was the Captain who cooked the lamb chops. Everyone moved to the Jacuzzi and suddenly it was a 10:30PM. The Jacuzzi did its trick and at 11:15 its off to bed for a another good night's sleep.
Day Six
Aah, another day on board the royal palace called Miracle, our private motor yacht in the Caribbean. The ladies get Peter Island massages, manicures and pedicures at one of the world's most renowned Caribbean resorts – on the beach. Patrick will not let anyone pay one cent; he takes care of everything -- what a man.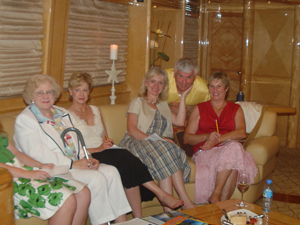 Lunch is served on board each yacht, with the ladies looking wonderful, but Insatiable leaves early so we can get an island tour in an open tour truck. The views are awesome. We also see a 200-year-old distilling factory, and then return to the yacht to enjoy a happy Thanksgiving.
Thanksgiving was served in 3 stages. First was chestnut soup, and in my life I have never had better soup.The main meal is buffet style, with 2 chefs serving turkey and tenderloin steak. Wow, what a meal. Dessert served was crème brulee.
We all waddle to the hot Jacuzzi and relax Jacuzzi side. The stars shine bright. The full moon splashes silver across the surface of our calm anchorage. We savor each second in Peter Pan land. Bed is just around the bend.
Day Seven
Roosters call early, sheep bleat. The sun pushes itself over the hill, and the first warm rays of the sun hit Miracle, commencing our last full day in the tropical Virgin Islands.
Breakfast: eggs, sausage, bacon, cereal, yogurt, milk and coffee all served by Carol, the captain's wife. We have to leave the dock before 8:30/8:45 because other vessels need water and other services. So we set course for
Norman Island
and those 3 famous pirate caves and just 30 minutes later finds us dropping anchor and reversing towards the shore, where we tie the rear of the power yacht to a huge rock on the shore. This means we are anchored directly above the coral and fish life 6 feet below.
What a wonderful day, and how special luxury yacht charters can be. We are set to snorkel in those famous 3 pirate caves, which we do. The dinghy takes 8 of us to a buoy in front of the first cave, and we all dress up with fins and snorkels. We see a live flamingo tongue shell and show it to everyone. We do all 3 caves and swim back to the dinghy, then race back to Miracle.
Insatiable
arrives, and we plan for the pirate night tonight. Apparently the captains had planned a pirate evening for all of us. We all select our individual costumes, and the ladies get tattoos as well. Pirate costumes show what a grand group we have, as well as fantastic crew. I could not believe that a steel band was setting themselves up at the back of our yacht. As soon as they are set, they start playing "Yellowbird" and "Hot, Hot, Hot", serenading us for the evening.
At 10 PM, a great bang and whiz sounds break the quiet night sky as fireworks explode just for us while 20 startled pelicans fly into the night, losing feathers in fear of what is happening in their quiet neighborhood.
The band leaves at 11PM, and the pelicans are still flying around at night looking for another roosting place. I doubt that those pelicans had ever seen or heard a fireworks display, so it did upset them for an hour or two. The band is loaded on the tender and taken home by the crew, and we make our way to our grand cabins our last night in paradise. Oh, what a night, late November in '12; better go to sleep now.
Day Eight
Our last ½ day, so a hearty breakfast is served, and we are off to snorkel the famous Indians. This is a pinnacle which sticks out of the water from 55 feet below, and we circumnavigate this gorgeous coral garden, noting the different varieties of colored fish, the
soft fan corals
, plate coral, staghorn and
brain coral
. Visibility is 80 feet in all directions.
The skeleton of a small sea urchin is found on the sea bed and now has a place on our display cabinet in our home. We tender back to Miracle, where lunch is served, and then we head to Village Cay Marina, our final marina.
A few tears are shed saying goodbye, and we transfer to our taxi, which takes us to the airport for our flight home. Gaile says to me, "Do you know that was the most exotic vacation we have ever enjoyed?" Yes, it was the very best Virgin Island
power boat
rental we ever did. Thank you, Patrick and Priscilla!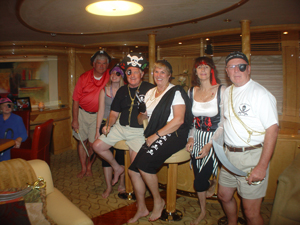 If you would to take a video tour of the magnificent 178' super yacht 'Starfire'
Click Here
. You will be amazed by her elegance, attention to fine details, design and accoutrements!
Why your private yacht charter will be the ULTIMATE experience of your life?
Whether you enjoy a private BVI catamaran yacht charter, a sailing yacht, or mega yacht charter, these vacations give guests the following unique experiences:
1. No other vacation can provide this ultimate privacy; guests can get lost in the islands.
2. No other vacation can provide the freedom, no traffic officers here, no meter maids, no big city rules, no mandatory 9-5, no phones, no clocks!
3. The ultimate place to bond with your children and your wife, family and friends. The children cannot go off for 3 hours with an instructor to do exercise, all water sports and island exploring are done with your children, and this breeds family bonding.
4. Ultimate hospitality, fine wines from Europe, international cuisine, polite professionals to serve you and beds in cabins with silk sheets.
5. Exclusivity. This entire vacation is set up exclusively for you, where you wish to go and what you wish to do
To enjoy the "ULTIMATE" vacation or your corporate experience, you need the best professional yacht charter company. We would be proud to work for you. A private motor yacht charter vacation is one of the most adventure filled, yet relaxing vacation you will have in your lifetime. We are ready to guide you in undertaking this wonderful vacation.
A private motor yacht charter vacation is one of the most adventure filled, yet relaxing vacation you will have in your lifetime. We are ready to guide you in undertaking this wonderful vacation.
We have yachts available in the
Caribbean
,
Bahamas
,
Mediterranean
,
Greece
and all other charter destinations. Not sure where you want to go or you are not familiar with the best charter locations, then call Andrew at
800-478-2029 / (954) 720-0475
or
email us
with all your questions.