Luxury Catamaran Viking Dream | Crewed Yacht Charters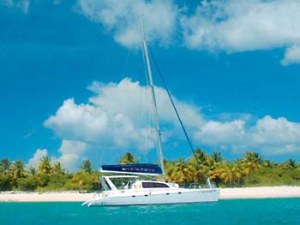 The luxury sailing yacht Viking Dream
is a magnificent Robertson & Cain manufactured catamaran that is perfect for Caribbean Sailing Vacations. Your all-inclusive sailing vacation on this 47ft Leopard catamaran can accommodate up to 6 guests in 3 queen beds.
This is a fun and playful catamaran sailboat that has stood the test of time by the magnificent maintenance and attention from her wonderful owners. This is a popular make of catamaran because of the excellent material and craftsmanship used to in manufacturing sailing yachts such as Viking Dream.
Catamaran Viking Dream | Luxury Sailing Yacht Charters
The cruising experience on multi-hulled
catamarans
is great as there is significantly more room on them compared to
mono-hulls
sailboats. Mono-hulls and power yachts have a much smaller width to length ratio that is generally 20-25%. Whereas a catamarans' ratios ranges from 45-50% creating much more surface area and giving the catamaran a smoother and more stable ride .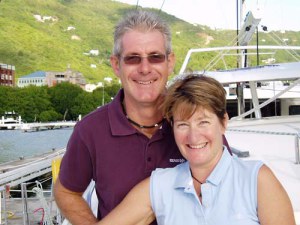 So, not only is the catamaran Viking Dream 47' long she is also over 24' wide! Plus, the design of a cat reduces the roll and sway providing a considerably smoother cruising experience. Either way, you'll be enjoying a vacation in a Caribbean paradise.
The spacious queen-size beds in lovely staterooms are fully air conditioned and have en-suite bathrooms. You will find that the salon has lots of space accented with light woods and provides panoramic views through the large windows creating a very open and airy ambiance.
The deck space is well laid out and easy access to the water is via the sugar scoop on the aft. You'll be able to lie back and relax while sipping tropical cocktails on the big trampolines on the front of this catamaran and provides the perfect location for star gazing.
Take a video tour of the luxury catamaran Viking Dream below.
You are automatically qualified for The Viking Olympic Games which will have everyone laughing throughout the afternoon. Not only will guests enjoy exactly what everyone else enjoys in this paradise of islands, but here is an example of one of the games they suggest to play, only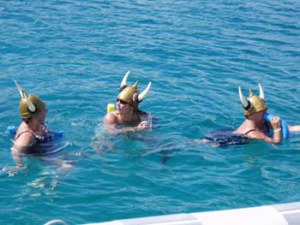 if you wish to.
Everyone is given a Viking helmet with horns, and everyone is provided with a full tankard of beer to hold in one hand, then everyone doggie paddles around
Viking Dream
and the first one back with no spillage wins a Viking prize.
Guests will be hard-pressed to meet two people that are more congenial than Captain Mark and Sally Duncan, who welcome you like family the minute you meet them at the dock.
Free Catamaran Sailing Charter Planning Assistance. Call
800-478-2029
today!
You can have Mark lead you on a snorkel tour to discovery the bounties under the Caribbean Sea including live coral, fishes of all colors, species and sizes. If you like great food then we know that you will enjoy Sally's personalized world-class menus that will be prepared fresh each day just for you.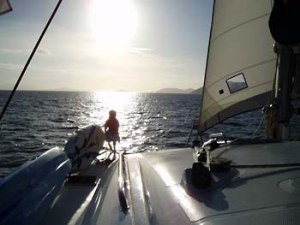 If you like to have fun on top of the water than you will be very pleased with the array of water toys on board Viking Dream including:


13' 40 hp tender
Aqua-Dog inflatable towable
Tubes, water skis; snorkel gear; windsurfer; kayaks; fishing gear; wake board; kneeboard.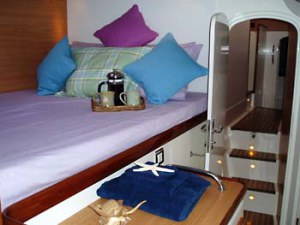 Boasting 3 queen cabins fully en-suite all with superb space, and she is fully air conditioned for all our guests comfort. Viking Dream can easily be considered one of the best cruising catamaran to be in charter now and for many years to come.
With Viking Helmets for all, do you think this could be the
best catamaran sailing vacation
ever?
From the sugar white-sand beaches of the
Caribbean
and the Islands of the
Bahamas
to the historic cities of the
Mediterranean
, there is no shortage of adventure awaiting you. Let your personal staff cater to your every need, allowing you to focus on the most important thing: your vacation!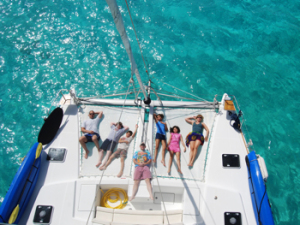 Our all-inclusive crewed yacht charters, complete with captain and gourmet chef, are an ideal way to spend quality time with your family and friends. Step aboard one of our luxurious yachts and cruise to worldwide destinations.
Call
800-478-2029
to discover how you can take a private yacht charter vacation on the
BVI Catamaran Viking Dream
and create memories for a lifetime.
All Inclusive Charters | Crewed Sailing Captain & Chef Rental