A typical annual yacht charter boat show and the awards presented.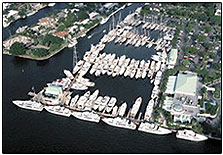 Below is a typical break down of how a typical annual Virgin Island yacht charter boat show is set up to attract the world's yacht charter brokers.  The yacht charter broker is a person who has to learn their craft by studying each yacht and crew team so that when a potential client calls us asking to do a yacht charter anywhere in the world we are able to answer their questions with the correct professional knowledge.  Barrington-Hall yacht professionals visit boat shows around the world, Genoa, Barcelona, Turkey, Greece, Antigua, St Martin,  Newport RI, United States Virgin Islands and the British Virgin Islands.  Our aim is to find yachts for charter, but we look for yachts and crew teams who are head and shoulders above the rest. The Miami and Fort Lauderdale boat shows are for boats which are for sale, they are not geared for the charter yacht broker.  After learning our boats and crew teams we have to go into the world to solicit business and we do this many ways, word of mouth being our top card.  The yachts below are graced with best of show, best chef on show and many other awards the crew strive for. The vessels are set in different categories, power yachts over so many feet and motor yachts under so many feet.  The modern luxury catamaran is also set the same way.  The Private yacht charter captain and crew team are very competitive and very good at what they do, so various trophies are given for the best chef the best place setting etc.
Over and above the details below, many captains and chef teams invite valuable charter brokers to have lunch or breakfast on board, so that we select their yacht for charter.  To the charter broker this shows us how this captain and chef team are interacting, it also shows us the level of cuisine that is served and Barrington-Hall always take pictures of each different dish.  Basically this association with a captain and chef team solidifies an association between what we are doing and what the crew do for our guests when our clients are with this captain and chef team.  To charter brokers these free meals are super valuable for us, as well as the captain and chef team.
Dear U.S.V.I.  Charter Yacht Show Exhibitors and Brokers,
First of all, and perhaps not emphasized at the awards ceremony enough, the USVI Private Yacht Charter Show and industry that it supports would not be flourishing without our wonderful Charter Brokers - THANK YOU!
Secondly a great thank you to all the luxury power yachts, motor boats, modern catamaran charter yachts as well as sailing yachts who have taken the time to be at this annual yacht charter show.
Lastly, many thanks that we have for the VIPCA Board of Directors this past year deserves further recognition:
We bid adieu to:
Jessica Perraton Jones 2018 who's broker input was fastidious throughout the year with valuable input at every corner, thank you so much Jessica!
Travis Krueger 2018 with great input as crew assisting in updates of the cruising ground
We hang on to:
Steve Schlosser 2017 & 2018 & 2019 Paradise Yacht Management thank you from the Marine Directory to Insurance a great help
Jen Augspurger 2017 & 2018 & 2019 SV Starfish for assistance with negotiations with Customs & Government & creating the Vessel Directory
Jade Lech 2018 & 2019 Zenia 50 with great input as crew assisting in updates of the cruising ground & great yacht show assistance
We Welcome New Directors:
Lynne Campbell 2019 Yacht Charter Broker
Jamie and Susanna (SV Island Hoppin) 2019 Crew
We have still as yet to vote for a Marine Service Provider and Day Charter VIPCA Board Directory and will do so over this evenings' event. Please send nominations.
ANNOUNCING YACHT SHOW COMPETITIONS
Best Yacht Over 52' sponsored by Cardow Jewellers - La Reve
Best Yacht Under 52' sponsored by Cardow Jewellers - Island Hoppin'
Best Yacht Runner Up Over 52' sponsored by Cardow Jewellers - Shangri La
Best Yacht Runner Up Under 52' sponsored by Cardow Jewellers - Starfish
Best Crew over 52' sponsored by Cardow Jewellers - La Reve
Best Crew under 52' sponsored by Cardow Jewellers - Starfish
Best Tender sponsored by Blue Water Yachting - Blue Gryphon
Best Themed Yacht sponsored by Blue Water Yachting - La Reve
Culinary Competition with prizes sponsored by La Royale Cosmetics (Orogold)
1st Appetizer - Daniela Drescher - Shangri La
2nd Appetizer - Mecheala Kremer - Flotation Therapy
1st Entree - Johann Roebert - Lady Sharon Gale
2nd Entree - Daniela Drescher - Shangri La
1st Dessert - Katie Saunders - Yes Dear
2nd Dessert - Juliana Leone - Tabula Rasa
Honorable Mention - Kristi Marquart - Genesis ($100 Gift Cert from Buddha Sushi)
CYBA Save the Blue - Water Competition sponsored by Charter Yacht Broker's Association
1st Blue Pepper
2nd Anastasia
3rd Genesis 
Best Stoli Cocktail sponsored by Stoli - Sta Ana
Best Captain Morgan Cocktail sponsored by Captain Morgan - Island Hoppin