The Best Beach Bars and HONOR BARS in the Virgin Islands.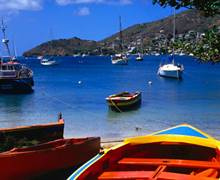 HONOR BARS:
When doing yacht charters, few captains know of these HONOR BARS, so I will commence with them first. Both honor bars are in the British Virgin Islands, and both have been operating for many years. An honor bar is just that: you can sit down at an honor bar, and you simply have to help yourself to whatever alcohol you wish to drink; this also applies to any fruit drink or cola. When you have finished what you have drunk, then simply leave the amount of money on the bar counter when you leave. Many drinks are also on ice. My all-time favorite honor bar is Wilfred's Honor Bar Restaurant at Pomato Point on Anegada. Wilfred and his staff arrive at 3pm to attend to dinner for guests for that evening. To all the yachts for charter, it is at Wilfred Bar that we have seen the Green Flash 5 times during our time with guests in the evening. During the day, no one is at Wilfred's Restaurant, but it is totally open to the weather and any passing traveler. My guests and I have often walked into Wilfred's Honor Bar during the day. All of us had one drink, left the right amount of money on the counter table and gone to relax on board our luxury catamaran SPLENDIDUM. I believe Wilfred's Honor Bar is still there right now, 2019.
Honor Bar number two:
Baira's Creek has a thatch honor bar on the beach in DEEP BAY Virgin Gorda. Water toys stand in a uniform line with wind surfers. We never touched the water toys, but close inspection of the round thatched bar on the beach produced all types of cold beers on ice and other soft beverages for consumption. Our private catamaran yacht charter guests would take what they wanted, and I would get one of my daughters to run up to the office at Baira's Creek and pay the staff, or leave the funds on a desk, with a thank you card. This honor bar is closer to human population, and it is also not abused.
Both honor bars also have normal bars guests can use when their staff is servicing the public. So here are two Virgin Island bars that few guests get to enjoy. Generally only the luxury yacht charter guests would get to hear of these honor bars and few captains know they are there.
TYPICAL BARS
Soggy Dollar Bar on Jost van Dyke was given this name because the cruise ship guests would come ashore and have to wade in 3 feet of water to the beach, hence the name Soggy Dollar. I had a yacht charter guest on board who would advertise his company by giving his high-end clients a rubber stretchy one dollar bill, so you could stretch your dollar. This rubber dollar bill would stretch out and return to its original size and looked exactly like a real one dollar bill. He gave a stretchy one dollar rubber bill to place behind the bar at the Soggy Dollar, but that rubber bill never lasted 6 months behind the Soggy Dollar bar. Private power yacht charter guests would also need to wade ashore at the Soggy dollar bar.
Foxy's Beach Bar: I have been told that Foxy's Beach Bar is the world's 3rd most requested New Year's Eve venue after Picadilly Circus in England (the biggest venue) and Times Suare in New York on New Year's Eve. Foxy's has been working with captains who have their yachts for charter, so each captain brings his guests to Foxy's. Foxy's can get ridiculous on New Year's Eve. There are far too many yachts in that one harbor, and anchoring is very difficult normally; your anchor normally does not grab the sea floor. Many motor yacht charter captains would anchor in other anchorages and tender to Foxy's and, at 1, 2 and 3am. Some silly people have swam to their yacht, while tenders whiz by in the dark of the night. Accidents have been known to happen, so be carefull. Foxy's Restaurant and Beach Bar, Great Harbor, is where every day is a party; BBQ and entertainment with various events take place here. Guests can shop at Foxy's Foxhole Boutique, and Foxy does do singing, so call to see when.
The Bath and Turtle Virgin Gorda has live music and a beautiful garden setting located inside the Virgin Gorda Yacht Harbor buildings. We treat all your luxury yacht charter guests with dignity and a great Caribbean smile. Happy hour is 4-6 pm daily; breakfast, lunch and dinner are served, not only local food, but pizza as well. Wednesday evening is buffet night with complimentary Mount Gay Rum. Leon and the Hot Shots play Sunday 5-9pm. We are very sure your Virgin Island charter guests will walk away totally happy.
Chez Bamboo is a bistro atmosphere with the best Mediterrenean-Creole cuisine, plus ASIAN FLAIR. Our tapas bar has treats with the best Martinis and cocktails. There is live music every Friday. Reservations are needed; open daily from 4 pm during high season.
Peter Island Bar and Restaurant. Peter Island has a gorgeous bar on the white beach full of coconut palms and crystal clear Caribbean water. At one stage, the manager invited all private yacht charter captains to bring their guests to a Monday evening gathering, where our first drinks were on the house. On special occasions, a steel band, the Spark Plugs, played music under the palm trees, this encouraged our guests to have dinner under the palm trees on the beach.
Bath & Turtle in Virgin Gorda Yacht Harbor features live music and a beautiful garden setting located inside. Happy hour is 4-6pm. Breakfast, lunch and dinner are served with complimentary Mount Gay rum punch. Bring your yacht charter guests to our Wednesday night rendezvous waterfront bar; we guarantee fun for all.
Myett's Beach Bar and Grill at Cane Garden Bay has tropical gardens with superb sunsets. Mouth-watering cuisine is grilled before your eyes. Our Garden Inn for the weary traveler is charming, spacious and air conditioned. Come to us at Myett's Sea Spa and leave relaxed, be rejuvenated with our massage therapy, manicures, pedicures, facial and waxing, all done right here. Oliver's Corner Store features unique, tropical, comfortable wear and gifts. At Myett's Business Center, guests can book island tours, internet, fax and telephone service, plus our onsite ATM machine. We attend to many private yacht charter guests. We can hire a band, set up dinner for 100 guests, plus bring in Jumbies on stilts to walk among the guests.
A & B  BAR and Restaurant at West Indian Great Harbor serves breakfast, lunch and dinner, located on Jost van Dyke
Abe's Beach Bar  at Little Harbor Jost van Dyke, West Indian Great Harbor serves breakfast, lunch and dinner.
Ali Baba at West Indian Great Harbor serves breakfast, lunch and dinner.
B-Line International at Little Jost van Dyke has a famous beach bar open daily 10am – 5pm, with a BBQ lunch served on weekends. Beach Games are available.
Corsairs International Bar  at Great Harbor has a colorful beachside restaurant that also serves old world, Mediterranean cuisine for dinner. Open for breakfast daily, lunch and dinner.
Cooper Island Beach Bar and Restaurant at Manchineel Bay is a friendly beach bar set under coconut palms on the beach. Watch your children play on the beach while you relax with a very cold one. Happy hour is 5-6pm  Lunch and dinner reservations needed.  It is the Virgin Island yacht charter guests who get to enjoy this gorgeous beach bar and restaurant.
Harris's Place at Little Harbor West Indian always features fresh lobster and is open daily for breakfast, lunch and dinner. The best little place in the Caribbean.
Hendo's Hideout at International White Bay Jost van Dyke. Located on the beach at White Bay, Hendo's is open daily 10am-7pm.
One Love at Little Harbor Jost van Dyke West Indian is open daily 11am to 4pm with a lunch menu.
Sidney's Peace & Love at Little Harbor Jost van Dyke West Indian is open daily for breakfast, lunch and dinner.
The Patio Snack Bar in the Sea Crest Inn International Great Harbor Jost van Dyke, breakfast is from 8:30am-11am, with cocktails from 5:30pm on the deck overlooking the harbor.
Pirates Bight International on the beach Norman Island features pirate, local and international cuisine, lobster, fish, chicken and steaks. Lunch 11:30am-4 pm. Credit cards are acceptable, as well as reservations.
Scrub Island International Bar serves breakfast, lunch and dinner daily.  All luxury yacht charter captains and guests are very welcome.
The Willy T Local and International cuisine is served, all drinks, Norman Island the Bight, lunch and dinner served. Your private yacht charter group can eat, drink and be merry on board the Willy T.
Trellis Bay Bar and Grill features West Indian cuisine and is open daily at 10:30am. The Friday and Saturday BBQ grill happens at 4:30pm.
Pussers Marina Cay Bar and Restaurant Island Resort features international and West Indian cuisine for your Virgin Island yacht charter guests. Leave them with us for the night and rest up, then pick them up around 11pm. Pussers has a real Caribbean feel and all drinks, serving lunch and dinner. Open 11am to 10pm. Free ferry service to and from.
ST. JOHN
See Carlos and Maria at Morgan's Mango Bar for a neo-Caribbean experience conveying the juice and jazz of the islands…..a carnival of flavors and lifestyles. Cruz Bay nightly 5-10pm. We encourage all guests and have specials for luxury yacht charter people, so tell us the name of your yacht, and we will spoil you.
                               Luck is what happens when preparation meets opportunity.  Let's hope for some luck; start preparing.