BEACHES OF THE BVI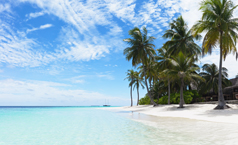 Beaches and coconut palms is what attracts yacht charters to the wonderful, picturesque, pristine, beaches of the British Virgin Islands. Swaths of perfect white sand dot the BVI's many islands from Tortola to Virgin Gorda and all islands between. And for those seeking beach heaven, Anegada is literally ringed by downy white sand, just perfect for the private yacht charter.  Beaches are a place to put down a beach towel and bask in the sun; play beach games like bocce or boules, and are a launching site for waterborne activities like swimming, snorkeling and boardsailing.

These areas of sand are no accident of nature. Here in the Caribbean, they are the result of centuries of intense wave action, often caused by storms, which batter our reefs and break off pieces of coral. These pieces are then carried off, breaking up into smaller and smaller fragments, until they are transformed into small grains of sand, and eventually come to rest on the shore. Gather enough of them over time and the sumptuous sand beaches that we love are created.


Astonishingly, our beaches get a helping hand from another more unlikely source – the parrotfish. The parrotfish, with its distinctive parrot-like beak, is among the many inhabitants of the coral reef. Their preferred dinner is the algae which lives inside the coral; the fish scrapes the coral with its beak until it reaches the goodies within. This hearty dinner is crushed into small grains of sand – some white and some pink – before being passed out. Multiply this process by innumerable generations of fish and you can get a lot of sand.

Not all Virgin Island yacht charter beaches are pure white, but are instead comprised of grains in a variety of pastel hues. Pink, one of the more prevalent colors, is caused by that red algae found within the coral. Other grain colors include black, often caused by the erosion of rocks lining the shore, and orange created by shells that once housed creatures such as conch and crabs. Like coral pieces and rock fragments, they too are jostled along the sea bottom until they make their way to shore and create the perfect spot to place a beach towel.  Virgin Island yacht charter snorkeling is normally done in this Turqoise area of the reef.
Enjoying the BVI's many fine beaches is one of the reasons that visitors and yachts for charters come to the British Virgin Islands. Here are just a few of the best:

NORTH SHORE, TORTOLA
Smugglers cove, a small sandy beach particularly designed by mother nature for the luxury yacht charter industry and this one is at the western tip of Tortola, offers good snorkeling. The road is unpaved but passable and not good to anchor for the private yacht charter vessel.  Go by road for this one.

Long Bay is a lovely mile-long stretch of white sand beach. A hotel and several guest houses line its eastern portion. The western end offers greater solitude and good swimming.

Apple Bay, "the surfing beach", is home of the surfer's bar – Bomba's Shack, as well as a small community and hotel.

Cane Garden bay has a gently curving beach and is a popular anchorage. There are watersports, restaurants, bars and guest houses. Cane Garden Bay is a very hot spot for yachts for charter to find night life for their guests.

Brewers Bay, a lush tropical bay on the north shore, has two beach bars, a campground and snorkeling. Thick with coconut palms, this is one of the most wonderful anchorages to bring charter guests during their yacht charter.

Josiah's Bay Beach on the north shore near the East End has a dramatic beach and is a favorite surf spot in winter.

Lambert Beach is a wide, palm-fringed beach, which can be reached from East End by private road. In winter, when there is a north shore swell, the undertow here and at Josiah's can be very strong.

VIRGIN GORDA
THE BATHS features giant boulders which form  a series of spectacular pools and grottoes that flood with sea water, creating an unforgettable setting. Nearby snorkeling is excellent. A walk through the Baths to the famous Devils Bay is another wonderful beach on Virgin Gorda.
Long Bay Virgin Gorda is my all-time favorite anchorage for the private yacht charter group.  Anchoring here needs attention, we drop anchor in shallow water just shy of the underwater coral reef in soft white sand, then run the vessel back and tie one extra line from your yacht to the 7 foot round rock on the shore line, this stops your vessel from turning around during the night.  The view from here (Long bay VG) is 25 miles down the Sir Francis drake channel all the way to St Thomas and you are also surrounded by islands all around you. You are anchored next to a long footprint free white beach, no coconut palms but picking up shells is a relaxing hobby, or jumping off the 27 foot cliff at Mountain point into the sea is a lot of fun for all charter guests.

Spring Bay, neighboring the Baths, has white sand, clear water and good snorkeling.

Trunk Bay is a wide sand beach reachable by boat or along a rough path from Spring Bay.

Savanah Bay is a sandy beach north of the Yacht Harbor.

Mahoe Bay, at the Mango Bay Resort, has a gently curving beach with vivid blue water. Yacht charters can be done at all these Virgin Gorda beaches with ease.
Deep Bay Virgin Gorda is my favorite out of the way anchorage.  This is difficult to get to with a mono-hull sailing yacht, bit catamarans have shallow drafts so they can easily get there.
Eustatia Sound behind Eustatia Island facing Necker Island is another wonderful Beach anchorage for the charter client hoping to get away from the crowds.

OTHER ISLANDS
Long Bay Beef Island has a secluded beach with sheltered waters. In order not to disturb nesting terns, do not cross the salt pond.

Loblolly Bay is a popular snorkeling and sunning spot as is the beach at Cow Wreck Bay. With its many miles of untouched beaches, Anegada is sometimes called "The Beach Lover's Island".
Pomato Point Beach is magnificent and also the home of Wilfred's famous Honor Bar and restaurant.
White Bay on Jost Van Dyke is most easily reached by boat and has a beautiful sand beach and a small hotel, beach bars and campground.
There is a very out of the way anchorage at another WHITE BAY Peter Island and few people venture there, but it really is out of the way.

Sandy Cay, an uninhabited island off Jost, has a lovely white sand beach…and little else. Sandy Cay is a Virgin Island yacht charter tour around the island that is a "MUST DO" stop, take bug spray, flip flops and camera.  The walk around this little island is gorgeous.  Guests commence on the beach walk through a mass of coconut palms, then the path winds through thick undergrowth and up a steep hill.  At the top of this 80 foot hill you can take pictures of your yacht anchored far below at the same time look directly down a steep cliff face to the clear water below.

Deadman's Bay is the palm-fringed beach at Peter Island Resort. It can be reached by boat or ferry from Road Town, but was again designed for the luxury yacht charter market, so we can take full advantage of this..

Vixen Point, on Prickly Pear in North Sound, is a long stretch of white sand with a beach bar and Jet ski's to rent.